The official Nexus 9 keyboard case has a dedicated home and emoji keys
4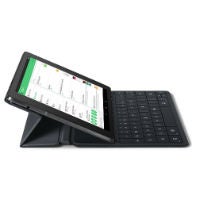 The official info has been pouring out for the new Nexus devices and the Android 5.0 Lollipop update, but there is also one interesting accessory to talk about with these new products: the official Nexus 9 folio keyboard case. There hasn't been much in terms of information released about the accessory, but there are a couple interesting things to note in the images we've seen.
It looks like the folio case will be something of a combination between the iPad Smart Cover and the Microsoft Type Cover. The cover connects to the tablet with magnets, and the back piece will bend so you can put the tablet at the right viewing angle. The keyboard itself is a proper keyboard with plastic clicky keys, but the interesting part is the bottom row of the keyboard. It looks like the Alt keys do double duty to toggle emoji (which would likely pop up an on screen emoji keyboard, we would guess), and the Ctrl key looks like it doubles as a Home key.
Those are definitely interesting additions to the keyboard, and it makes us wonder if there will be other keyboard shortcuts to maybe launch specific apps, or something along that line. No word yet on pricing or availability for the keyboard, but the Nexus 9 itself goes up for preorders this Friday.