11 patents belonging to Apple and Microsoft that Android has been found to have infringed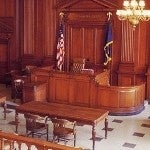 Things have not been looking too good for Android in the courtroom as Judge Lucy Koh in quick succession has ordered preliminary injunctions against the
Samsung GALAXY Tab 10.1
and the
Samsung GALAXY Nexus
. The former has been replaced with a sequel model while the latter is being
shoved out of the limelight by the Samsung Galaxy S III
.
FOSS Patents
has come up with a list of eleven patents belonging to Apple and Microsoft that an Android manufacturer has been found in court to have used illegally. Let's start with
EP2059868
which is a patent relating to a "portable electronic device for photo management," which was used by a Dutch Court on August 24th, 2011 giving Apple an injunction against certain Samsung handsets. On March 1st 2012, a court in Munich used this patent to
order a permanent injunction in favor of Apple against now Google subsidiary Motorola Mobility
.
U.S. patent 7,469,381
, relating to "list scrolling and document translation, scaling, and rotation on a touch-screen display" is
actually about the 'bounce'
that users see on their phone at the end of a list being scrolled. On December 2nd 2011, The United States District Court for the Northern District of California ruled that this Apple patent was valid and infringed upon by Samsung.
D618,677
covers the
ornamental design of the Apple iPhone
while U.S. patent
5,946,647
is about a "system and method for performing an action on a structure in computer-generated data." This is the patent that focuses on what is being called "Data Tapping" and was used December 19th by the ITC to order an import ban on some HTC devices. It was also used by the United States District Court for the Northern District of California to grant Apple's
motion
for a preliminary injunction against the Samsung GALAXY Nexus. Motorola Mobility tried to prove this patent was invalid in the Northern District of Illinois using summary judgment motions, but failed.
Next is European patent
D1964022
for "unlocking a device by performing gestures on an unlock image". In other words, this is the infamous slide-to-unlock patent,
which was used by a Munich court on February 16th 2012 to issue an injunction for Apple against Motorola Mobility
. "Generating meeting requests and group scheduling from a mobile device," is the subject of U.S. patent
6,370,566
used on May 18th 2012 to order an import ban in the U.S. for Motorola devices that infringe on the patent. European patent
EP1304891
is for "communicating multi-part messages between cellular devices using a standardized interface" and was used to give Microsoft an injunction against Motorola Mobility's Android devices
just days after Google closed on its purchase of Motorola Mobility
. This patent is already being enforced in Germany.
An Apple iPad related
design patent
,
D504,889
was used by the United States District Court for the Northern District of California on June 27th, 2012 to grant an injunction requested by Apple against the Samsung GALAXY Tab 10.1, a tablet that has already been replaced by the sequel in Samsung's lineup. In the Summer of 2011, a court in Dusseldorf used the European version of the U.S. design patent to give Apple a injunction against the tablet in Germany. Perhaps the most famous of the newer wave of patents being used by Apple in court, U.S. patent
8,086,604
is
the so-called Siri patent
or '604. It was used on Friday to give Apple its asked for injunction against the Samsung GALAXY Nexus and could be used against the sizzling hot Samsung Galaxy S III.
8,046,721
is the second slide-to-unlock patent. While it was not used to order the injunction on the GALAXY Nexus, in its ruling the court said Google and Samsung both infringed on the patent. Lastly, U.S. patent
8,074.172
covers the "method, system, and graphical user interface for providing word recommendations" which is basically your
typical autocorrect patent
. In the recent injunction order against the Samsung GALAXY Nexus, the court said that Samsung and Google infringed on this patent.
The list does not include patent cases
that were withdrawn or overturned
. Of the 11 cited, 9 are Apple patents with the remainder belonging to Microsoft. And while Apple has these victories, the only non-standard essential patent Apple was found in court to infringe on was Motorola's push-notification patent in Mannheim. Google's only win over Microsoft (as Motorola Mobility) also came in Mannheim and is based on two standard-essential patents although it cannot be enforced soon.
source:
FOSSPatents