Judge issues injunction on Samsung GALAXY Tab 10.1
49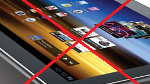 Judge Lucy Koh has reversed her initial decision and has
granted Apple a motion for an injunction against the Samsung GALAXY Tab 10.1 tablet
. Koh
had originally turned down Apple's request for the injunction
earlier this month, saying that any injunction she grants now could be confusing. A federal appeals court remanded the case back to Koh, telling her to reconsider her ruling on the tablet.
"Although Samsung has a right to compete, it does not have a right to compete unfairly, by flooding the market with infringing products."-Judge Lucy Koh
While a Samsung spokesman could not be immediately reached for a comment, Apple's Kristin Huguet repeated a previous comment that Samsung's "
blatant copying
" is wrong. Koh's order will become effective once
Apple posts a bond in the amount of $2.6 million
. That bond protects Samsung from possible damages it might incur if the injunction is later found to be wrong.
The injunction could prove to be moot since Samsung
now offers the Samsung GALAXY Tab (2) 10.1
. You can refresh your memory about the newer tablet by
checking out our review of the device
. For you legal eagles out there, the case in U.S. District Court, Northern District of California, is Apple Inc v. Samsung Electronics Co Ltd et al, 11-1846.
source:
Reuters