Galaxy S23 vs Galaxy Z Flip 4: Go with the tried and tested flagship, or flip that trend switch on?
6
We may earn a commission if you make a purchase from the links on this page.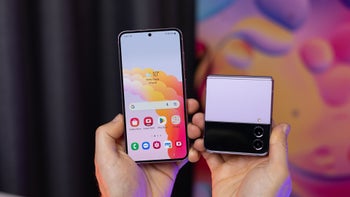 The
Galaxy S23
is now available! This would be
Samsung
's 2023 flagship series of traditional, slab form-factor phones. But what if you want to try something new from the Korean giant, something different, and more unique?
Well, the
Galaxy Z Flip 4
is a great option to consider – one of Samsung's two current folding phones, and more specifically – the trendy and compact one! Should you get a new Z Flip 4, or should you wait for the Galaxy S23, keeping things safe and traditional?
Let's compare the two Samsung phones and find out!
Galaxy S23 vs Galaxy Z Flip 4 in a nutshell:
S23 is a traditional phone, Z Flip 4 is a highly compact clamshell
S23 starts at $800, Z Flip 4 starts at $1000
S23 has a 3x zoom telephoto camera, Z Flip 4 does not
S23 has power user features like Samsung DeX, Z Flip 4 does not
S23 is packing the newest Snapdragon 8 Gen 2 processor; higher performance
S23 is better suited for gamers, Z Flip 4 exhibits throttling under heavy loads
Table of contents:
Design and Display Quality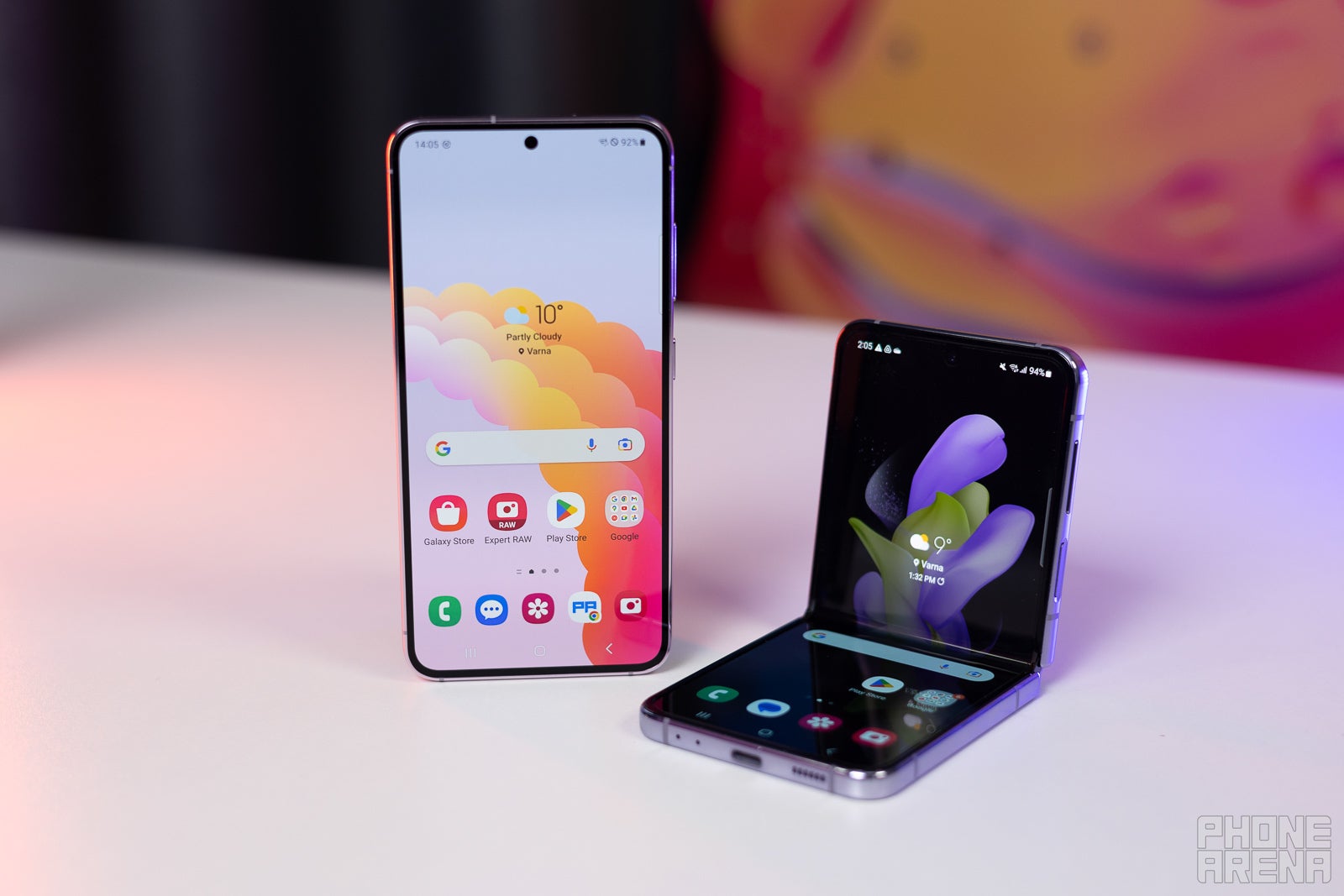 This is the big, main area that you should consider before choosing whether to go with the upcoming Galaxy S23 or the Galaxy Z Flip 4.
As it's now official, we can see that the Galaxy S23 remains about the same as its predecessor – a traditional smartphone with a modern, if a bit understated design. On the front, we get a 6.1-inch display with minimal bezels around it, and a selfie camera cutout embedded into its top center. A rather minimalist glass backplate on the back, and nice, aluminum frames on the sides of the phone. It's not as special as the Z Flip 4, but it's a tried and tested design, and hey – if it ain't broke, don't fix it.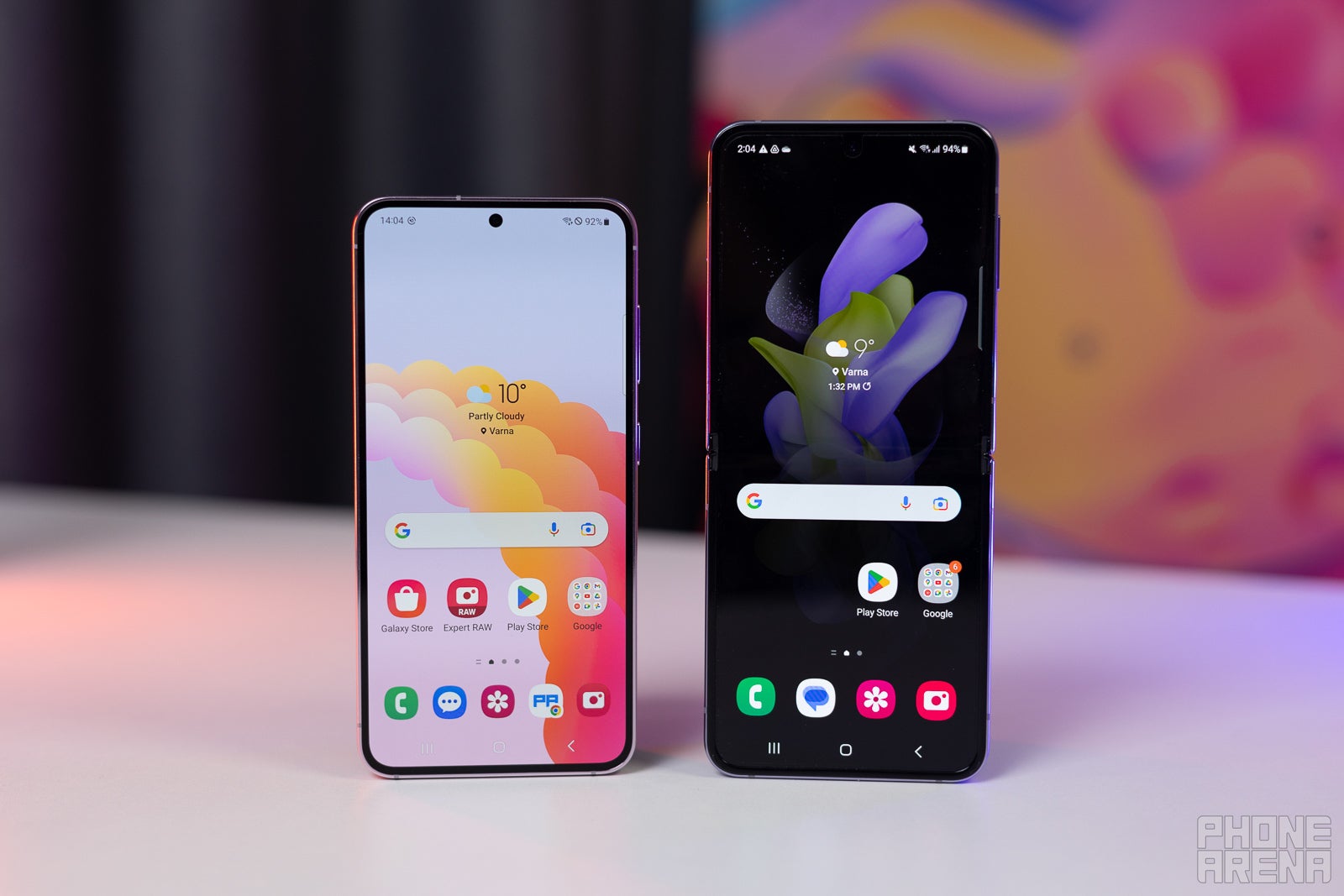 The Galaxy Z Flip 4, however, is indeed quite a unique one. It's a modern clamshell-style phone with an outer display, plus a folding inner one. When closed, you can use its outer 1.9-inch Cover display to check your notifications, quickly reply to texts and so on, without unfolding the phone. When folded, it's a very compact and fashionable slab of matte glass, with metallic frames.
Once you unfold the Z Flip 4, you're greeted with its big 6.7-inch main display. So this is a super pocketable phone from a design standpoint, when you need it to be, but unfolds into a rather large traditional form factor swiftly! It's the best of both worlds.
Performance and Software
The Galaxy S23 packs the latest flagship Qualcomm Snapdragon 8 Gen 2 processor, which we could consider about on par with Apple's iPhone 14 processor (the A15 Bionic), at least when it comes to multi-core results, despite being clocked much lower, so this bodes well for the users. We're getting flagship performance, and when it comes to software, the same great OneUI 4 experience we know and love from prior Samsung phones. That includes top tier multitasking and even the Samsung DeX desktop mode, which pretty much turns your smartphone into a PC replacement, should you ever need it to be one.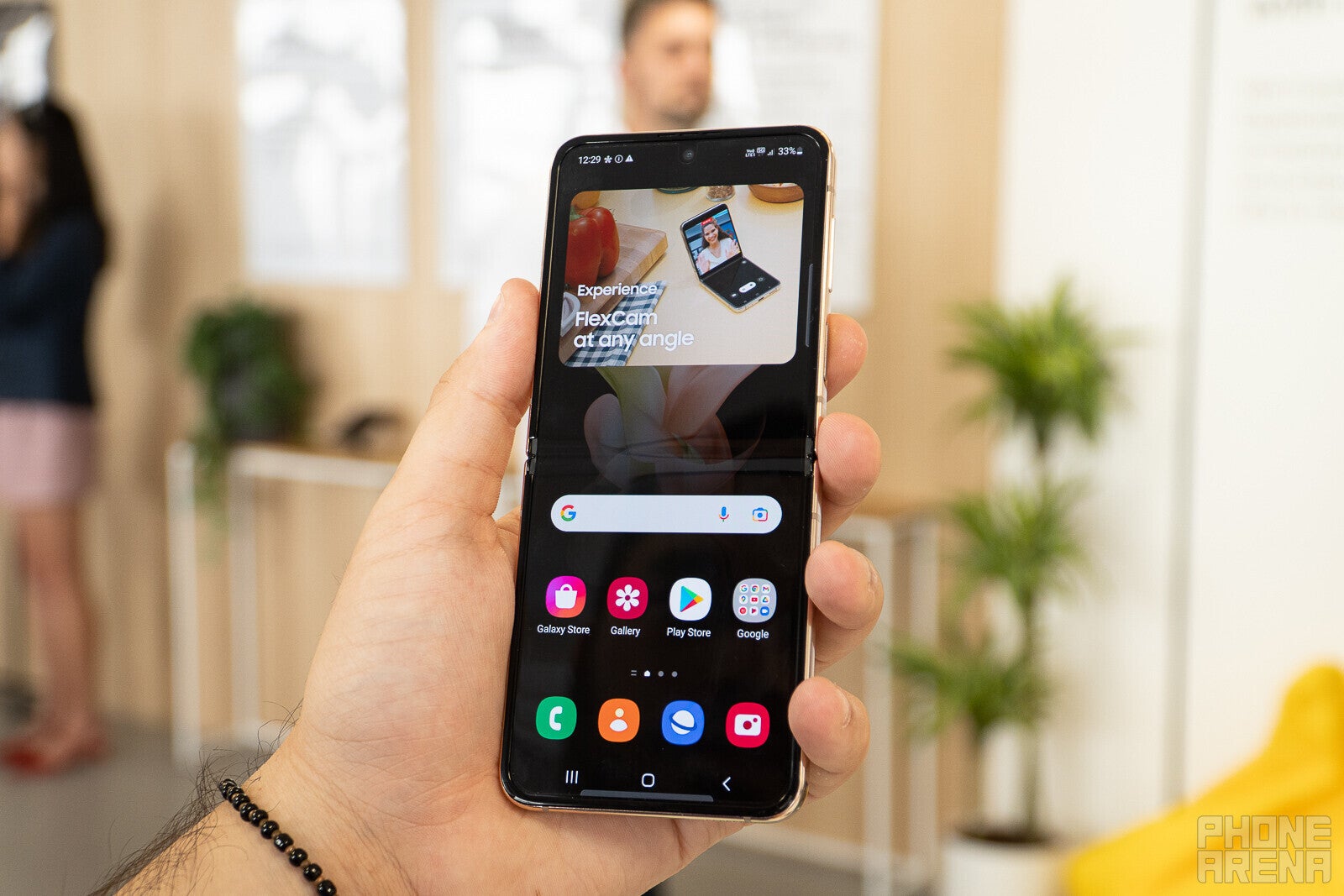 OneUI on the Galaxy Z Flip 4
As for the Z Flip 4, its specs are naturally going to be a bit lower, as it is an older phone, but it is still not a slouch, at all. We have the Snapdragon 8+ Gen 1 inside, which is still a beast of a flagship processor. You can expect a smooth Android experience without any issues. However, certain OneUI features that the S23 has are missing here, such as Samsung DeX, as one of this phone's design drawbacks are its less-than-ideal thermals. Indeed, it's not a great phone for gaming either, as in our experience it tends to throttle quite quickly, but then again, does it look like a gaming phone? Nope, this is for the casual users who wish to have something trendy, and when used for average phone stuff – social media, watching videos, texting – its performance is nothing but excellent.
Camera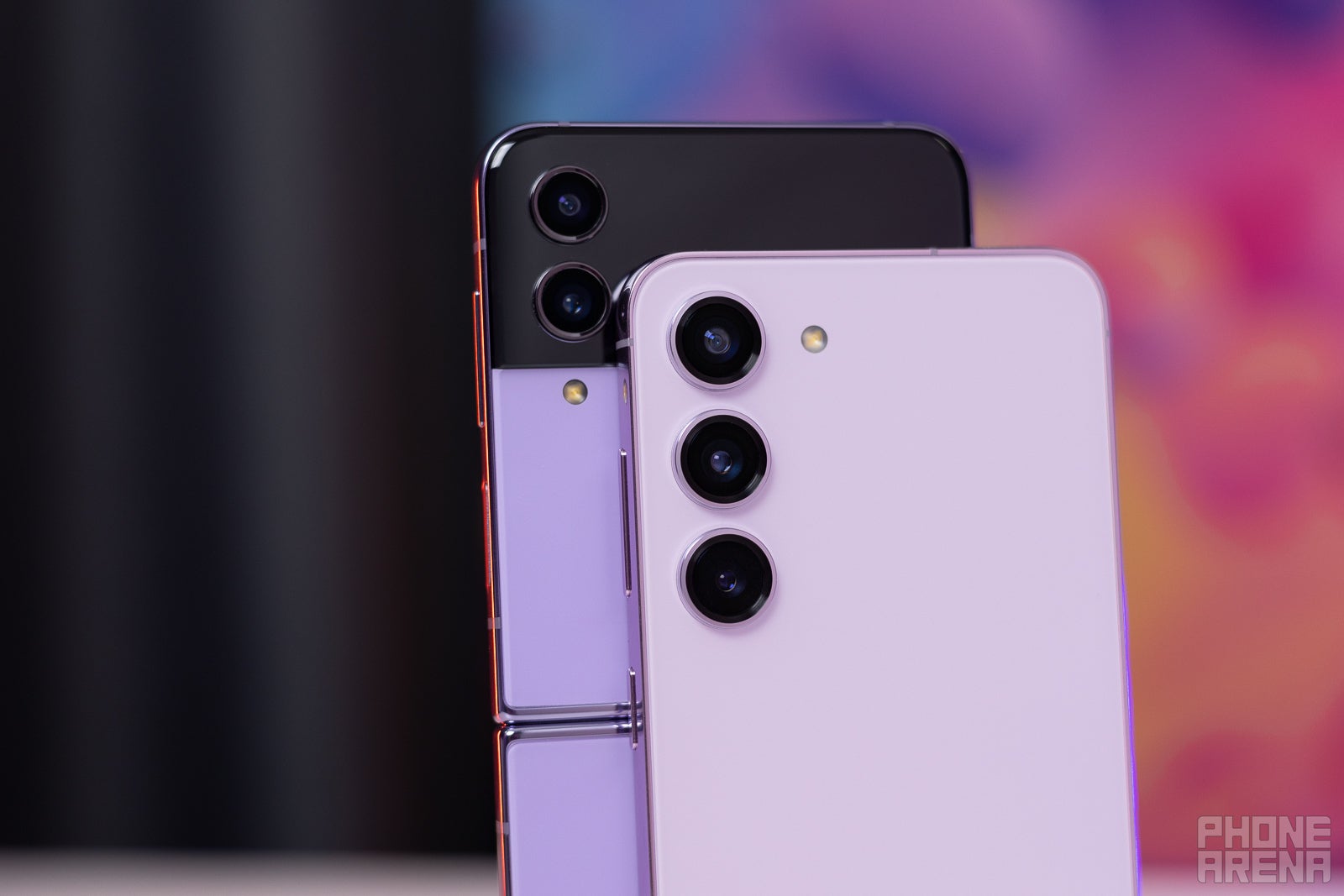 The Galaxy S23 is packing a 50-megapixel main camera sensor with optical image stabilization for steadier video recordings, alongside a 10-megapixel telephoto camera with 3x zoom, and a 12-megapixel ultra-wide camera for those bigger shots. Overall, we have everything the modern user may want from their camera – all the options.
As for the Galaxy Z Flip 4, Samsung's modern clamshell isn't slacking in the camera department either, despite its unique design, which we can reasonably expect led to some engineering challenges for the Korean giant to work around. Its main camera is a 12-megapixel shooter with optical image stabilization, alongside which you get a secondary 12-megapixel ultra-wide one. No optical zooming, although there is still the option of the less-detailed digital zoom.
Main Camera - Good Light
As we can see in our daytime photo samples above, despite being older, the Galaxy Z Flip 4 is no slouch, and holds its own neck and neck against the Galaxy S23.
Both phones produce good photos with realistic colors and good clarity. However, as can be expected, the S23 handles the challenging high contrast spots better. Note that in the first two images, the Z Flip 4 had trouble capturing the clouds without overblowing them, while the S23 did a clearly better job there.
In these darker and more challenging shots above, we can see both the Galaxy S23 and Z Flip 4 handling them about equally well. When there's not a bright spot in the image, the Z Flip 4 doesn't seem to struggle as much with contrast.
Ultra-wide
Zoom



The zoom samples above are at 3x zoom and 10x zoom respectively. This is where the Galaxy S23 is a clear winner, while the Z Flip 4 relies mostly on digital zoom, which results in image clarity loss, not to mention some strong and unappealing oversharpening.


Portrait Mode



When it comes to Portrait Mode, once again both phones perform quite perfectly. Both are capable of isolating the subject from the background, and softly blurring the latter. There are no errors or soft edges to complain about, so - good stuff!


Selfies



As for taking selfies with their phone cameras, once again both phones perform well, and for social media use, are pretty much on par. However, if we take a closer, nitpicky look at the first two samples, we can see that the S23 does deliver more detail, particularly if we focus on the hat.


Video and microphone quality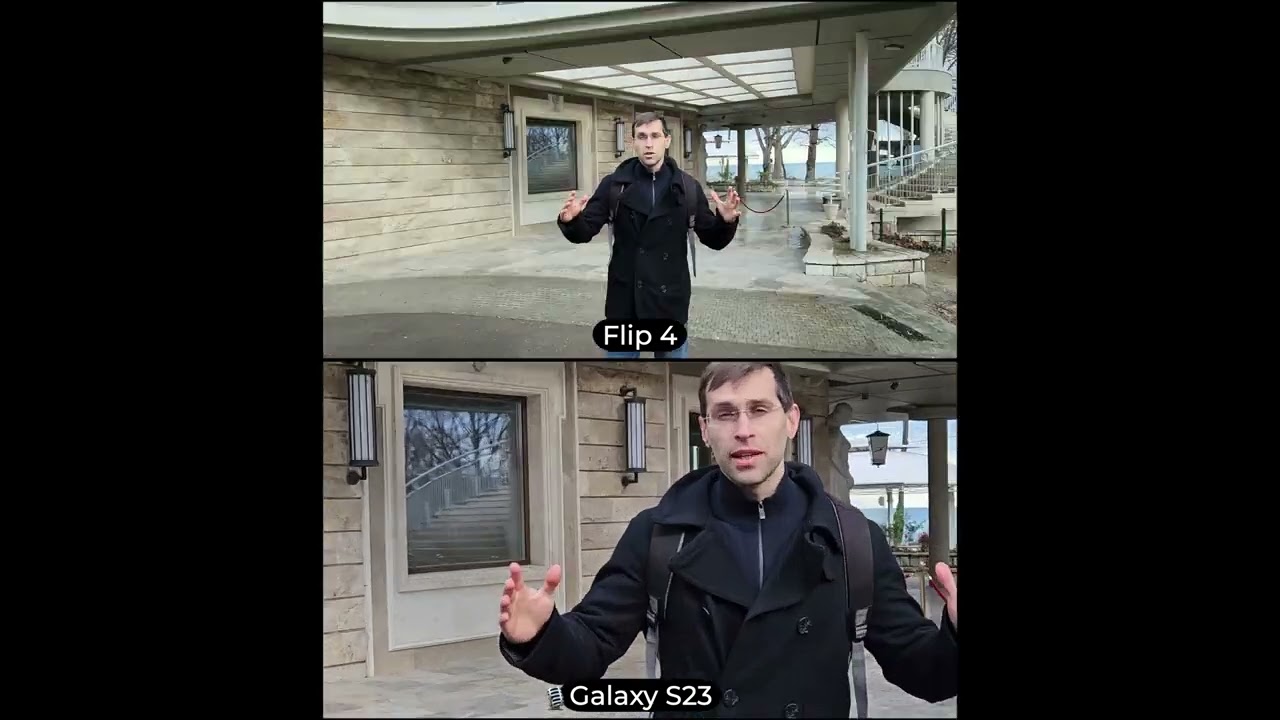 As we can see from our video recording sample above, despite the Galaxy Z Flip 4's main thing being its portability and folding action, it holds its own against the Galaxy S23. Obviously 10x zoom is where we see the biggest difference between the two phones, as the one from the Z Flip 4 is mostly digital. Meanwhile the Galaxy S23's 10x zoom actually delivers a much clearer image, so if that's something you may need on your phone - the Galaxy S23 is the one for you. But in general, both phones perform perfectly well, especially if you're only going to use your videos for social media.
Audio Quality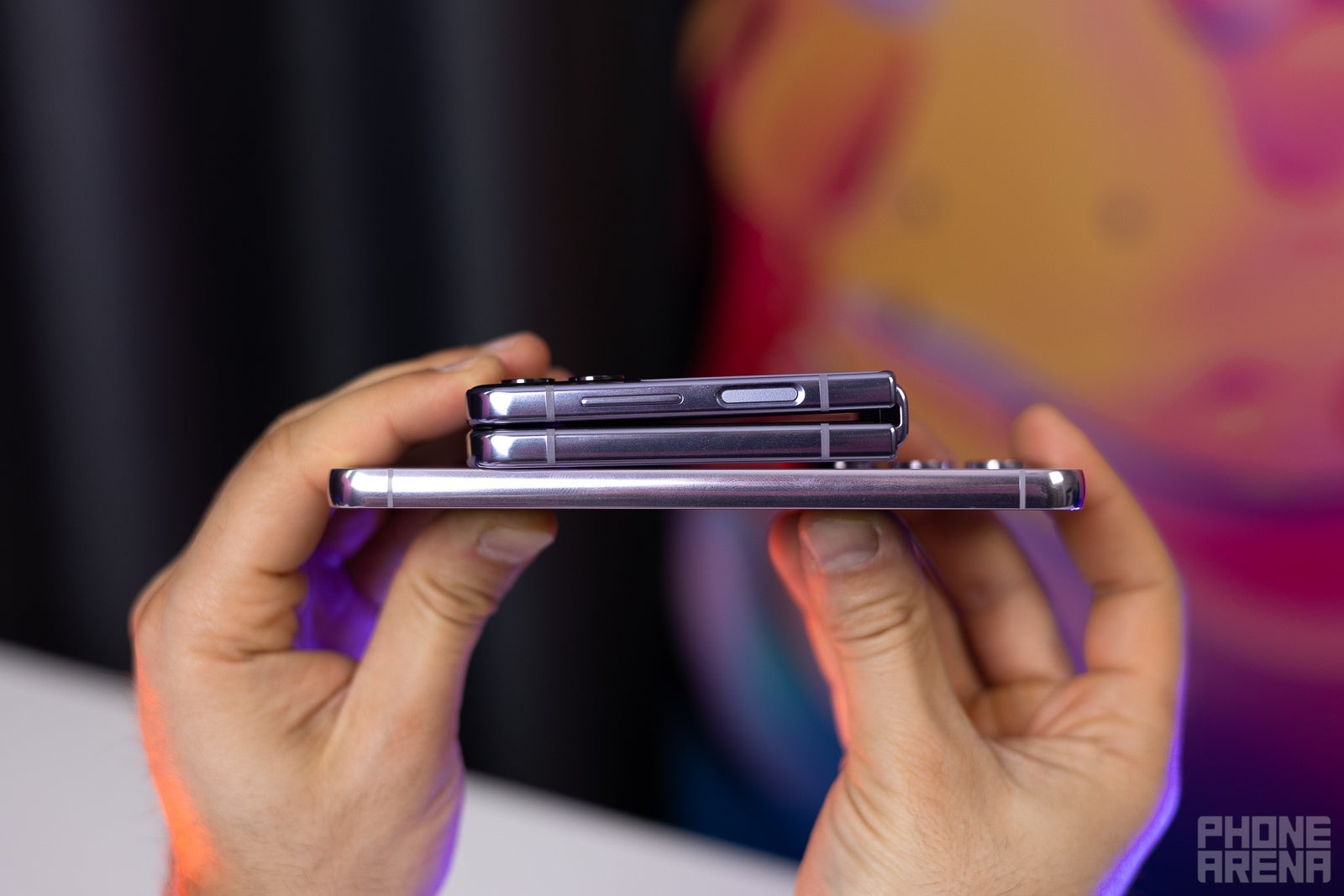 The Galaxy S23 appears to have gotten some changes to its speaker set-up, so we can expect stronger bass than before. The speaker setup itself is fairly traditional – a bottom-firing main speaker, plus the earpiece serving as a second speaker, which both create a bit of a stereo effect. This is welcome when watching movies and videos in landscape orientation, as perceived sound comes from both sides of the phone, albeit obviously the main bottom speaker blasts out deeper and richer tones.
The Galaxy Z Flip 4 is the same story – we have a main bottom-firing speaker and an earpiece, serving as dual speakers. Unfortunately, the sound is not as good, in fact, it's a tad weak and tinny.
And, obviously, there's no headphone jack on either phone. No surprise there, but it's still worth mentioning.
Battery Life and Charging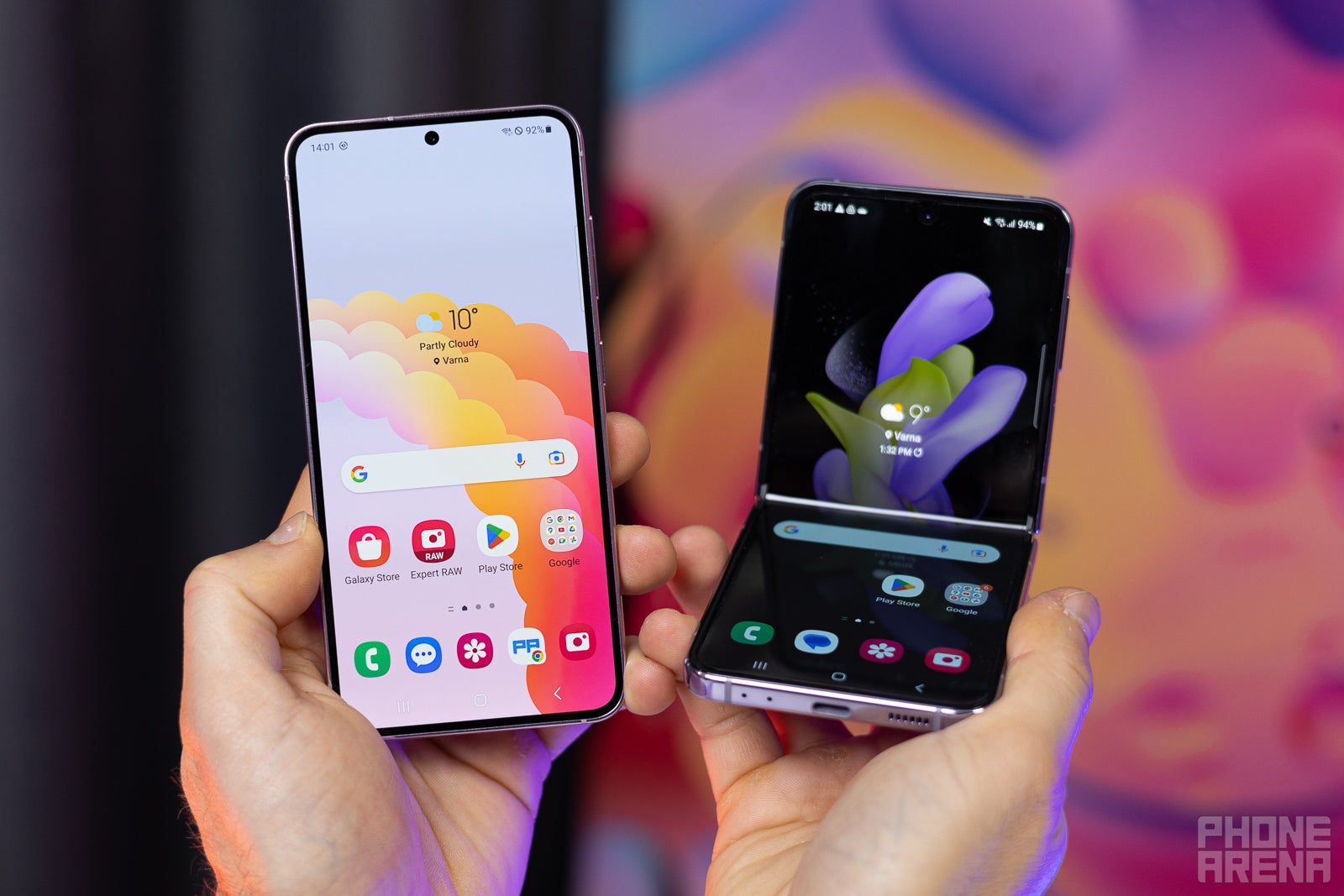 The Galaxy S23 packs a reasonably-sized 3,900 mAh battery, capable of 25W wired charging, and 10W (or 15W, we're yet to confirm) wireless charging.
As for the Z Flip 4, it expectedly packs a smaller 3,300 mAh, albeit still respectably large considering the engineering challenge of its unique folding design. The Z Flip's wired charging speed is up to 25W. Its wireless charging speed has not been stated officially, but is likely about 10W.
As we can see from our battery test results above, however, despite its smaller battery, the Galaxy Z Flip 4 actually delivers longer battery life; significantly more so if you're just doing basic web browsing.
Regardless, both Samsung devices are single-day phones for most users. Light users may be able to squeeze a second day out of the Z Flip 4, before having to charge it.
Specs Comparison
Specs
Galaxy S23
Galaxy Z Flip 4
Dimensions
146.3 x 70.9 x 7.6 mm
Unfolded: 165.2 x 71.9 x 6.9 mm
Folded: 84.9 x 71.9 x 17.1 mm
Weight
5.93 oz (168.1 g)
6.60 oz (187.0 g)
Screen
6.1 inches
2340 x 1080 pixels, 19.5:9 ratio, 422 PPI
Super AMOLED
120Hz
Main: 6.7 inches
Cover: 1.9 inches
2640 x 1080 pixels, 22:9 ratio, 426 PPI
Dynamic AMOLED
120Hz
Processor
Qualcomm Snapdragon 8 Gen 2 (4 nm)
Qualcomm Snapdragon 8+ Gen 1 SM8475
RAM
8GB LPDDR5X
8GB LPDDR5
Rear Cameras
50 MP (OIS)
10 MP (Telephoto with 3X zoom)
12 MP (Ultra-wide)
12 MP (OIS, PDAF)
Aperture size: F1.8; Pixel size: 1.8 μm
12 MP (Ultra-wide)
Aperture size: F2.4; Pixel size: 1.12 μm
Front Camera
12 MP
10 MP
Water resistance
Yes; IP68
Yes; IPX8
Battery Size
3900 mAh
3700 mAh
Price
Starts at $800
Starts at $1000
Summary and Final Verdict
So, which of those two phones should you get? If you're still undecided, let's summarize things...
You should get the Galaxy S23
if you just want a traditional smartphone with a tried and tested form factor, very versatile cameras, flagship performance and power user features like Samsung DeX. It's also well worth mentioning that the S23 is much cheaper at $800. Getting a Z Flip 4 is a deeper dip in your wallet. Also, if you don't need an ultra-compact phone, unfolding the Z Flip 4 every time you wish to use its main screen may get tiresome.
You should get the Galaxy Z Flip 4
if you don't want to wait (it's already out!), and you're looking for something unique, different, and very trendy. Most of all – extremely pocketable, yet big when unfolded. You'll still get great cameras for taking photos and selfies for your social media, and best of all – this phone is its own kickstand! So you can take photos, record videos and participate in video calls completely hands-free, no kickstand case needed! If you want to be unique, don't hesitate – the Z Flip 4 is a result of four generations of progress in folding technology, and Samsung did a great job polishing it and making it a reliable, and again – super trendy device.
Recommended Stories