iPad Air 5 vs iPad Air 4: It's what's on the inside that counts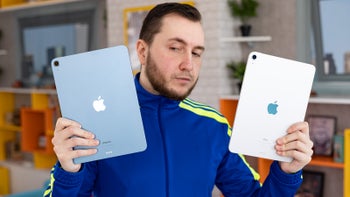 Now that
Apple
's new 2022 iPad Air is out, it's reasonable for iPad fans to ask themselves whether it's a worthy upgrade over its predecessor, which was already a powerful beast and looks exactly the same.
So, let's compare the new
iPad Air (2022)
against the
iPad Air (2020)
, which are also confusingly known as iPad Air 5 and iPad Air 4 respectively.
Best iPads buying guide
: choose the best iPad for you
iPad Air 5 vs iPad Air 4: Colors and storage options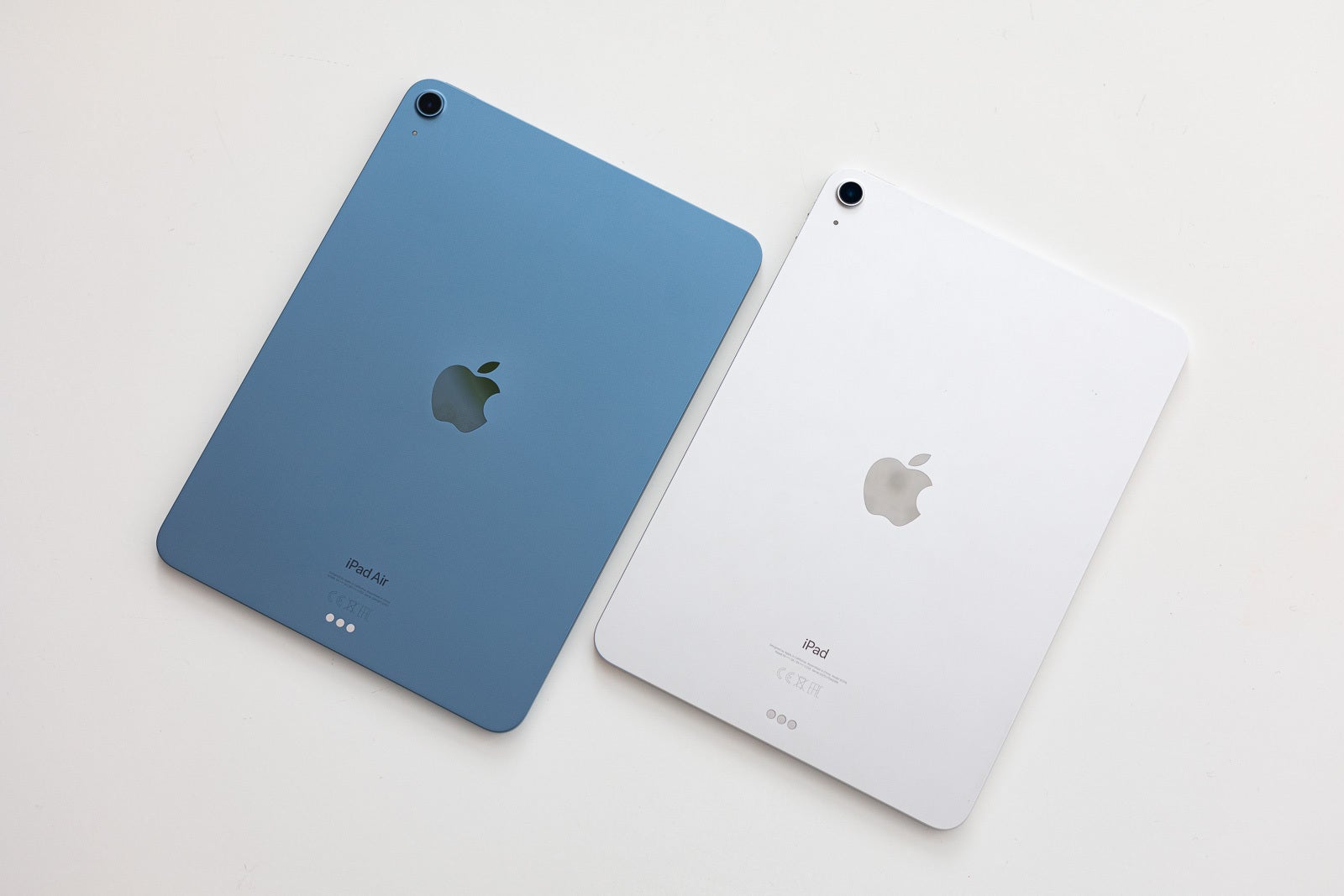 The blue one is the new iPad Air 5, the other – iPad Air 4. Aside from the color options, they look the same.
Unlike the iPad Pro, both of these iPad Air models come in a rainbow of colors. So if you're looking to express yourself with a fun color, there's a good chance you'll find your favorite one between the two tablets…
The iPad Air 5 colors are:
Blue
Purple
Pink
Starlight
Space Gray
The iPad Air 4 colors are:
Sky Blue
Green
Rose Gold
Silver
Space Gray
As for the storage options, those are a bit more underwhelming. Both the iPad Air 5 and the iPad Air 4 only come with either 64 GB of storage or 256 GB of storage, which is a big jump, in price too.
However, if you're a content creator, you'll definitely want the 256 GB model of either iPad Air, since 64 GB will fill up pretty quickly once you start recording or transferring videos. In addition, if you want to download movies, shows, all of your music, lots of games – again, 64 GB might not cut it.
iPad Air 5 vs iPad Air 4: Design and display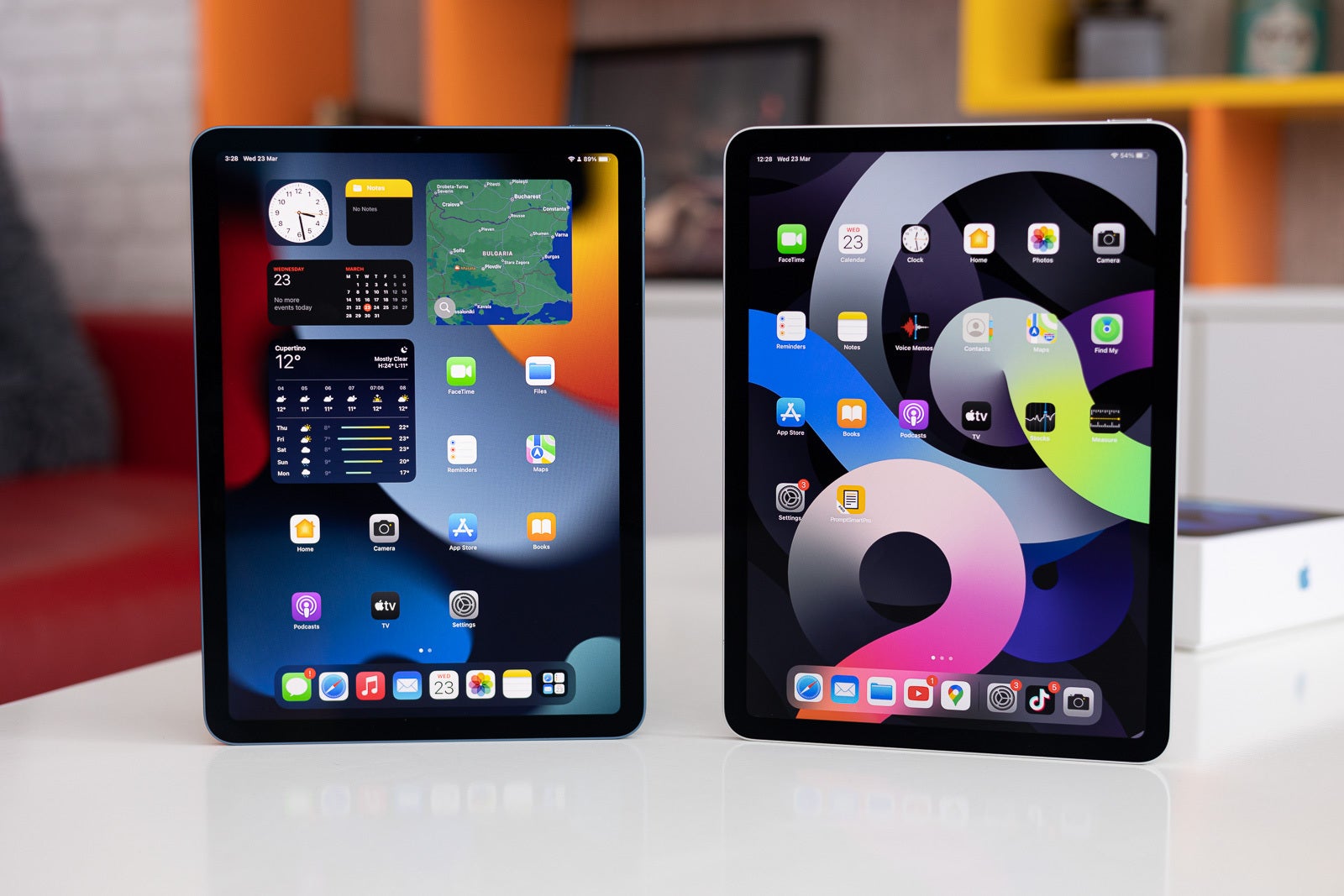 As you've surely noticed – the new iPad Air 5 is visually identical to the iPad Air 4. Hey, if it ain't broke, don't fix it, right?
On both tablets we have a nice premium build, a glass display, a metal frame and back, flat edges and reasonably small, symmetrical bezels. Those are a bit larger than on the iPad Pro, but just perfect for your thumbs to rest comfortably on.
Both iPad Air models are pretty lightweight, at around 16.23 oz (460.0 g), with even weight distribution, meaning you'd likely be more comfortable holding them for a long time than the average tablet.
On the bottom we have USB Type-C ports, which is always great to see, instead of the Lightning port we still have on modern iPhones. According to Apple, the iPad Air 5's USB port does sport "up to 2x faster transfer speeds than the previous generation", so there's a nice leg up over the iPad Air 4.
Both tablets also have four speaker grills, two on each side, but actually just two speakers behind them – one on each side. These two iPads also have a magnetic charging dock for the Apple Pencil (2nd generation).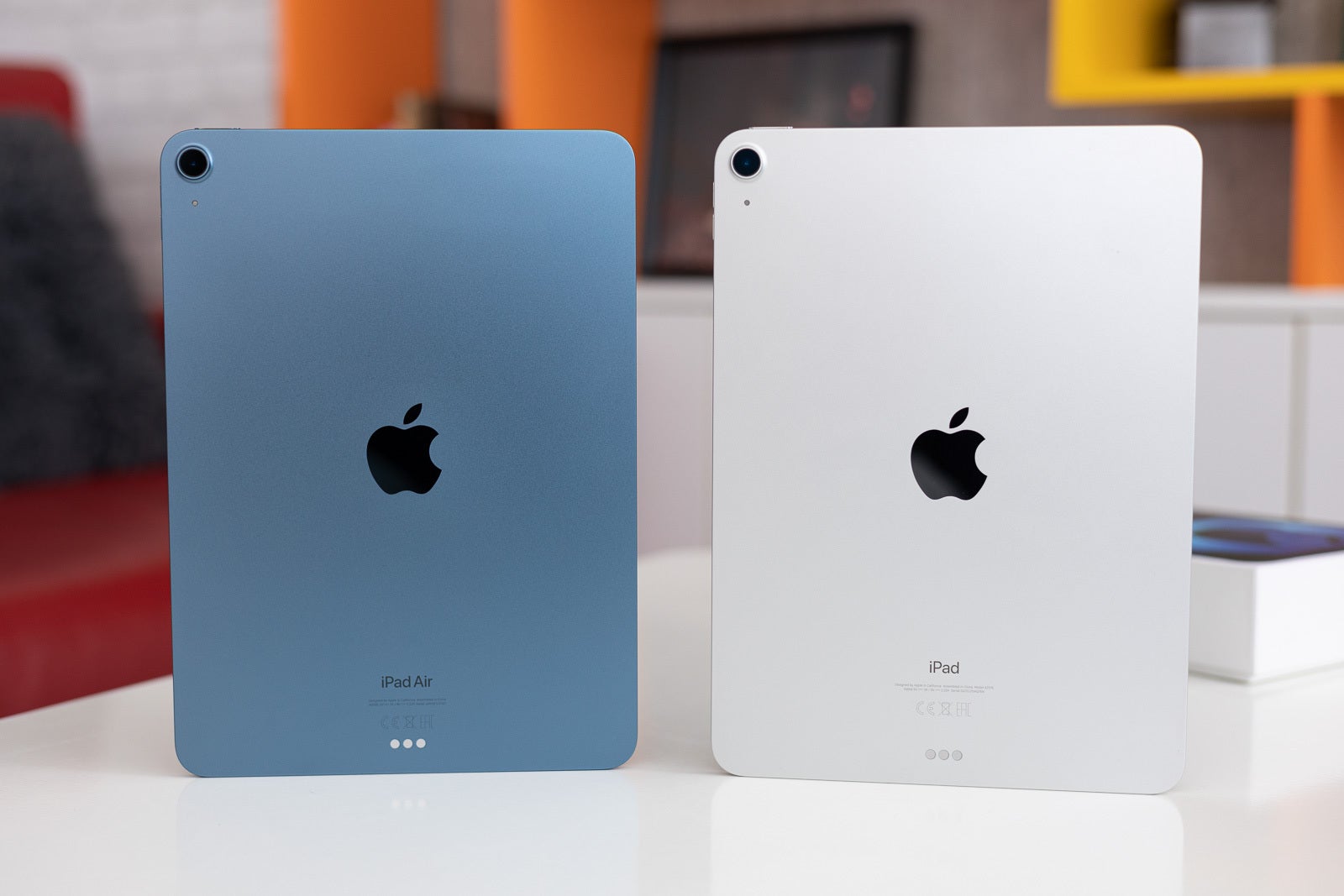 And perhaps most notably, at the top right corner of both, we have Apple's good old Touch ID fingerprint sensor, embedded in the power button. It's painless and quick to set up, and works great. If you actually want Face ID instead – that's still reserved only for the iPad Pro.
iPad Air 5 vs iPad Air 4: Performance
This is where the biggest theoretical jump between those two iPad Air models is. I say theoretical because the iPad Air 4 was already perfectly capable of taking full advantage of what iPadOS 15 offers, thanks to its powerful A14 Bionic processor.
But now the new iPad Air 5 comes with Apple's highly popular M1 processor, which makes an already industry-leading midrange tablet even more powerful. But unless Apple decides to update iPadOS with exclusive features for the M1 iPads, I really doubt the difference in performance would be noticeable to anyone, except perhaps the most hardcore iPad Air content creators.
The new iPad Air 5 has also been upgraded with 8 GB of RAM, which is twice what the iPad Air 4 has. Again – while that sounds like a big jump (and it is), iPadOS is pretty well optimized, so most casual users likely won't notice a difference.
What more RAM basically means is that more apps will be able to stay open in the background for longer, without needing to reset when you switch back to them. So if you've ever encountered that problem on the iPad Air 4 (I know I have, usually with Safari tabs), it should be less prominent on the new iPad Air 5.
As we can see from our benchmarks above, there's a significant jump in the multi-core performance of the new M1 iPad Air. But single-core – not much of a difference.
iPad Air 5 vs iPad Air 4: Camera
Center stage vs… no Center Stage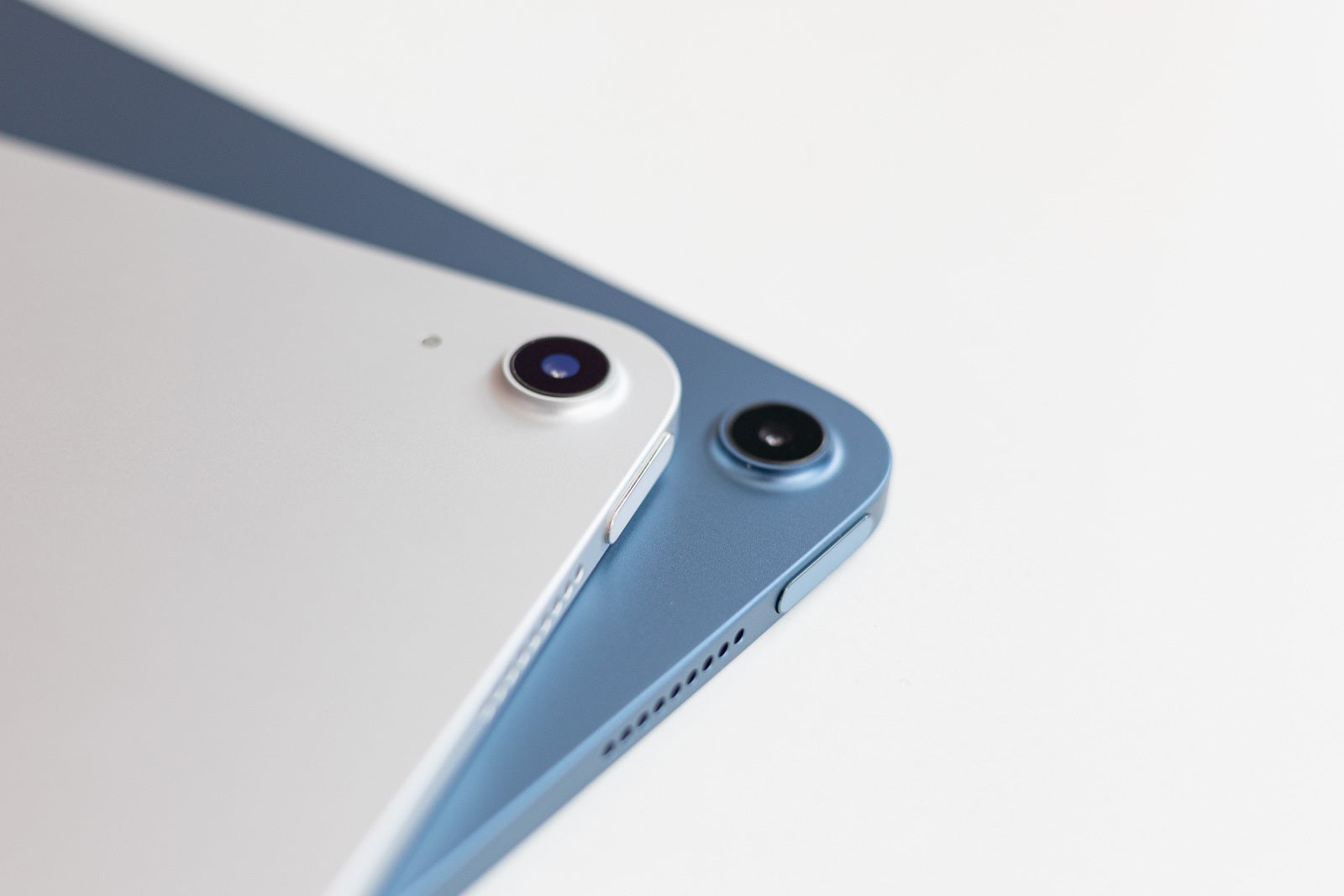 The main camera on the iPad Air 5 appears to be identical to the one on the iPad Air 4. Both are very respectable cameras for a tablet, and can shoot videos at up to 4K, 60 FPS. They won't blow anyone away by producing better photos and videos than the average flagship phone, but then again, those tablet cameras are mostly meant for things like scanning documents, nothing fancy.
But the main difference between these two tablets when it comes to the camera, is that front camera there. Unfortunately Apple still didn't bother moving it at the top center of the tablet when held in landscape, so if that's how you hold your tablet, you'll still show up from a goofy angle during video calls.
But, at least the new iPad Air 5's front camera is now ultra-wide and has Center Stage support, which the iPad Air 4 is lacking.
Center Stage is a neat video calling feature that uses said ultra-wide front camera to crop into the footage a bit, and that crop will follow your face around. So if your iPad Air 5 is propped up and you're in a video call, you can, say, walk around your kitchen and prepare your meal while talking with a buddy, knowing that the camera will do its best to follow you around as you move, like you have your own personal camera operator.
iPad Air 5 vs iPad Air 4: Speakers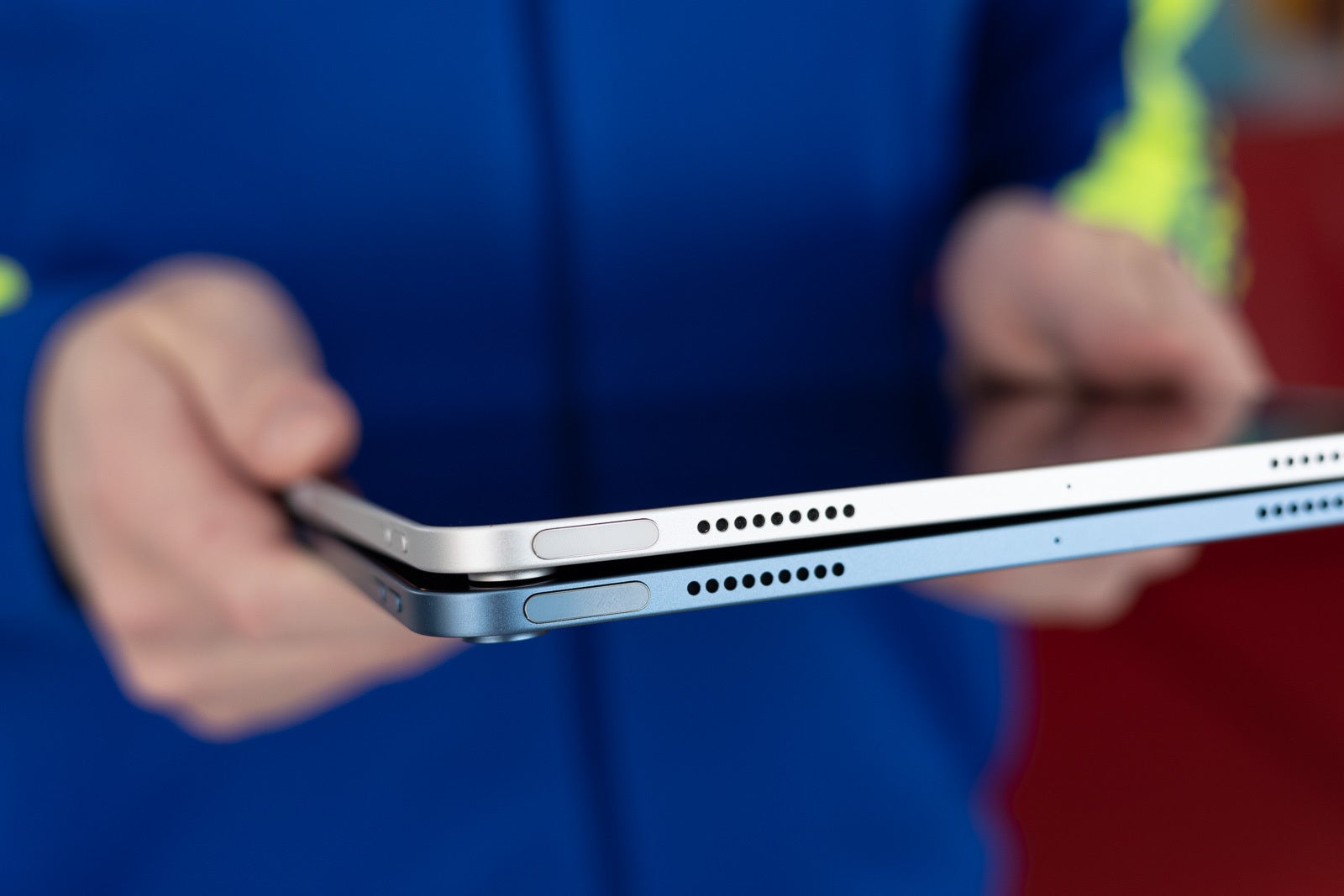 Apple never disappoints when it comes to sound. The iPad Air 4 sounds excellent, and despite all my testing and efforts to find a difference, there is none between how it sounds and how the iPad Air 5 sounds. It's reasonable to say that we have the exact same speakers inside.
Which isn't a bad thing – we have perfect stereo separation, because each of the two speakers is on an opposite side of the tablet (when held in landscape). We also have clear highs, mids, and even a hint of punchy bass. At least when you hold the tablet you can feel it a bit, which is more than what I can say about other tablets I've used.
And rest assured the sound is loud enough to fill a room. So whether you're watching a movie in bed with a loved one, or playing a podcast from one corner of the kitchen while making a sandwich on the other, you'll be happy with the sound quality from both iPad Airs.
iPad Air 5 vs iPad Air 4: Accessories
Both support the Apple Pencil 2 and Magic Keyboard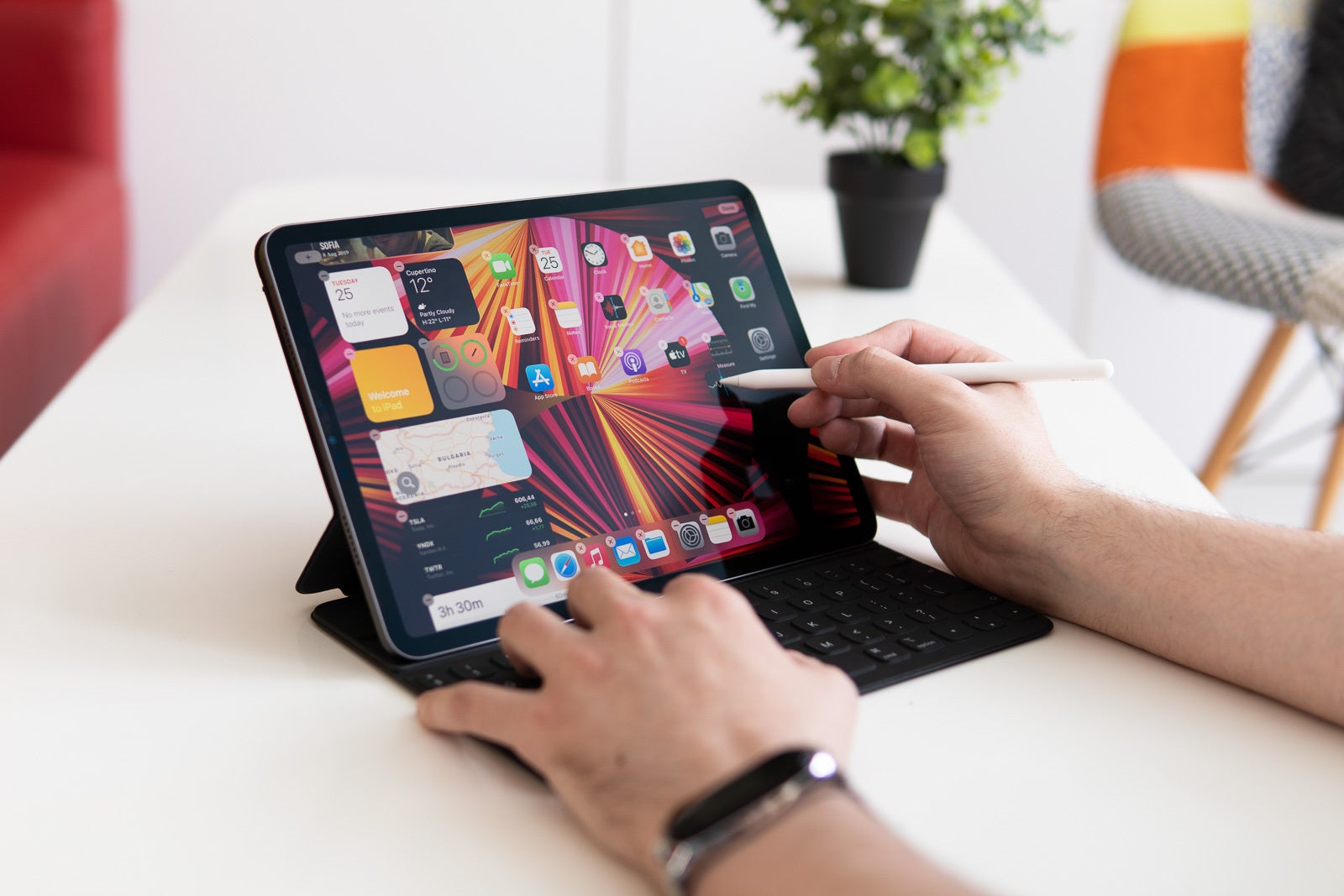 Both tablets are compatible with iPad Pro (11-inch) accessories like the ones shown here
This is a great bonus feature – because both of those iPad Air models have the exact same body dimensions of the 11-inch iPad Pro, they are compatible with all 11-inch iPad Pro accessories. Those most notably include the cool but expensive Apple Magic Keyboard with a trackpad and the Smart Keyboard Folio.
And of course, as we said earlier – both the iPad Air 5 and iPad Air 4 have a magnetic dock for the Apple Pencil (2nd generation), so if you're an artist – you'll be happy to know you can sketch and paint on both tablets to your heart's content.
Check out our
best iPad Pro keyboard cases
article if you're interested, since all of them are either compatible with both of those iPad Air models, or have a version for it.
iPad Air 5 vs iPad Air 4: Should you upgrade?

So what if you already own the 2020 iPad Air 4, should you rush to the nearest Apple store and upgrade to the new 2022 iPad Air 5? Well, frankly, no… Not really, unless Center Stage and the more future-proof and powerful M1 chip are really important to you.

Optimistically, Apple might do something cool with M1 iPads eventually, like give those more powerful multitasking capabilities, maybe even exclusive desktop apps. But really – for now, there's no reason to expect that, it's just wishful thinking. And if you're inclined to think like that, then sure – the new M1 iPad Air would be a worthwhile purchase for a theoretically better iPadOS experience in the future.

But for now, and for most users, I'd argue there's very little reason to upgrade. The iPad Air 4 is perfectly powerful, and can take full advantage of iPadOS 15 as it is.