Google Pixel 6 Pro vs Samsung Galaxy S21 Ultra, the nutshell
6
We may earn a commission if you make a purchase from the links on this page.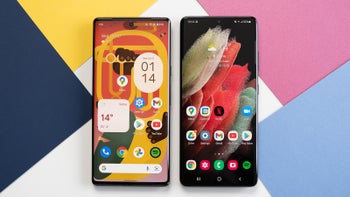 Google
's unprecedentedly early
Pixel 6 and Pixel 6 Pro announcement
indicated a certain hubris on part of Google which is now certain that the Pixel 6 Pro, in particular, can be a great alternative to flagships phones like the
Galaxy S21 Ultra
, warranting a direct comparison from us now that the
Pixel 6 phones are official
.
Google Pixel 6 Pro vs Galaxy S21 Ultra display size and design colors
6.7" Pixel 6 Pro comes in Cloudy White, Sorta Sunny, and Stormy Black two-tone body colors.
6.8" Galaxy S21 Ultra is in Black, Silver, Navy, Brown, and Titanium colors.
The smaller, 6.7" diagonal of the otherwise equally resolute QHD+ display of the Pixel 6 Pro doesn't mean a much smaller than the Galaxy S21 Ultra phone, despite that the latter comes with a 6.8-incher.
The Ultra is one unwieldy giant slab even though confirmation bias would have a lot of its owners disagree, yet the Pixel 6 Pro is no less of a shovel - thick as the S21 Ultra, slightly shorter, yet a bit wider - indicating Google has a lot more to learn about shaving bezels off from all sides.
The S21 Ultra one-ups the Pixel by offering a display digitizer to doodle with your S Pen stylus on, the Pixel 6 Pro has an unique design advantage. Aesthetics aside, the camera island in the top left corner is so ubiquitous, that people have gotten used to its bad ergonomics, always keeping their finger placement on the back of their minds when taking a shot, so as not to inadvertently snap a protruding phalange or two. That's not to mention the framing perspective gymnastics one has to do with cameras tucked there, especially the ultrawide shots, or the wobbling when the phone is lying on a table.

Well, the official Pixel 6 Pro shots say that Google is attempting something signature in its turn, a design that will be immediately recognizable and carry the brand with it like an iPhone notch. We kid, as the notch is another haphazard design abomination from the ranks of a giant top-left camera island, but Google is attempting something totally different.

All of the Pixel 6 cameras and accompanying paraphernalia are in a strip across the back that asymmetrically splits the two-tone body. We can't say that we have welcomed a phone design more in recent memory.
First, it is not just different for the sake of it. The neatly arranged sensor and lens combos can't easily snap photos of your fingers or butcher the ultrawide perspective as a corner camera island would. Plus, there will be ample strip space for our index finger to press against while we use the phone with one hand.

Second, the "belt" is unique to look at and blends with the back without sticking out like a sore, erm, thumb, even though it IS elevated. Third, it's a design playground, as there can be numerous two- and three-color combos of the Pixel 6 now to keep its looks fresh and us entertained, as you can see from the press renders above. Kudos to Google and the designers it poached when it bought HTC.
Google Pixel 6 Pro vs Galaxy S21 Ultra camera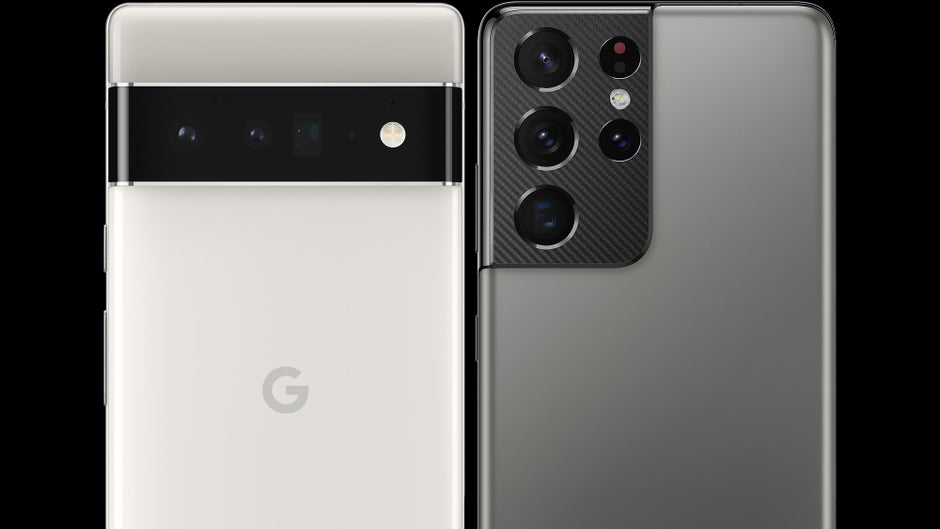 For the first time, Google will be listing a modern camera set in the
Pixel 6 Pro specs
sheet. We'll get a primary 50MP sensor, most likely a custom Sony IMX700-series one like on the P50 Pro, as well as a 12MP ultra-wide-angle unit, and a sweet 48MP sensor with 4x periscope zoom lens on top, or, should we say, sideways. That's the first time Google is using such a zoom camera and such a large main sensor on a Pixel, so we are salivating.
While on paper these Pixel 6 Pro camera specs are no match for the 108MP main and 10x optical zoom cameras of the S21 Ultra, we've little doubt that the Pixel 6 Pro photography will be a sight to behold. After all, Google already does unsurpassed photos from an off-the-shelf 12MP camera and processor by sprucing them up with just its unsurpassed computational photography algorithms.
There is something more about the upcoming Pixel 6 Pro camera set, though, and it is
the homebrew Tensor processor
, which
Google's Rick Osterloh said
was years in the making precisely to elevate computational photography to another level with the modern sensor and lens set on the new Pixels:
What I can reveal today are significant improvements and innovations in photos, video and speech recognition. With Tensor, for example, we can further improve computer-aided photography. With machine learning, photos get much closer to what we see with our eyes. Videos are also complicated and require a lot of computing power, which is why we have not yet been able to use our sophisticated machine learning for this. This is possible with Tensor.
To make a good example of the new Pixel 6 Pro camera features possible with the Tensor chipset, Google introduced something called Magic Eraser that can take away photobombing objects like, well, magic.
Google Pixel 6 Pro vs Galaxy S21 Ultra processor specs and interface performance
While Tensor is yet to be benchmarked for real, its performance is likely to be on par with the Snapdragon 888, with a lot more artificial intelligence and image co-processing tacked on for a good measure. Exclusive Pixel 6 Pro features include Speech Recognition and Live Translate, for instance. all possible like never before thanks to the Tensor processor.
Google didn't equip the Pixel 6 Pro with the Galaxy S21 Ultra's 16GB RAM pack, as the stock Android 12 with flat Material You interface needs much less operating memory to run then the feature-rich Samsung One UI. It did, however, introduce a 512GB Pixel 6 Pro storage option, albeir paired with "just" 12GB RAM.
Google Pixel 6 Pro vs Galaxy S21 Ultra battery life and charging speeds
Both phones come with giant 5000mAh batteries, and the Galaxy S21 Ultra already proved to be the longest lasting flagship phone in its top-shelf specs segment. Google is famous for optimizing the stock Android software on its Pixel line, though, plus the phone is powered by an in-house processor for the first time.
Thus, the team from Mountain View finally has all the pieces of the iPhone puzzle when it comes to a perfect possibility for a software/hardware synchronicity that may deliver battery life wonders to put even the Galaxy S21 Ultra and
iPhone 13 Pro Max
to shame.
Samsung takes just a bit over an hour to top up the 5000mAh with the included 25W charger, however, so Google toоk note and supplied a more powerful 30W charger for the Pixel 6 Pro, тоо, though not in the box.
Hopefully it also gave it the respective durable circuitry to pump the Pixel 6 Pro battery full of electrons at least as fast as Samsung does. Google cites 34 hours of average Pixel 6 Pro battery life, which is pretty respectable but, as usual, your mileage may vary.
Google Pixel 6 Pro vs Galaxy S21 Ultra price
S21 Ultra MSRPs: $1,200 for 128GB model, $1,250 for 256GB, $1,380 for 512GB
Google Pixel 6 Pro starting price: $899 for 128GB, $999 for 256GB, $1099 for 512GB
Google's Senior VP Osterloh also mentioned that they will try and pierce the flagship phone segment with the "expensive" Pixel 6 Pro, while the Pixel 6 will also be priced in the "upper segment."
We weren't represented in the smartphone flagship segment for the past two years - and not really before that either. But the Pixel 6 Pro, which will be expensive, was designed specifically for users who want the latest technology. This is an important new approach for us and we believe it will help us be attractive in new market segments. But the Pixel 6 also belongs in the upper segment and can keep up with competing products. I would call it a "mainstream premium product".
None of that happened, and the Google Pixel 6 Pro price is just $899. Thus, given that the Galaxy S21 Ultra starts from $1199, while the iPhone 13 Pro Max commands $1099 without a periscope zoom camera, and for the 128GB version while Google gives you 512GB for that price, we can reasonably expect that the Pixel 6 Pro one-ups them both in the value-for-money ratio in the eyes of the average user.
After all, the most expensive Pixel so far have been the
Pixel 4 XL
and
Pixel 3 XL
, and those puppies did cost $999 without packing much to stand against the best Android flagships in their respective years of release. Not any more, as Google scored a very sweet price point with the Pixel 6 Pro, given that those periscope cameras are one of the most expensive components you can currently put in a phone, yet Google has to squeeze at least some margin out of its "first flagship phone."
Google Pixel 6 Pro or Galaxy S21 Ultra, which one to buy?
Which one should you pick in that case, you ask? The new guy, of course, for the lack of corner camera island wobble. We kid, yet the Pixel 6 Pro is shaping up to be a direct match even for the storied Galaxy S21 Ultra, and, given that now Google will hold both the hardware Tensor and software Android power, Samsung should be rather worried about Google's next flagship.