Samsung Galaxy Tab S 8.4 vs Google Nexus 7
15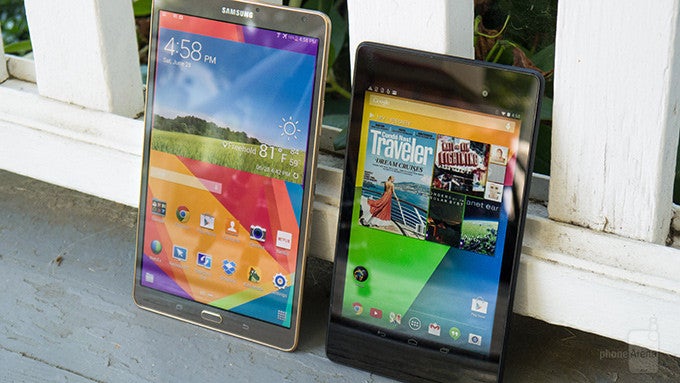 Introduction
Almost a full year after its release, the 2013 made
Google Nexus 7
has proven time after time that it's a contender in the compact tablet segment. With its $229 starting cost, it has shown us that owning a good performing tablet can be snagged without forking over a huge investment. Sporting newer specs and a larger footprint, the just released
Samsung Galaxy Tab S 8.4
has propelled Sammy into the limelight of late once again in the tablet space. Knowing that, it's intriguing to find out exactly how its newest tablet can compare and possibly sway people to choosing it over the Google Nexus 7.
Design
When you're the cheaper of the two, it makes perfect sense to have a conventional design that's straight to the point – without any elaborate or ornate characteristics to up the cost. Indeed, the Nexus 7 lacks the construction improvements and sophistication we see evident in the Samsung Galaxy Tab S 8.4, but nonetheless, its design is certainly a sufficient one that we regard as a timeless look. It has solid build, but its minimalistic look is rather bland when put next to the flashier Samsung tab.Some folks will appreciate the narrower body of the Nexus 7, as it is more comfortable to hold with one hand over the wider waist of Sammy's toy. The Galaxy Tab S 8.4, however, is much slimmer (6.6 mm vs 8.65 mm) and has identical weight, although packing significantly larger screen.
Display
Quite frankly, the 8.4-inch 1600 x 2560 Super AMOLED display of the Galaxy Tab S is more stunning than the Nexus 7's smaller sized 7-inch 1200 x 1900 IPS-LCD panel. And why's that?
Well, it's partly due to the sheer luminance and polarizing glow of the display. For a Super AMOLED screen, it's one of the best in terms of brightness, viewing angles, and overall wow factor. Don't believe us? Checking the two out in the dark instantly reminds us why the Galaxy Tab S 8.4 is superior over the Nexus 7, there's just no comparison. AMOLED screens are known for the inaccurate color reproduction, but the S 8.4 can deliver very accurate color reproduction if you select the basic color profile. Despite being outmatched, the Nexus 7's display is still usable for many occasions.
Display measurements and quality