Apple iPad mini 2 vs Google Nexus 7
33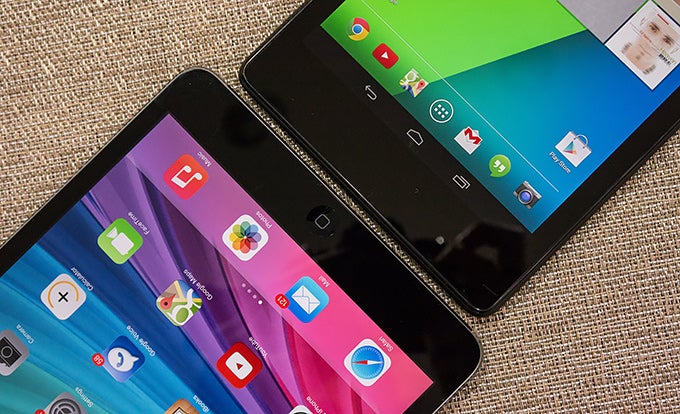 Introduction
Come on folks, this is something we knew that was bound to happen! Apple and Google have been waging war against one another for a long time now, and considering that this year meant that we would see refreshes to several popular tablets, which we did, it's only fitting to see how their two compact tablets stack up against one another.
The 2013 edition of the
Google Nexus 7
has proven to be one heck of a popular tablet, as it continues to be red hot thanks to its killer price point, high-end specs, and diverse platform experience. Meanwhile,
Apple's iPad mini
saw itself get outfitted with a Retina Display to prove that it's with the times – while also being treated to the same usual set of hardware and software upgrades.
Now comes the hard part: finding out which of the two is exactly the better choice to fork over your hard earned money into. Even though they both saw increases to their prices, the iPad mini with Retina Display saw a significantly higher tally than what most people would like, but nevertheless, if compact tablets are what you seek out, these are no doubt the two that should come into mind.
Design
Naturally, their prices influence their designs, which shouldn't be a shocker seeing that one is grossly higher than the other. Aesthetically, there's a premium element with the iPad mini with Retina Display, as it continues to boast the sturdier construction thanks in part to its brushed aluminum casing. Unlike the grandeur attached to the iPad mini, the Nexus 7 still manages to get our attention with its soft touch matte body – though, it's definitely not as premium as the iPad mini.
Due to the smaller sized display it's carrying along, the Nexus 7 benefits by having a more comforting and form-fitting size – best served for those with smaller hands. In comparison, Apple's tablet has a wider figure, which in turn, requires more stretching by our hands to grasp with a single hand. After some time, it becomes tiresome, to the point that it just no longer feels as natural holding it.
Either way, the designs can be deemed as pleasant depending on how you look at it. If cutting edge and premium elements are what attracts you the most, there's no arguing you'll see all of that in the iPad mini. However, the smaller size of the Nexus 7 combined with its modest looks can appease others as well.
Around the trims of both tablets, we don't really find anything too surprising with either of them, as they feature nearly the same set of buttons and ports. Specifically, they consist of their power buttons, volume controls, various microphones, 3.5mm headset jacks, and respective power/data ports.
For small tablets, they're armed with some pretty snazzy cameras. Around the rear, they're both packing 5-megapixel auto-focus camera sans flash – the typical arrangement we're seeing nowadays with prized high-end tablets. In the front, it's also the usual configuration, as they're graced with 1.2-megapixel front-facing cameras.
Display
Just like last year's comparison, there's a slight size disparity between these two ground shakers. Like how its name implies, this year's iPad mini benefits from having a Retina Display – a 7.9-inch 2048 x 1536 IPS LCD display, giving it the very slightly higher pixel density count of 324 ppi. On the other hand, we can't count out the Google Nexus 7's 7-inch 1920 x 1200 IPS LCD display, which pops out an equally crisp 323 ppi pixel density figure. Detail isn't an issue with either of them, as they're more than capable of producing sharp visuals that allow our eyes to distinguish even the finest of text in the web browser.
Colors are warmer with the iPad mini's Retina Display, and the Nexus 7 casts a more natural tone with its display. Outdoor visibility is pretty good with the two, seeing that they feature wide viewing angles and strong brightness outputs to make them extremely visible. At the end of the day, it's a tough call which one of the displays we like better – more so when they exhibit very similar qualities that we find exquisitely pleasant.
Display measurements and quality
Recommended Stories