Samsung Galaxy Tab 10.1 vs Apple iPad 2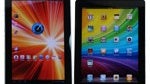 Introduction:
Apple iPad 2
and
Samsung Galaxy Tab 10.1
are seemingly regarded as the cream of the crop in the tablet market right now. Surprisingly priced evenly at the starting cost of $500, the ultimate question comes down to which one is the better of the two.
Design:
By now, we all know the story behind these two razor thin tablets, though, it's worth noting that the Samsung Galaxy Tab 10.1 takes the crown as being the thinnest and lightest tablet. To the eye, the two look almost alike in terms of thickness, but it's only by a hairline that the Galaxy Tab 10.1 edges out the iPad 2. Still, we actually prefer the more refined and polished construction of the iPad 2 versus the plasticy nature of the Galaxy Tab 10.1. True, there's nothing too polarizing with their straightforward designs, but the premium nature of the iPad 2 undoubtedly makes it the more highly prized of the two – especially when they sport the same price point. The plastic helps the Tab 10.1 to be lighter though.
Again, we find yet another similarity between the two tablets since they sport the best-looking
displays
we've seen grace tablets thus far. On one hand the Galaxy Tab 10.1's PLS-LCD display sizes up at 10.1" with a resolution of 1280 x 800 pixels, whereas the iPad 2 comes in with a 9.7" IPS display and 1024 x 768 resolution. Honestly, they both exhibit a lot of detail, luminance, and vivid color production to wow anyone from afar, but after meticulously looking at both, the iPad 2 has a more natural looking color production. In fact, there is a slight blue tinge with the Galaxy Tab 10.1's display with the color white – while at extreme angles, the color black turns to a subtle grey color.
Both the dedicated
power buttons
and
volume rockers
on the two tablets are distinguishable to the touch, while offering a sensible amount of feedback when pressed, but the iPad 2's buttons jut out just a tiny bit more. In terms of other
ports
, they both flaunt proprietary data/charging connectors and 3.5mm headset jacks. The iPad 2 has a
single speaker
located on the back corner of the tablet, while the Galaxy Tab 10.1 offers stereo support with its
left and right speakers
.
It's worth noting that their batteries are not user removable and will require you to send it out for service if you need them to be replaced. Additionally, they don't provide any means of supplementing their internal storage capacities – meaning, you're stuck with whatever you pick.