HTC Jetstream vs Apple iPad 2
35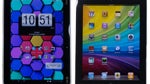 Introduction: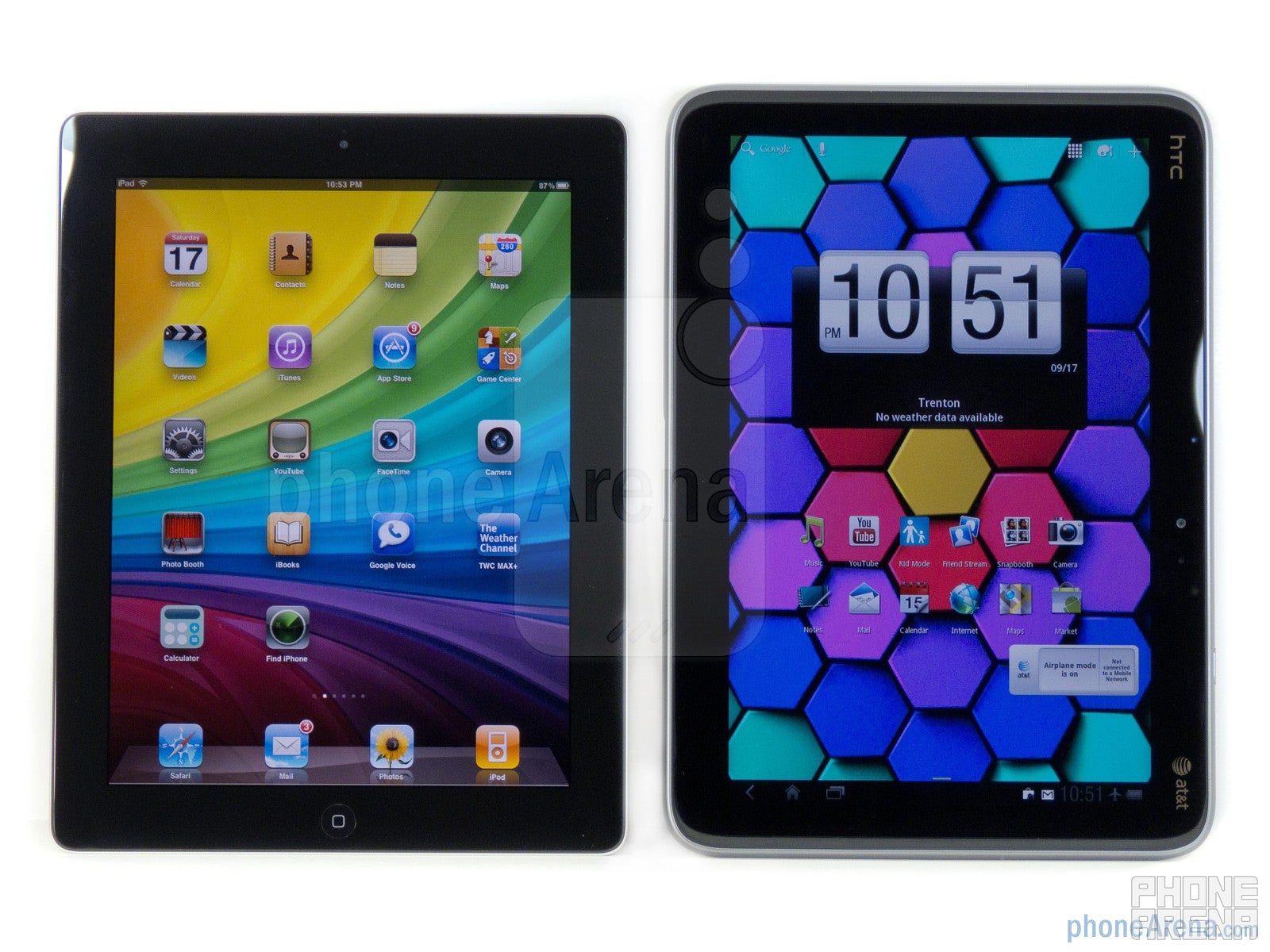 When it comes to cellular enabled tablets for AT&T, the pickings are indeed slim with the
Apple iPad 2
being the most highly respected name on their lineup. Well, the
HTC Jetstream
is flying in to make a name for itself as being the carrier's very first tablet to feature next-generation 4G LTE connectivity. Indeed that's a prevalent shining point for the Honeycomb flavored tablet, but when you look at its $849.99 no-contract price, it seems remarkably overpriced versus the comparable $730 32GB 3G-enabled version of the Apple iPad 2. There's no arguing that they're going to be the cream of the crop for moment on AT&T's lineup, but which one should you fork over your hard earned money into?
Design:
From a cursory look, it's very difficult to point out the design differences between the two tablets, but if there's one thing we love about them, it has to be their solid feeling brushed aluminum casings – it simply radiates quality! Looking at them head-on, their overall dimensions are relatively close to one another, however, the iPad 2 takes the mark of being the more refined of the two due to its razor thin construction and lighter weight feel. It's not to say that the HTC Jetstream is a chubby one, but when the iPad 2 is able to confine itself within a small space, we'd only expect others to follow closely in the same footsteps. Naturally, HTC does a valiant effort on their part, but the kudos has to go to Apple's team for engineering the more premium feeling tablet between the two.
On one hand, the
Apple iPad 2 features a 9.7" IPS display
with a resolution of 1024 x 768, which might seem slim in figure compared to the higher 1280 x 768 resolution found with the
Jetstream's 10.1" LCD display
. Actually, details are comparatively the same with the two tablets – with neither one gaining the upper hand in this area. However, the iPad 2's display produces colors that are more natural looking compared to the bland tones exhibited by the Jetstream. Furthermore, there's a subtle yellow tinge seen with the Jetstream's display when it's tilted at various angles. And when it comes down to outdoor usage, the higher brightness output of the iPad 2 enables us to visibly see whatever is on-screen in direct sunlight.
In our experience, we constantly find ourselves accidentally pressing the Jetstream's dedicated power button and volume rocker since they're very sensitive to the touch – thus, causing us to press them by mistake too often than none. In contrast, the iPad 2's
physical buttons
are more pronounced and require a good amount of force to activate.
Above their displays and built into their bezels, both tablets employ
front facing cameras
for video chat functionality. On the iPad 2, it's a 0.3-megapixel VGA camera, while the Jetstream sizes up with a larger 1.3-megapixel one.
Of course, both tablets have their own respective
charging and data ports
, but not surprisingly, you'll need to purchase adapters in order to gain HDMI-out functionality with the two of them.
Continuing to show off its mightier hardware, the HTC Jetstream packs a significantly higher 8
-megapixel auto-focus camera
with dual-LED flash, which dwarfs the iPad 2's miniscule less than 1-megapixel count camera. At the same time, the Jetstream offers stereo output with its left and right
speakers
– versus the single one on the iPad 2.
Considering that they're
cellular enabled tablets
, the iPad 2 employs a microSIM card slot, while the Jetstream uses a more traditional regular sized one instead. Giving props to HTC's beauty, the availability of a microSD card is undoubtedly a sweet thing to find since it allows the tablet to increase its internal storage capacity. Nevertheless, we're still locked out from accessing their batteries.
Recommended Stories