Asus Transformer Prime vs Apple iPad 2
52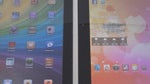 Introduction:
It wasn't until the arrival of the iPad that the Tablet market began to gain steam amongst consumers. Even now, Apple's pride in joy in the
iPad 2
continues to make great strides in the tablet landscape as it's seemingly is the benchmark that all other tablets try to live up to. Not one to back down from a good fight, we've seen very recently that Asus has managed to enthrall our interests thanks to its amazing
Transformer Prime
, but it's going to be interesting to see how it stacks up against the iPad 2. Without further delay, let's find out which of these two power packed tablets will come away in proclaiming itself the one tablet to rule them all.
Design:
Hardly able to contain our adulation towards these two tablets by simply looking at them from afar, our hands absolutely fall in love with the two as they exhibit the qualities of a premium device with their
minimalistic designs
. Honestly, it's hard to say which one is the better looking, for the simple reasoning that they're similar with their premium choice materials, skinny streamlined construction (the Prime is a hairline thinner), lightweight feel, and sturdiness to instill us with confidence that they'll last a lifetime. However, we do notice that the metallic spun finish of the Transformer Prime appears to retain dirt and debris a little more than the iPad 2 – though, a quick rub down with a piece of cloth reverts it to its usual shiny appearance.
There's no arguing with this one, but the iPad 2's volume rocker and dedicated power button are light years better in feel and response over the Transformer Prime. Meanwhile, even though we despise proprietary ports with any device, we've come to live with the fact that they're abundant on tablets – with these two showing us the transparent realization. However, the iPad 2 can output video with the aid of an optional digital AV adapter – whereas the Transformer Prime has a separate microHDMI port.
Display:
Visually, we're absolutely stunned by the
amazing displays
found on both tablets, seeing that they're able to reel in our eyes with their good detail and balanced color reproduction. With the 9.7" XGA (1023 x 768) IPS LCD display of the iPad 2, it's still a sight for sore eyes as it maintains all of the elements that make a great display usable – such as its spot-on colors, wide viewing angles, and high-contrast. However, the Transformer Prime is able to inch its way past it thanks to the 10.1" WXGA (1280 x 800) Super IPS+ display it's packing for the ride. Specifically, it offers superior viewing angles and brightness output, while maintaining the same natural colors found on the iPad 2 – though, it's a tiny bit warmer. On top of that, setting the Transformer Prime to "Super IPS+" mode kicks up its brightness even further to make it more visible outdoors versus the iPad 2 under the gaze of the sun. In all seriousness, the Transformer Prime merely comes to the table showcasing the better display.
Recommended Stories