HP TouchPad vs Apple iPad 2
28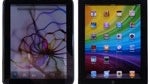 Introduction:
Back in 2009 when the
Palm Pre
came roaring out of the gates hoping to find itself as a noteworthy competitor to
Apple's iPhone
, there were some people adamant about seeing webOS succeeding in making itself an established mobile platform. As we all know by now, it didn't quite end up that way seeing that Palm's portfolio failed to capture the attention of consumers – while during the same span, the iPhone's momentum seemed almost undisrupted. Well, we're witnessing the same kind of showdown once again now that the
HP TouchPad
is on the scene sporting the rejuvenated
webOS 3.0
experience. Starving to throw itself into the thick of battle, the iPad 2 has shown itself time after time as timeless strong competitor, but it'll nonetheless be interesting to see how the two stack up against one another – thus giving bragging rights to one in the end.
Design:
When looking at the two
head on
, it's almost difficult to tell them apart without meticulously looking at them closely since they share the same black bezel surrounding their displays. However, that's where the similarities all end because the iPad 2 considerably employs a lot of polished elements to its design versus the TouchPad – even more when the two are priced evenly at $500. On one hand, we undeniably prefer the iPad 2's impressively thin construction, premium choice materials, and solid feel. It's not to say that the TouchPad isn't good looking, but rather, it doesn't have the refined qualities to make it more alluring between the two. In fact, not only does it sport a less desirable plastic
rear cover
, but it's also surprisingly heavier and larger looking as well. At the same time, the iPad 2's brushed aluminum rear casing enables it to look clean, whereas the TouchPad is a magnet for fingerprints.
Indeed, it's rather difficult not to believe that the two tablets are identical twins especially when they feature identically sized
9.7" IPS displays
with 1024 x 768 resolution, and 4:3 aspect ratio. Needless to say, they boast the same pixel density to provide plenty of decently looking details. Additionally, color production with the two is on the natural side without appearing to be overly saturated – and it definitely helps that colors retain their vibrancy thanks to their great viewing angles. However, the iPad 2's display is noticeably brighter in output and convincingly makes the TouchPad's screen dimmer in tone. Of course, we have better luck in viewing the display of the iPad 2 in outdoor settings with the sun present.
As opposed to simply offering one function, we like that the
HP TouchPad's physical home button
actually doubles as the tablet's LED light notification system, which is conveniently nice to see when it's completely powered off. Regardless, the home buttons of both are sufficient in size and responsive when pressed.
Likewise, we find
front-facing cameras
on board with both to allow video chat using their respective services, but the TouchPad's 1.3-megapixel camera is only reserved for that and nothing else! Meanwhile, the iPad 2's VGA 0.3-megapixel camera can be used to shoot self-portraits and videos as well.
Equally, their
volume rockers
are spaciously sized and prominent to make out, but we find the addition of a vibrate switch with the iPad 2 very complementary since it easily allows us to mute it at an instant.
Positioned in the top right corner of both tablets, we actually prefer the slightly more prominently feeling
power button of the iPad 2
– though, both exhibit acceptable clicky responses.
When it comes to audio, they naturally feature easy-to-access
3.5mm headset jacks
, but the HP TouchPad actually packs two
speakers
that offer stereo support – while the iPad 2 only employs a single one.
Much more preferred than anything else, we're relieved to find HP sticking with a
microUSB port
for data syncing and charging, whereas, you know that the iPad 2 relies on the proprietary 30-pin connector.
Granted that tablets aren't the most opportune things to capture images with, it's nevertheless nice to give owners the ability to
shoot photos and videos
, which is something you can do with the iPad 2's less than 1-megapixel count camera.
Recommended Stories