Samsung Galaxy Note 4 vs Nokia Lumia 1520
64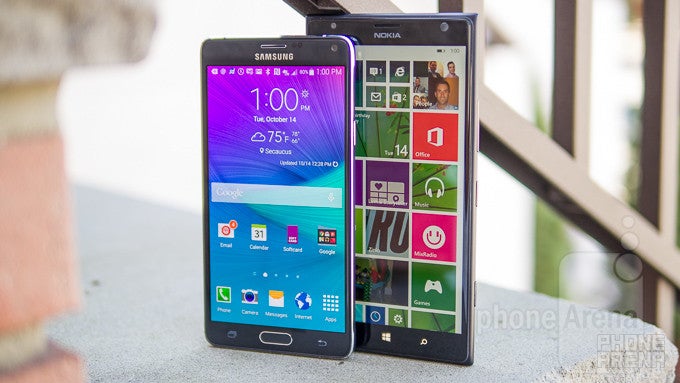 Introduction
Microsoft's presence in the phablet space is still widely regarded as insignificant, especially when there are only two giant sized Windows Phones in circulation. One of them is none other than the
Nokia Lumia 1520
, which impressively continues to be relevant in the space – despite being a model that's a year old. During that time, it has seen significant competition from the Android side, but it surely has a lot to be worried about now that the
Samsung Galaxy Note 4
is embarking on its quest for domination.
Design
Both have phablet size, but the Lumia 1520 is significantly larger.
Obviously, we're dealing with phablets here, due to their hand crushing sizes. However, the Lumia 1520 is significantly harder to manage due to its even larger overall size and heavier weight – and it doesn't help either that its corners are a bit pointy. Despite that, it still has a stylish edge over the Note 4, thanks in part to the way it's tapered around its edges. On top of that, it has a more profound solid construction as well.
Certainly, some folks will appreciate the new, more premium design of the Note 4, which is accentuated by the metal trim bezel that's hugging the edges of the phone. It might lack the style that's needed to win over fashionistas, but its refined and classy demeanor fits the mold of a sophisticated looking smartphone.
There's no denying that the Note 4 is outfitted with an arsenal of geeky tools, which the Lumia 1520 lacks – so we very much appreciate the amenities that Samsung is so kind to offer with its device. Specifically, the Note 4 features a finger print sensor, pressure sensitive S Pen stylus, heart rate sensor, and an IR blaster.
Display
The Note 4 has ultra high-resolution and accurate colors while the Lumia 1520's display is slightly larger.
We tip our hat to the Note 4's display, which not only stands out for its impeccable detail, but also for its accurate color reproduction, wide viewing angles, and showroom wow factor. Donning a 5.7-inch 1440 x 2560 Super AMOLED display, there's no denying the amount of detail it's able to deliver with its pixel density count of 515 ppi. In contrast, the Lumia 1520's larger sized 6-inch 1080 x 1920 IPS LCD display is still pretty sharp with its 368 ppi pixel density, but we've been spoiled by the Note 4's quad-HD resolution. However, we will mention that the Lumia 1520's display is more visible outdoors, since it achieves a maximum brightness output of 707 nits – beating out the Note 4's tally of 468 nits.
Display measurements and quality
Recommended Stories