Google Nexus 6 vs Samsung Galaxy Note 4
37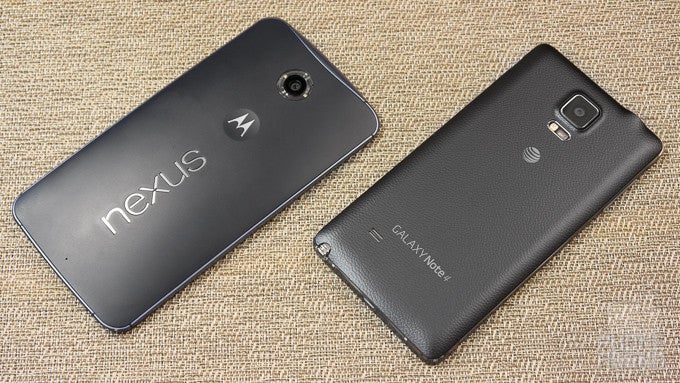 Introduction
Big phones are big business, that's certainly true by just peaking at what's out on the market right now. These so-called phablets have perched in that spot in between smartphones and tablets, as they offer a few tablet-like qualities in a package that's still reasonable to carry around in our pockets. No doubt a phablet of sorts, due to its immense size, the
Google Nexus 6
is the newest entrant in the space – one that naturally showcases the most up-to-date experience in Android 5.0 Lollipop. Needless to say, that one particular notion is enticing on its own, but it's going to need more than just that to knock off the
Samsung Galaxy Note 4
from its pedestal of being THE phablet to own at the moment.
Design
They're a handful, that's for sure. The Nexus 6 has a pretty solid construction, but the Note 4 has its own enticing assets.
Okay, so we know that we're dealing with big phones here, as one-handed operation can prove to be cumbersome for those with smaller hands, but between them, the Nexus 6 is more of a handful to operate – just because it's wider, taller, thicker, and heavier. Visually, though, it's tough to say which of the two sports the better design, seeing that they both have their unique qualities . We'll give the Nexus 6 the slight advantage when it comes to having a sturdier construction, but we also dig the Note 4's design.
That 'more is better' mentality is well alive with the Samsung Galaxy Note 4, which can be regarded as a good or bad thing depending on who you talk to, but either way, its arsenal of amenities give it a versatile punch over the Nexus 6. In particular it features an IR blaster, finger print sensor, removable battery, and a microSD card slot. Those are things that the Nexus 6 doesn't offer.
Display
Don't worry, their quad-HD screens pack a whole lot of detail. Still, the Note 4's AMOLED screen boasts better qualities that make it more usable.Big phones carry big displays, and in the case of these two, their massive diagonals are also complemented with extreme resolutions to make them future-proof. Specifically, the Nexus 6 features a 5.96-inch 1440 x 2560 AMOLED display – while the Note 4 chimes in with a 5.7-inch 1440 x 2560 Super AMOLED panel. Sure, there's a slight advantage on paper with the Note 4's display when it relates to details, but in all seriousness, it's really tough to distinguish that as we look at the two screens from the same, normal viewing distance. There's more than enough pixels on both displays!
While they are pretty evenly matched in the size and resolution departments, there are some differences that we need to mention. First off, the Note 4 manages to be the brighter screen with its measured maximum brightness of about 468 nits. Unfortunately, the Nexus 6's display maxes out at about 270 nits, which is fairly low. Despite that, both AMOLED panels are capable of displaying ultra vibrant and punchy visuals. However, the Note 4 features an alternative screen mode that allows it to switch to a more toned-down, natural-looking image, which is always a good thing to have. Still, we have to acknowledge that the Nexus 6's panel does exhibit a very nice and realistic color balance, which isn't something the Note 4 can totally claim, due to its slight yellowish tint.
Display measurements and quality
Recommended Stories