Samsung Galaxy S6 edge vs Samsung Galaxy Note 4
22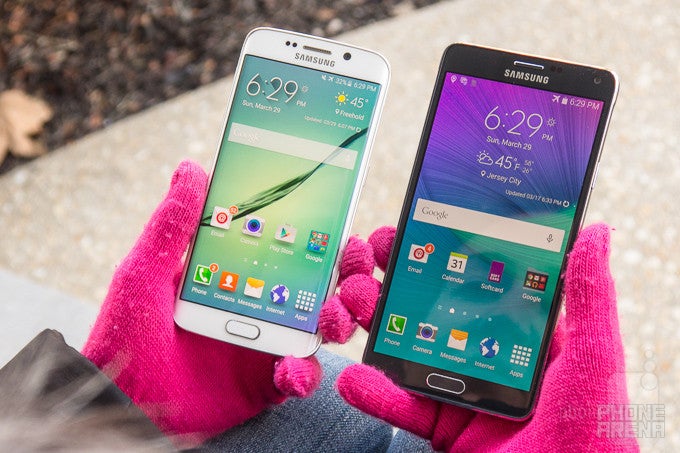 Introduction
Trying to predict the future is one of the many things people aren't very good at. Several decades ago, bright minds envisioned a 21st century dominated by glass dome cities, flying cars, jet packs, and, of course, self-lacing sneakers. What they probably didn't imagine us having are cell phones with curved screens (that weren't tiny CRT monitors). Yet here we are, holding one of the coolest smartphones ever made, and it is flaunting curves on both sides of its gorgeous display. The smartphone in question is the
Samsung Galaxy S6 edge
.
Now, we can't deny the fact that the Samsung Galaxy S6 edge is one of the coolest smartphones in the universe, but at the same time, it is our duty to compare it against every phone capable of giving it a run for its money. One such smartphone is the
Samsung Galaxy Note 4
, which is quite possibly Samsung's best smartphone for 2014. Let's dive straight into it and see how the two stack up.
Design
With its premium build and unique design, the Galaxy S6 is Samsung's most attractive smartphone to date. Period. The Samsung Galaxy Note 4, however, stands out with its sheer size.
While the Samsung Galaxy Note 4 draws attention with its size, the Galaxy S6 edge makes heads turn with its appearance. As a matter of fact, the latter is probably Samsung's most attractive smartphone to date, and the curved screen edges contribute greatly to the device's "wow" factor. So do the high-quality materials used in its construction. On the downside, the practical applications of the phone's dual-curved screen are limited, and the unusually thin side frame does make the phone somewhat uncomfortable to hold compared to the Galaxy S6 or even the Galaxy Note 4.
Speaking of the Galaxy Note 4, it is a no-nonsense smartphone with traditional, flat-screen design. It doesn't draw as much attention as the Galaxy S6 edge with its "okay" design, but it is definitely not a bad-looking phone either. Size-wise, it dwarfs the average-sized Galaxy S6 edge – a trait that has both its positives and negatives. On one hand, large smartphones like the Note 4 are ideal for a number of uses, including but not limited to surfing the web, watching videos, and playing games. On the other, many might find it uncomfortable to operate the Galaxy Note 4 single-handedly.
As we mentioned, the Galaxy S6 edge is made of top-notch materials only, unlike previous Galaxy S handsets. The phone is surrounded by a solid metal frame – one that won't bend under every-day pressure, Samsung promises. Moreover, the frame's beveled edge raises slightly above the display's surface, presumably to act as a bumper when the phone is lying flat or in case of an accidental drop. Speaking of accidental drops, the front and back sides of the phone are covered by Gorilla Glass 4, which is known for its resistance to physical damage. The surface is like a magnet for fingerprints, however, so keeping the phone in pristine condition takes frequent rubbing. Or you can simply buy a case.
The Galaxy S6 edge comes in four different colors – black, white, gold, and green. All variants feature a special optical layer on both sides which creates a unique and quite fashionable reflective effect. In contrast, the Galaxy Note 4 sticks to a more traditional look, with no shiny elements distracting the user from their business. It can be had in black, white, gold, or pink.
Like the case is with the Galaxy S6, the Samsung Galaxy Note 4's sides are reinforced by a sturdy metal frame. Its back side, however, is made of plastic, textured to emulate the look of leather. The material isn't as fancy as the S6 edge's glass surface, we have to admit, but it doesn't look or feel bad either. It provides sufficient grip, it is immune to fingerprints, and it should prove durable over time.
Now seems to be a good time to mention that the back of the Samsung Galaxy S6 edge is tightly sealed. In other words, the glass plate will be hard to replace if damaged, and the user does not have access to the phone's battery should they ever need to replace it. The Galaxy Note 4, on the other hand, sports a removable back, behind which resides a user-replaceable battery.
Both the Galaxy S6 edge and the Galaxy Note 4 stick to Samsung's traditional button layout, with power and volume buttons on their right and left sides respectively, where they're easy to reach. These keys are made of metal and respond with an excellent click when pressed. We do have to commend Samsung for fitting the power key on the frame's side, where it's easy to reach, instead of placing it at the phone's top side. Under both phones' displays we find a physical "home" button, accompanied by capacitive keys for the "back" function and for listing recent applications.
Speaking of buttons, both smartphones have a fingerprint scanner embedded in their home button. It serves as an alternative to a traditional lock screen PIN or pattern, but can also be used for logging onto websites, for authorizing PayPal payments, and to replace a Samsung account's username and password. There's a huge difference between the two phones' fingerprint scanners, however. On the Galaxy S6 edge, you simply touch the scanner to have your fingerprint read, while the Galaxy Note 4 requires you to swipe down on the scanner. The latter solution works, but it is unreliable compared to the S6 edge's touch-based scanner.
As other members of Samsung's Note series and unlike the Samsung Galaxy S6 edge, the Galaxy Note 4 is equipped with an S Pen – a digital stylus made primarily for note-taking and drawing. It's a standout feature, there's no denying that, but not one the majority of Note 4 owners would use on a daily basis.
Display
With their high pixel density and accurate colors, both phones' screens are a pleasure to look at. The Galaxy Note 4, however, excels in the color fidelity category.
As it's clear to see, the Samsung Galaxy Note 4 stands out with its larger display, also protected by a layer of Gorilla Glass 4. It measures 5.7 inches in diagonal and dwarfs the screens of most other smartphones currently on the market. Anyone who spends a lot of time surfing the web, watching videos, or playing games on their handset will appreciate having such a spacious screen at their disposal despite the inconvenience of reduced single-handed usage. At 5.1 inches in diagonal, the display on the Galaxy S6 edge is not tiny either, although we do feel like its curved sides might prove a bit impractical in certain use cases – while watching full-screen videos or playing games, for example. Not a biggie, but it should be mentioned.
Size and shape aside, there's a number of traits the screens on the Galaxy Note 4 and Galaxy S6 edge have in common. First and foremost, they're both packing the same number of pixels – 1440 by 2560 of them – which results in sharp and pixelation-free visuals, as we'd expect out of a high-end handset. As a matter of fact, the 577 pixels per inch produced by the Galaxy S6 edge's display is an industry-leading figure. The Note 4 is somewhat behind with its 515 PPI, but in all honesty, our eyes can't really detect much of a difference in the level of details produced by both screens. High-res graphics look equally stunning on both handsets.
The two phones' panels are of the Super AMOLED variety, which explains the wide viewing angles, the contrasty images, and the saturated colors they produce. And speaking of colors, both phones let you tinker with their screens' settings. One may choose between several different display modes, depending on the kind of color reproduction they prefer. Adaptive Display mode, enabled by default, automatically adjusts the color range, sharpness, and saturation of the display depending on what's being shown on the screen. It throws color fidelity out the window, however – colors are vivid and saturated, but not exactly accurate. Alternatively, there's the so-called Basic mode, which is present on both phones and designed to deliver utmost color precision. With this mode enabled, we ran our usual set of screen benchmarks to test how accurate the two screens could actually get.
Long story short, the display on the Samsung Galaxy S6 edge is among the most accurate AMOLED screens we've ever tested, although not quite as precise as the Note 4 when it comes to color reproduction. We measured a color temperature of around 6800K while benchmarking the S6 edge's display, which is great, but the Note 4, with its 6670K color temperature is a bit more precise. The Note 4's superior color fidelity is especially evident in our saturation sweep benchmarks. In the Note 4's case, the reproduced color values are very close to their reference values, while some irregularities are indeed observed in the Galaxy S6 edge's benchmarks. Nevertheless, we're pretty sure that to the average user, both displays would look equally awesome.
We can't complain about the outdoor visibility of either phone's screen. The Samsung Galaxy Note 4 produces over 450 nits of brightness, all while reflecting a minimum amount of sunlight at the user's eyes, which allows the phone to be used comfortably on a sunny day. Same goes for the Samsung Galaxy S6 edge, which outputs over 550 nits of brightness – an impressive figure for an AMOLED display. In addition, the excellent minimum brightness of both screens, hovering around 1 to 2 nits, allows them to be looked at comfortably at night.
Display measurements and quality
Recommended Stories