HTC One M9 vs Samsung Galaxy Note 4
35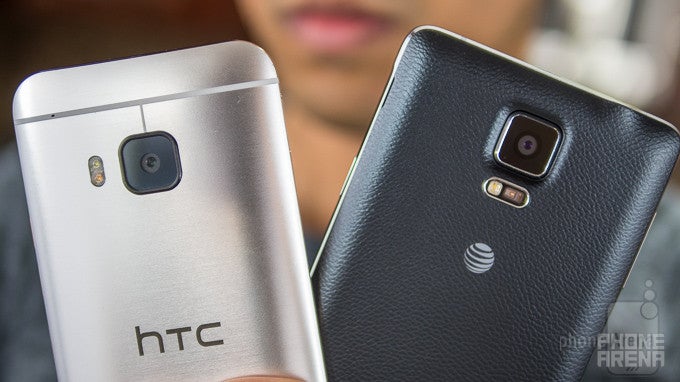 Introduction
Samsung capped the end of 2014 on a good note, as the
Samsung Galaxy Note 4
's incredibly top-notch, all-around performance astounded many. It simply excelled in a lot of areas, giving all sorts of users, not just power ones, something that they can happily call perfect. From the specs, to its battery life, and fantastic camera, very few phones launched last fall could match the Note 4's forward momentum.
Now that we're very well into 2015, the
HTC One M9
is one of the first flagship smartphones to arrive on the scene – where it hopes to enthrall and prove itself amongst its distinguished peers. Needless to say, it's going to need to excel in several key areas if it is to have any chance of weakening the Note 4's steam rolling momentum.
Design
Sammy's new design language is evident in the Note 4, but HTC shows it's still king amongst smartphone designs.
In looking at the two, the first thing to stand out is the disparity with their sizes – it's just a handful to hold the Note 4, while the M9's contoured casing and smaller footprint makes it easier to grasp. Additionally, there's more of that premium quality and aesthetic attached to the M9's design, which is something that translates over to giving it a sturdy construction as well. To be fair, the new design language of the Note 4 is a departure for Samsung, especially now that it's sporting a metal trim bezel, but we wouldn't go as far to say that it's an overall better designed phone.
Each phone has their unique characteristics, but it becomes abundantly clear that the Note 4 simply has more features. Shared features between the two phones include the IR blaster and microSD card slot, that's all! In terms of exclusive features, the Note 4 boasts a finger print sensor, heart rate sensor, removable battery, and an S-Pen stylus – while the M9 has dual front-firing HTC BoomSound speakers with Dolby Audio Surround support.
Display
Not only winning in the specs department, the Note 4's display also bears the superior color qualities as well.
Of course, their overall size is dictated by their respective displays – so it's no wonder why the Note 4 is the bigger sized between the two. What's especially noteworthy, even a few months after it initially launched, is that the Note 4's gigantic sized 5.5-inch 1440 x 2560 Super AMOLED display continues to be a darling in the space. By comparison, HTC decided to outfit the M9 with a more manageable sized 5-inch 1080 x 1920 S-LCD 3 display.
Obviously, the quad-HD resolution of the Note 4's display gives it the higher pixel density count of 515 ppi, which is a step up over the M9's tally of 441 ppi. Upon closer inspection, we can distinguish the Note 4's superior detail, but in all fairness, when we look at the two from a normal distance, it's tough to decipher the Note 4's superior pixel density. 1080p resolution is more than effective, especially when it's slapped on a 5-inch screen, but Samsung's decision to push the limits is not only impressive, but a gesture that shows they want to make a long-lasting statement.
Details aside, there are more qualities that indicate to us that the Note 4's screen is higher quality. In terms of color temperature, the Note 4's value of 6650K is almost close to reaching that "ideal" reference value of 6500K – whereas the M9's screen measures in at 8100K, giving it a colder tone.
Display measurements and quality
Recommended Stories