Samsung Galaxy Note 3 vs LG G2
38

Introduction
So let's say that you're interested in getting a new high-end smartphone, and having a huge display is one of your top priorities. Well, the Samsung Galaxy Note 3 is among the handsets matching that description – it is fast, loaded to the brim with neat features, and equipped with a gorgeous 5.7-inch touchscreen. However, as in most cases, there's a number of alternatives to consider – high-end alternatives that will fit in your pockets much more easily than the
Note 3
, yet will provide you with a screen that is nearly as spacious. One of them is the
LG G2
, packing a 5.2-inch display and the hardware muscle needed to give Samsung's phablet some heated competition. Without a doubt, choosing a favorite between these two smartphones is no easy task, so let's dive into it and see what they have to win our hearts with.
Design
It is hard to say which one of these two smartphones looks better, primarily because neither of them has much to sparkle with. Don't get us wrong – they definitely can't be described as bad-looking, but putting at least a little more effort into improving their appearance wouldn't have hurt anyone.
The plastic-made Samsung Galaxy Note 3, with its conservative shape and leather-like plastic back plate, looks and feels a bit more like a device built with professionals in mind. Its textured surface has a very low tendency to slip out of your palm, and that's quite a big deal since handling this jumbo-sized handset can be challenging. At the same time, no fingerprints or pocket lint get stuck to the Note 3's back, so it looks nice and spotless pretty much all of the time.
The LG G2 looks and feels quite okay and has a better chance at appealing to the younger crowd with its curvy physique. But again, its design can't make any jaws drop as we see nothing extraordinary about its construction or build quality. It sports a body made of glossy plastic treated to a fine, discrete pattern seen on the handset's back plate. Smudgy traces build up on its surface rather quickly, but thankfully, they are easy to get rid of with a quick wipe.
What does make the LG G2 stand out, however, is its size. For a smartphone packing a huge, 5.2-inch touchscreen, it feels surprisingly compact and it would definitely fit easier in your pocket than the Galaxy Note 3. Furthermore, while handling Samsung's phablet with a single hand is a challenge, the LG G2 is a lot more suitable for single-handed use.
One of the tricks that the Samsung Galaxy Note 3 has tucked up its sleeve is the S Pen it comes bundled with. Resting in its dedicated slot, that is a pressure-sensitive digital stylus and a perk every Galaxy Note device offers. The accessory is used much like a real pen, but instead of paper, a virtual canvas is used for writing on. Entering text by hand, drawing, taking down notes, and navigating through the phablet's interface are all among the main uses for the S Pen. Naturally, there's a number of S Pen optimized apps and features built into the UI, and you can learn more about them in our Galaxy Note 3 review.
Lifting the Note 3's back cover reveals its user-replaceable 3200mAh battery, as well as its slots for the Micro SIM and microSD cards. Alas, the LG G2 has a non-removable back cover so its 3000mah battery is off limits. No microSD card slot is present on the G2, so you'll have to rely solely on its built-in storage.
LG has placed the G2's power and volume keys on the back for a couple of reasons. Firstly, that has allowed for the company's engineers to make the phone more narrow (read: easier to hold), and secondly, this unorthodox solution is meant to make these buttons easier to access. Well, we've been using the LG G2 for a while now, and while we're fine with having the power and volume keys placed where they are, we don't think that their placement makes them easier to operate.
Buttons on the Samsung Galaxy Note 3 are arranged in a typical for the company fashion, with a large physical home key below the screen accompanied by a pair of capacitive buttons for the back and menu functions. The power and volume keys are positioned on the right and left sides respectively and are easy to reach despite the handset's size.
Display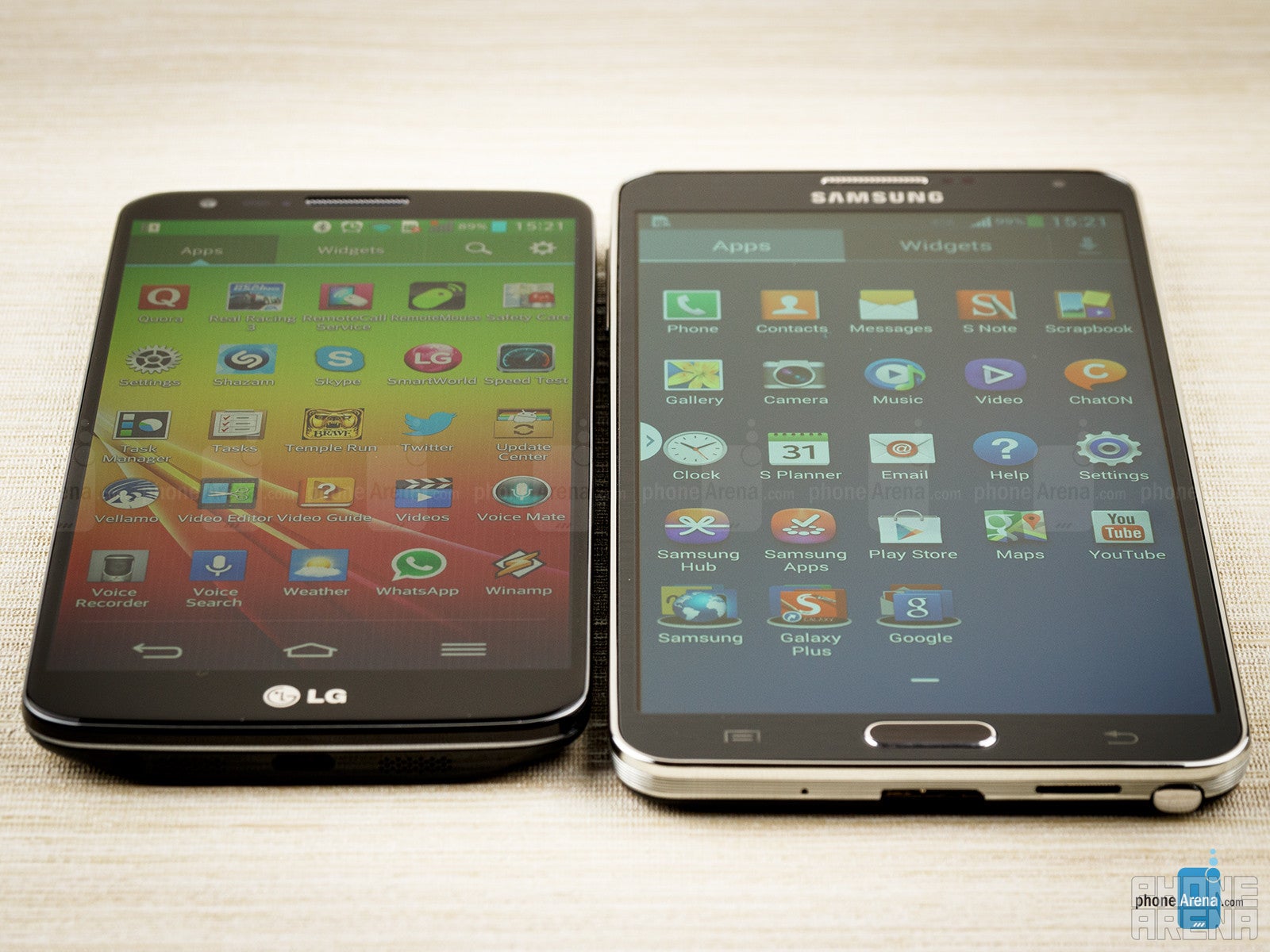 Screen quality plays a crucial role in determining whether a given smartphone is worthy of attention. Well, the good news is that neither of these two handsets disappoints in that respect. Their manufacturers have outfitted them with near-excellent displays – a 5.7-inch Super AMOLED screen graces the front of the Samsung Galaxy Note 3, while the LG G2 packs a beautiful 5.2-inch IPS LCD panel. Their resolution is 1080 by 1920 pixels, as is now typical for top-of-the-line Android smartphones.
Looking at size alone, the Note 3 definitely has the upper hand since its screen is larger than the one on the G2. That makes Samsung's phablet more suitable for a number of tasks that would benefit from the extra real estate, such as browsing the internet, enjoying photos or videos, playing games and so on. But size is not everything, and the G2's display, despite being smaller by half an inch, is also a pleasure to admire. In fact, we find the screen on LG's flagship slightly more detailed – something that doesn't surprise us given its higher pixel density (423ppi vs 386ppi for the Note 3) and the fact that a standard RGB sub-pixel arrangement is in use, as opposed to the Note 3's Diamond sub-pixel panel.
However, as awesome as they may look, both displays have their flaws, and one of them is their not-so-ideal color representation. The typical for AMOLED panels pumped up colors are present on the Note 3 as well, while the LG G2 has its color temperature leaning towards the colder side. Nevertheless, these imperfections are so slight that they are likely to go unnoticed by most users and we don't think they spoil the overall user experience at all. Outdoor usability isn't an issue either. Both screens can be operated comfortably even on a sunny day thanks to their high brightness output and low reflectance.
Display measurements and quality
Samsung Galaxy Note 3 360-Degrees View
Recommended Stories