Apple iPhone 6 Plus vs Samsung Galaxy Note 3
58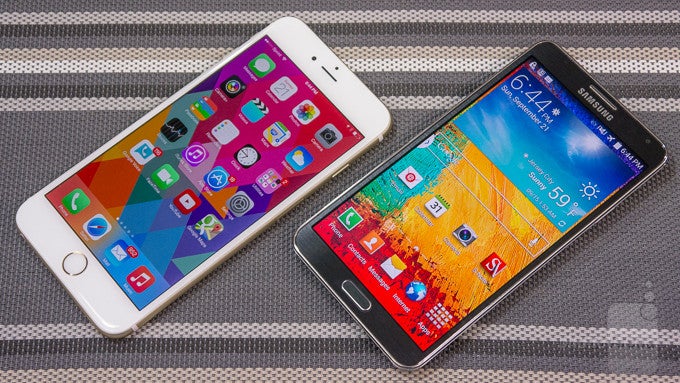 Introduction
Apple's acknowledgment of the big-screen phones trend resulted in the 5.5"
iPhone 6 Plus
. It's just inevitable that Apple's first foray in the 5"+ range will get compared to the Samsung line that started it all, that's why we are pitting the iPhone 6 Plus against the
Galaxy Note 3.
Samsung's phablet sports a tad larger display, but similar dimensions.. Which one is for you? Let's see...
Design
Tall, slim and handsome – that's the iPhone 6 Plus next to the Note 3, yet it's even more unwieldy to carry around, akin to its newfangled phablet status.
The iPhone 6 Plus is a plus-sized phablet indeed. It is way taller than the Note 3, which is already uncomfortable to carry around in a pocket, but is slimmer and less wide, so one-handed operation is a tad easier on Apple's biggie. Apple had to fit the inevitable Touch ID sensor underneath the display. That same fingerprint scanner comes rather uncomfortable to use on such a large device with one hand, as you have to stretch your thumb pretty hard each time you want to hit on the home key, or initiate an Apple Pay authorization, for instance. Not that the Note 3's home key placement is any better, though. As a whole, we wouldn't recommend you to use any of these two huge phones with one palm – these big phablets are designed for usage with both of your hands.
When it comes to the looks and build, the 6 Plus has the upper hand, as it sports a very slim, 7.1mm profile, and premium aluminum unibody that feels very light and classy in the palm. Samsung compensates the relatively thick and plastic-y design with more flexibility, such as the option to swap the battery at will, or expand storage with the supplied microSD slot. It also offers a stylus, called the S Pen, tucked neatly in the silo at the lower right, as an additional input method for those keen on doodling, handwriting, or precision-clipping on their phablet's display.
Display
Apple's signature bright color-accurate panels make their way into its first phablet, too, whose screen tops the Note 3 on most all counts that matter.
Both Apple and Samsung went with 1080x1920 pixels of resolution, which is the typical option for most flagships out there. Due to the Note 3 having a tad larger screen size – 5.7", against Apple's 5.5-incher, it flaunts 386ppi density, while the 6 Plus crosses into the 401ppi count. Both pixel densities are up to snuff, though, and you won't notice any jaggies or pixelization from a normal viewing distance.
The color representation round goes to the iPhone 6 Plus. It has more accurate colors and color temperature, while the Note 3 display is colder and colors are largely inaccurate, exhibting very saturated, even gaudy colors in all screen modes it has.
The Note 3 screen also sports a pretty low peak brightness, which makes it harder to tell outdoors, compared to the luminant iPhone 6 Plus display. Samsung's panel does sport a pretty good anti-reflective coating, which minimizes the light sent back to your eyes, and still Apple's phone looks noticeably more legible in bright sunlight.
Display measurements and quality