Sony Xperia Z Ultra vs Samsung Galaxy Mega 6.3
41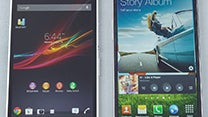 Introduction
Battle of the titans gets an entirely new meaning when you pit the
Sony Xperia Z Ultra
against the
Samsung Galaxy Mega 6.3
. There have never been phones before with screens that large, so we had to stake a cage match.
In one corner is Sony's latest and greatest 6.4 inch phone, stuffed to the gills with a high-res display, watertight chassis, and record fast processor. In the other is the Mega 6.3, which should be a more "budget" version of a big-screen phone, if we look at the midrange specs, yet its price doesn't really convey that. Which one will prevail? Read on to find out...
Design
Believe it or not, the 6.4-inch Z Ultra is much larger than the 6.3-inch Galaxy phone. It is way taller and a tad wider than the Samsung handset, which makes it even more unwieldy to talk on or carry around. Not that with 8mm of the Mega 6.3 isn't slim, but at just 6.5mm, Sony's handset is record thin, which eases handling somewhat.
Still, you can forget about comfortable one-handed operation with both handsets, and sitting with them in your pocket is a chore, unless you carry combat pants with side pockets all the time. These sizes are actually only suited for purses, and talking through a Bluetooth headset, rather than, say, folks with skinny jeans, or any jeans, for that matter.
The Z Ultra is undoubtedly the more premium phone to hold and look at, with its glass back and metal side frames, whereas the Galaxy Mega 6.3 leaves that typical plasticky Samsung feeling, and it is not even much lighter than the Z Ultra to boot.
The buttons around the sides on both handsets are comfortable to feel and press, with good tactile feedback. Sony's round OmniBalance power/lock key is very well placed exactly where you thumb would be while holding the large handset, while the one on the Mega 6.3 is a bit off-kilter in comparison.
The Galaxy phone has the advantage of a user-replaceable battery, unlike what we get with the unibody design of the Xperia Z Ultra, which still grants you a microSD slot for storage expansion, though. Sony's sealed chassis has a major purpose, however, and it is to give the phone its IP58 certification, which means it can stay in up to 5 feet (1.5m) of water for about an hour, which is a huge plus for the Z Ultra when pitted against the Mega 6.3 – just try to watch the final season of "Breaking Bad" in the bathtub and you'll see what we mean.
Display
The Galaxy Mega 6.3 features a HD LCD display, which is the norm for upper midrangers these days. It spreads the 720x1280 resolution over the giant 6.3" screen, ringing in 233ppi pixel density- nothing to write home about, so some text and icon corners will appear jagged if you look closer. Sony Xperia Z Ultra features a 1080x1920 pixels Full HD display with 342ppi pixel density, so even at that screen size you'd be hard-pressed to tell the individual pixels from a normal viewing distance.
Sony uses its new Triluminous technology for the panel, which provides more vibrant colors with a richer number of hues on paper, and in reality the whole image indeed looks very appealing, without being oversaturated. The colors on the Mega 6.3 look duller in comparison, and more washed-out.
As for the outdoorsy performance, both displays exhibit similar peak brightness levels, but the Galaxy Mega 6.3 sports worse reflectance than the Xperia Z Ultra, so it's harder to tell the image in sunlight, for example. Both displays sport very good viewing angles, which in the case of Sony's phablet is a relief when we remember the narrow angles of the display on the flagship Xperia Z.
Sony one-ups the Mega 6.3's display in another aspect as well, since you can write or doodle on the display of the Z Ultra with pens or even pencils lying around, instead of a dedicated stylus, with superior handwriting recognition.
Recommended Stories