Samsung Galaxy Mega 6.3 vs Huawei Ascend Mate
15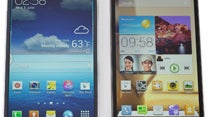 Introduction
"Who let the dogs out?" That's the song that should be humming in the background while you pick and choose between the
Samsung Galaxy Mega 6.3
, or the
Huawei Ascend Mate
.
The two phones with largest screens so far, at 6.3, and 6.1 inches, respectively, are in fact quite different when you start to dig into the details, so which one is for you? Read on to find out...
Design
There is nothing compact or ergonomic in phones of this magnitude, unless we add the obligatory "for the screen size" reinsurance quote.
The Galaxy Mega 6.3 looks more polished, with slimmer chassis and appealing cover pattern. The Huawei Ascend Mate is chubbier, and its body looks more roughneck, thanks to the coarse side rim and the basic quality soft-touch plastic on the back. It is, however, shorter and more narrow than the Mega 6.3, due to the slightly smaller screen, but still every bit as unwieldy to handle as Samsung's monstrosity.
Perhaps a bit less unwieldy, especially with bigger hands, as the thicker body and the soft-touch plastic actually allow for a firmer grip and more solid feel. The narrower chassis also makes for easier operation of the power/lock key, which on the Mega 6.3 is too thin and with a very shallow travel, like the volume rocker against it. To do simple thing, like pulling down the notification bar, or pressing the back key on both phones, you'd have to use both hands.
Display
The Galaxy Mega 6.3 has, you guessed it, a 6.3" display diagonal, and the LCD screen sports 720x1280 pixels of HD resolution, just like the Ascend Mate. Huawei's phone has a slightly smaller, 6.1" screen, with respectively a tad higher 241ppi pixel density, versus the 233ppi on the Mega 6.3. The pixel densities are enough for decent readability, especially since these phones would be held further from your face than usual due to their screen size.
Viewing angles
are also quite good on both phones, with contrast and brightness shifting significantly only at extreme angles. Both handsets provide settings to adjust the screen tones – Samsung has its Dynamic, Standard and Movie modes, while Huawei simply put a slider that goes from warm to cold colors and in-between.
The all-important
screen brightness
is a tad higher on the Mega 6,3 – around 450 vs 400 nits for the Ascend Mate – but its screen reflectance seems to be higher than on Huawei's phone, which makes it less visible outside in bright sunlight.
Recommended Stories