LG G2 vs Apple iPhone 5
45
Introduction
The
Apple iPhone 5
is the best selling smartphone on the planet, but Android phones of all breeds and kinds have encircled it from all sides, and its latest competitor comes from LG. Can the new and bold
LG G2
offer a better experience than the iPhone 5?
Design
The Apple iPhone 5 is often considered to be the gold standard in design - sleek aluminum body, elegant chamfered edges, compact and durable. The LG G2 on the other hand comes with a polycarbonate body that is practical and elegant, but lacks that very solid build quality and screaks just a bit. If we had to sum it up, the iPhone 5 feels monolithic, more trustworthy. On the flipside, the G2 is a large device, but it feels surprisingly compact and lays extremely well in the hand. Still, the smaller size of the iPhone 5 makes it perfect for single handed use, and with the G2 using the device with one hand is a bit of a stretch.
Both devices are very ergonomic and easy to use. The iPhone 5 is compact enough so all its buttons are within easy reach, but the G2 does not lag behind. LG has put all its physical buttons on its back and that makes a lot of sense and is easy to get used to. The iPhone itself has this springy lock button and clicky stylish rounded volume keys that are both comfortable and look good. The G2 buttons are positioned well, but if we had to pick the nits we'd say are a bit wobbly.
The LG G2 (left, bottom) and the Apple iPhone 5 (right, top)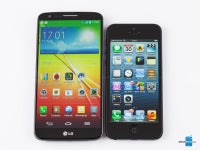 The sheer difference in display size is staggering. LG managed to include a gigantic 5.2-inch display in a device that does not feel phablet sized, while the iPhone only hads a 4-inch screen. We already looked at how this plays out in terms of ergonomics and single-handed use, but what about the actual screen quality?
We can safely say these are two of the best displays we've seen in smartphones. Both have very sharp displays, but the G2 has the slight
edge
.
Pixel
density on LG's flagship is higher at 420ppi against some 326ppi on the iPhone, but again the difference in sharpness is slight. The two screens also have lively, vibrant colors. Still, the iPhone 5 is extremely well calibrated with pleasing true warm tonalities, while the G2 has slightly colder tones, especially noticeable with the whites. The two displays are very bright, but the iPhone 5 has the edge and it is also the device we find more comfortable for outdoor use, legible even under direct sunlight. The G2 in comparison puts a bit more strain on the eyes. The actual brightness of the screens is 535 nits on the iPhone 5 and 438 nits on the G2. Viewing angles are great on both devices as they retain their vivid saturated colors at even more extreme angles.
Display measurements and quality
Apple iPhone 5 360-Degrees View