Camera comparison: Huawei Ascend P7 and Oppo Find 7a vs Samsung Galaxy S5, LG G2, iPhone 5s, HTC One (M8), Sony Xperia Z1
66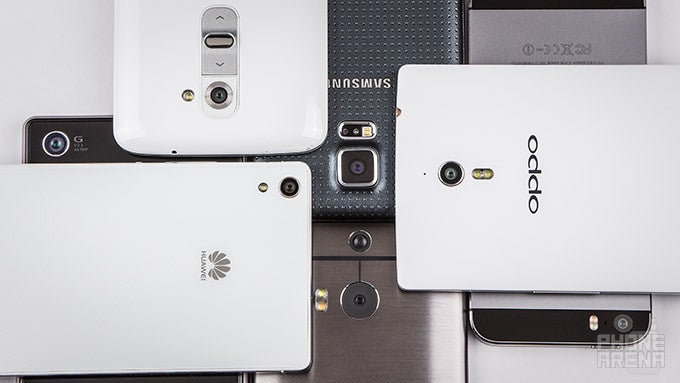 Introduction
Until recently, Huawei and Oppo were brand names with little to no recognition on the smartphone scene – pretty much nobody had heard about them. Things, however, have changed a bit over the past few years. Both companies have proven that they're capable of producing quality smartphones, and their current flagships – the
Huawei Ascend P7
and the
Oppo Find 7a
– are built to compete with all those heavily advertised brand name flagships. Seriously, check out our in-depth reviews if you're not convinced that these phones are actually worth checking out. That's why we decided to give the Ascend P7 and the Find 7a a chance to compete in a camera comparison against several well-known models: the
Samsung Galaxy S5
, the
LG G2
, the
iPhone 5s
, the
HTC One (M8)
, and the
Sony Xperia Z1
. Will the two Chinese warriors stand a chance against these fearsome opponents?
Note: We're using a Panasonic Lumix GH2 with its kit lens as a reference camera.
Colors
It was a bright, joyful day when we took our outdoor photo samples; not a single cloud was obscuring the sun's rays. In other words, the conditions were ideal for a camera shootout as, given all that light, each handset could show us the best that its camera was capable of.
The Huawei Ascend P7, in particular, does a commendable job at reproducing colors faithfully. Not all of its shots are perfect – about one in ten of them turns out warmer than it should be – but even if that is the case, the deviation doesn't bother us much. The Oppo Find 7a, on the other hand, can't quite nail its colors as well, or at least it couldn't capture them accurately as often during our shootout. As it becomes evident from our photos, its camera has a tendency of making some scenes more reddish or yellowish than they should appear. These flawed frames don't look bad, but they don't look perfectly natural either.
Overall, photos from the Samsung Galaxy S5 look great in terms of colors. Some of its scenes have a slightly cold-ish feel to them, but that's nothing you should be worried about. What's a bit more worrying, however, is the disappearance of details in very light objects which occurs in some shots – see the flowers in the sample gallery below and you'll get the idea.
Photos from the iPhone 5s are, as a whole, very pleasant to look at. Images taken in broad daylight have lively colors that bring everything to life. Yet one issue with Apple's phone is that if you have an object that is already bright in color, the camera's software will likely boost its saturation up a notch.
The Sony Xperia Z1 is not the best contender when it comes to color accuracy. Colors in its photos are boosted a notch, but all in all, its daytime photos turn out quite lovely.
This time around, the LG G2 didn't perform as well as we expected it to. Simply put, its results tend to be inconsistent – some of its photos turn out much colder than they need to be. Others, however, look excellent. This could be an issue with the software responsible about balancing an image's colors.
As for the HTC One (M8), we wish HTC's flagship produced better results. Several of its photos have a greenish tone, while others are overly warm or cold. As a general advice to all owners of the handset, manually tapping on the subject being photographed will help the phone's camera set the exposure more accurately.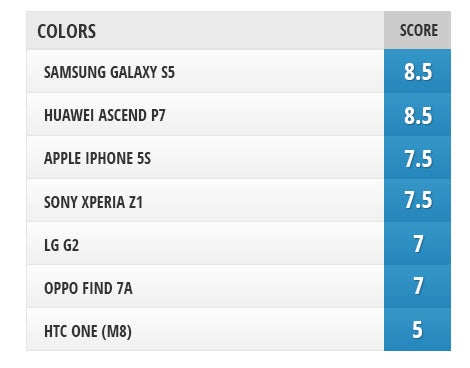 Recommended Stories