LG G Pad 8.3 vs Apple iPad mini 2 with Retina Display
20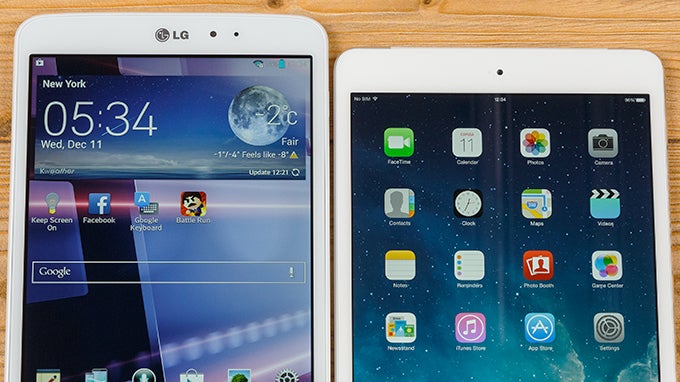 Introduction
When Apple announced its
iPad mini with Retina Display
, quite a few jaws dropped, as it kept the crazy 2048 x 1536 pixels resolution of the larger iPad, ensuring record for an 8-incher 324ppi pixel density. With this screen, and a 64-bit A7 processor, Apple ensured quite a futureproof little slate, which, however, comes with a premium price tag.
One of the best small tablets Android can offer against Apple's iPad mini 2 is the
LG G Pad 8.3
, which now comes also in a Google Play Edition with stock Android KitKat interface, too. Granted, it sports lower pixel density, but the difference is not very significant, plus it has trim metallic design, too, and offers expandable memory, all for a lower price tag. Which one should you pick? Read on to find out...
Design
Apple's traditional 4:3 iPad aspect ratio is present in the mini 2 with Retina Display, making it wider and more uncomfortable to hold than the elongated G Pad that rocks it 16:10. At 8.54 x 4.98 x 0.33 inches (216.8 x 126.5 x 8.3 mm), LG's tablet is taller, but much less wide than the 7.87 x 5.30 x 0.30 inches (200 x 134.7 x 7.5 mm) iPad mini 2, while the difference in thickness is negligibly in favor of Apple's tablet, and the weight is almost equal. Thus for holding the tablet in portrait mode and reading or browsing, the LG slate comes ahead, as you can support it with one hand easier.
The entirely aluminum iPad mini 2 chassis is also much more slippery, which adds to the lack of comfort when you try to pick it up and hold it with one hand. LG has put a metallic backplate on its G Pad 8.3, but the tapered metal back fuses with plastic sides exactly where your fingers are clutching at the tablet. This increases traction and support, whereas with the iPad you have to almost fully stretch your fingers to keep it lodged, and that's if you have big hands, so holding it in portrait gets tiresome. In landscape mode, both tablets are equally comfortable to grasp and operate, with wide side bezel to rest your thumbs on.
The metal keys around the iPad mini 2 sides feel more premium, and the power/lock one comes to the side when you hold the tablet in landscape, making it much easier to press than the one on the G Pad 8.3, which goes on top. In portrait mode the situation is reversed, hinting that the iPad mini 2 is best suited for landscape usage. The G Pad power/lock key and volume rocker are well-placed, with decent tactile feedback to them, but still the cold metal buttons of the iPad feel more expensive, and have an excellent tactile feedback, with firm yet springy click to them when pressed. Apple's iPad also sports the traditional round physical home key, which exhibits the same great clicky feel, whereas the G Pad 8.3 relies entirely on virtual on-screen navigational keys. These buttons on the G Pad don't really take away from the screen real estate per se, as LG has laid them over a fully transparent background.
Displays
The iPad mini 2 with its record pixel density for the size, evidently has the upper hand in screen definition. Its 7.9" 2048 x 1536 pixels display can truly be called Retina, as at 324ppi pixel density you can't spot any individual pixel from a normal viewing distance, even with an eagle eye vision. This makes text extremely crisp, icons very defined
The LG G Pad 8.3 has quite a great screen, too, albeit the 8.3" panel sports 1920x1200 pixels of resolution with lower 273ppi pixel density. At that size, however, it would be hard to tell the individual pixels from the distance you would normally use such a tablet, unless you are with better than the average vision.
Our screen quality measurements show that both tablets sport spot-on color temperature, not leaning excessively to the cold, nor the warm side of the spectrum, with a slight advantage for the G Pad 8.3, which brags with an almost perfect color temperature.. When it comes to color accuracy, both tablets are pretty good, but not as good as the best out there, as they just aren't sufficiently close to the standard RGB gamut. The iPad mini 2 gives way to the G Pad 8.3 here, with the average color error from a reference larger than on LG's tablet. Namely, the iPad is slightly less punctual representing most colors, while the reds appear much less saturated than they should. All in all, these color deviations will be noticed if you are a screen purist but for the typical user the tablets will look perfectly fine.
We measured 450 nits of brightness for the iPad Mini 2 against the G Pad's 345 nits, so Apple's panel is up with the best tablet screens out there in that respect, save for the Lumia 2520 that sports 600 nits of peak brightness. Apple also managed to lay a pretty good anti-reflectance coating on its small tablet, too, so visibility outdoors is better than on the G Pad 8.3.
When it comes to viewing angles, both tablets have no issues whatsoever from each and every inclination. Colors and brightness barely shift even at extreme angles, so you don't have to hold the slates head-on while watching a movie, for example, in order to experience the true image quality that these two tablets are capable of.
Display measurements and quality