HTC Touch HD Review
53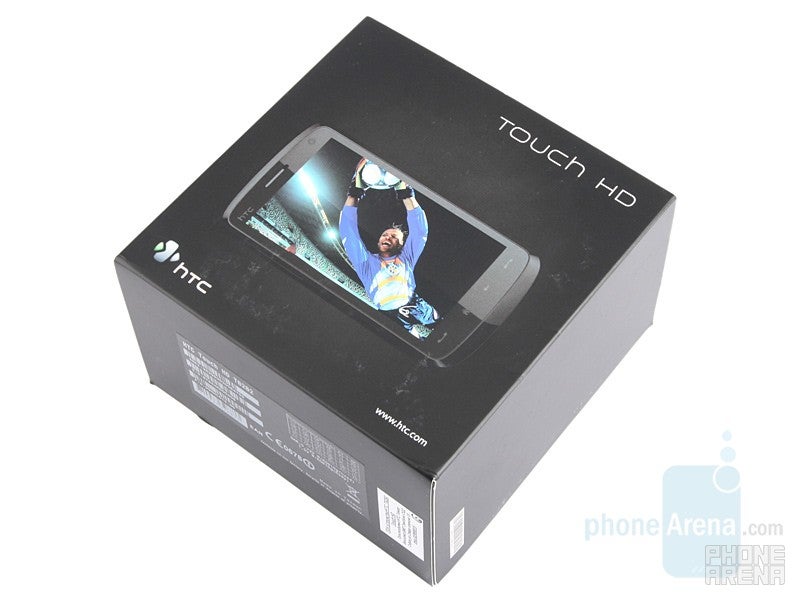 Introduction:
Since we have extensive experience with all types of phones, we rarely see something that makes us gasp or eagerly wait for it to see the light of day. HTC's Touch HD is one of those devices. When the world's leading manufacturer announces its most feature-rich phone ever people stop and take note, and we were no different. The Touch HD has the potential to become the best ever device running
WinMo
, but can it live up to that potential?
Design:
Let's analyze its name – Touch HD. The first word shows that the device belongs to the Touch series, known for its optimized interface in order to be finger-friendly. But what does HD stand for? HTC doesn't explain it but we know it very well - High-definition, i.e. high resolution images/videos.
This is the key feature for the Taiwanese monster. The large
3.8"
display has a
WVGA
resolution of 480x800 pixels. To give you a better idea we'll tell you that this is 4 times larger than
OMNIA
's (standard for widescreen) and 2.5 than
iPhone
's resolution – impressive! This not only gives better DPI (dots per inch) ratio, but is handy for viewing text and Internet pages, visualizing more content. The color reproduction is at a good level when viewing pictures despite the OS limitation of 65,536 colors. We are impressed with its sensitivity;it's resistive, meaning it reacts to pressure rather than touch like the iPhone. While it compares favorably in sensitivity, the iPhone is much better in direct sunlight. The Touch HD turns into a 3.8" mirror.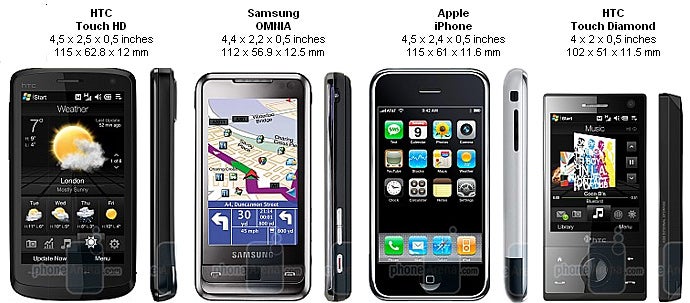 You can compare the HTC Touch HD with many other phones using our
Size Visualization Tool
.
The first thought that comes to mind after seeing the device is "It is huge!", but we think it's actually small for what it offers. It's not easy having a very small phone with a large display. HTC has done a great job and HD's face is slightly bigger than its display. Nevertheless, the quality build is visible and the device feels solid. It's not metal, but the rubber-coated back is very nice to the touch. The same material has been used for the side buttons (volume rocker
on the left
and power on
top
), аnd in combination with their shape (narrow but long rectangles) and relief they are simply excellent. Even though we're not completely sold onthe touch sentive buttons on the front, they still perform OK.
Invalid image meta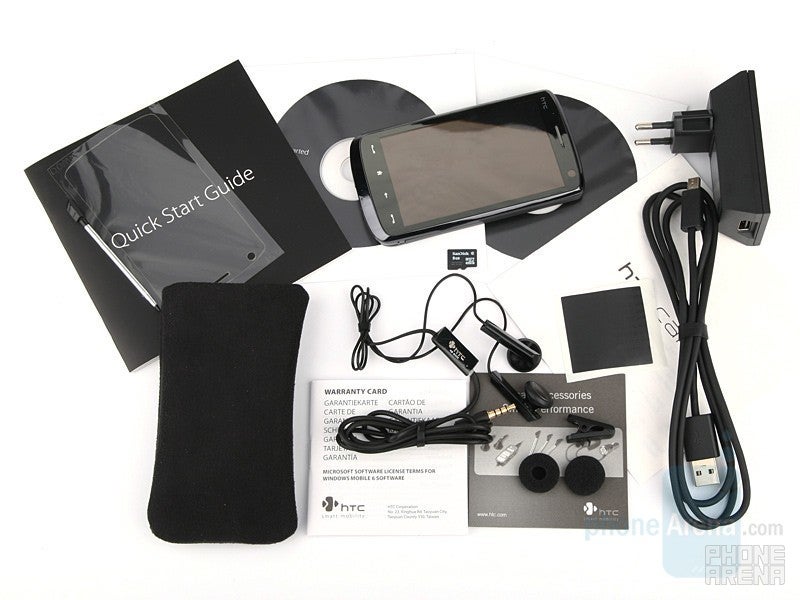 The large display and the quality make definitely make a good impression but we are slightly disappointed from the package the phone comes in and its contents. It's not that there's something missing – we have a case, beautiful charger, cables, handsfree and even an 8GB card, but everything is jammed in the box, as if there was no attention to detail...
Recommended Stories