Google Nexus S vs Samsung Focus
5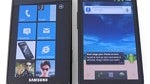 Introduction:
Samsung Focus
and
Google Nexus S
, stand highly in their arsenal as representing the best offerings for their respective platforms. But when they're priced evenly at $200 with a contract, it makes for a difficult decision in choosing which is the preferable handset.
Design:
Quickly glancing over both smartphones, you probably won't notice too many differences with their overall design styles as they mainly rely on the typical slate form factor. On one hand we find a clean and minimalistic looking Nexus S, which happens to have a curved profile thanks to its Contour Display, but it's so discrete that it doesn't necessarily jump out during an initial glance. While with the the Focus, it's carefully accented with a slight chrome-like trim. Now even though their all plastic construction aids in making them extremely light weight, they're prone to the occasional smudging and scratching. Luckily, their overall size hits the sweet spot as they're perfectly comfortable to hold thanks to their streamlined looks. In actuality, there isn't one device that has the wow factor to undeniably grab our attention, but they're more than practicable.
Never letting us down, the 4" Super AMOLED
displays
that both offer will literally grab the attention of anyone thanks to their WVGA (480 x 800) resolution, high contrast ratios, vibrant looking colors, and responsiveness. Moreover, you'll always have stunning clarity and visibility because of their near perfect
viewing angles
– which still enables them to work well under bright conditions. However, it's clear from looking at both devices the same time that the panel in use with the Google Nexus S is brighter in terms of luminance over the Focus. Still, there is no arguing the kind of alluring appeal their displays have to offer.
Even when both devices are completely turned off, you can still make out the outlines of the
capacitive buttons
found on the Samsung Focus. Furthermore, it's surely more appreciated seeing that we rarely accidentally pressed them – unlike the indistinguishable looking buttons of the Nexus S.
Lucky for the Google Nexus S, it's enabled for video chat thanks to its 0.3-megapixel front facing camera – which is something missing with the Focus.
However, the Samsung Focus offers the convenience of a shutter key to instantly run the camera application.
Between the two, the placement of the 3.5mm headset jack and microUSB on the bottom
edge
of the Nexus S feels more natural since they don't get in the way of operating the handset. However, it just feels somewhat more prone with the Focus as they're located on the top side. Naturally, the Nexus S has the advantage of sporint an NFC chip, while the Samsung Focus benefits from having a microSD card slot to increase its memory capacity – but it's not hot swappable.
Samsung Focus 360-degree View: Google Nexus S 360-degree View: