Samsung Focus vs Samsung Captivate
14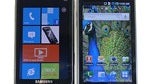 Introduction:
Samsung has been on a roll for the better portion of the last few months as consumers all around the world are praising their meticulous work in bringing out the stunning Samsung Galaxy S smartphone. With AT&T, the
Samsung Captivate
provided the number two carrier in the US with a much needed high-profiled offering to stand prominent in this competitive space – and that's exactly what the Samsung Captivate managed to accomplish. Establishing itself as a venerable smartphone maker, Samsung just recently entered the market with their first Windows Phone 7 powered device for the carrier; the
Samsung Focus
. Since both smartphones are currently vying for attention on AT&T's lineup, it's only inevitable to see these two look at each other straight in the eye to find out which one offers the superior experience – not to mention which device is right for their customers.
Design:
There are quite a number of similarities between the two that are taken directly from the original
Samsung Galaxy S
– like their exceptionally streamlined looks that make them pocketable. However, they're placed on the extreme opposite sides from one another in terms of materials as the Focus mainly relies on glossy plastic whereas the Captivate has a sturdier metallic skeleton. Even though the plastic shell of the Focus might scratch more easily and attract fingerprints, it's still one pretty looking handset with its curvier design that makes it natural to hold. Conversely, the carbon fiber-esque rear cover of the Captivate is durable enough to withstand most punishment while repelling smudges like no other. Still, they both present a sense of quality workmanship that makes them feel solidly built all around to give you peace of mind.
Being their most striking features, the
Super AMOLED displays
employed by both smartphones prominently stands out more than anything thanks to their stunning clarity, saturated looking colors, and high resolution of 480 x 800 pixels. Not only does it deliver some sharp looking visuals that'll melt your eyes, but their flawless viewing angles enable you to maintain a level of visibility at almost every angle you look at them. And since they are identical in size at 4", they're more than manageable to use without feeling too overbearing to use with one hand. In essence, you're not going to notice that one is better than the other in terms of display quality seeing that they perform in the same identical manner.
Even though capacitive buttons are in use with both devices, we actually prefer the ones on the Focus seeing that they're spaced further away from one another to reduce the amount of accidental presses – which is a problem for the cramped layout of the Captivate. When it comes to their physical buttons, they're all identical in terms of tactility and placement, but we like the distinguishable feel of the Captivate's dedicated power button over the recessed one of the Focus. In addition, the dedicated shutter key offered by the Captivate is naturally appreciated. Finally, both the 3.5mm headset jacks and microUSB ports are found
on the top edges
of both phones – and it's nice to see their sliding latches aiding in keeping out debris from entering their charging ports.
Endowed with
5-megapixel
auto-focus cameras, it's only the newer Samsung Focus that's graced with an LED flash for illuminating your photos. But when it comes to removing their rear covers to gain access to their inner compartments, we like the mechanism employed on the Captivate as it feels more secure versus the easy to remove cover of the Focus.
Samsung Focus 360-degree View: Samsung Captivate 360-degree View: Recommended Stories