Camera Comparison: LG G2 vs Samsung Galaxy S4, iPhone 5, HTC One
54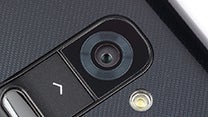 Introduction
LG is a brand name that has been absent from our routine smartphone camera comparisons for quite some time. That's because even though its recent high-end handsets have been pretty great overall, their cameras have always been a few steps behind the competition – Samsung, Apple, Nokia, and even Sony. The case with the recently announced
LG G2
, however, is quite a bit different. We just gave it the review treatment only to discover that its 13MP main snapper, equipped with all kinds of goodies including optical image stabilization, was actually well worthy of competing with the big boys. But how exactly does the G2's cam stack up against them? Well, that's what we're about to find out. For this smartphone camera comparison, we've chosen to pit the LG G2 against the
Samsung Galaxy S4
, the
iPhone 5
, and the
HTC One
, all of which are known to be very potent in the camera department. Yeah, the battle will be tough, but at the end, only one of these four handsets will stand victorious.
Note: the Panasonic Lumix GH2 is used as a reference camera.
Details
The outdoor weather conditions weren't optimal during our shoot-out, but nevertheless, all four smartphones lived up to the challenge. Some of them, of course, did noticeably better than the rest. The photos from the LG G2 are slightly sharper than normal, but overall, they are extremely detailed. At 100% zoom, you can easily explore the image from up close and, for example, read the cars' license plates or examine the ornaments on the façades of buildings. The Samsung Galaxy S4 is only a tad behind as its photos are a bit hazier. The iPhone 5 produces detailed photos, but with more digital noise visible in them. As for the HTC One, its images are definitely usable for posting online or for making small prints, but its rivals are a step ahead when it comes to capturing details.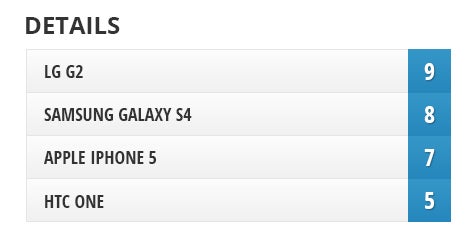 Recommended Stories