Camera comparison: Sony Xperia Z1 Compact vs Xperia Z1, LG G2, iPhone 5s, Samsung Galaxy S4, HTC One
54
Introduction
To say that the
Sony Xperia Z1 Compact
is a remarkable device would be a huge understatement. It is a phone that boldly breaks the status quo among Android high-ends – a phone the very existence of which proves that a top-notch Android device can come in a relatively small, pocket-friendly package. Design, however, isn't the only thing there is to like about the Z1 Compact. One should also be excited about the 20.7MP camera that the phone comes equipped with. The snapper isn't just good. It ranks among the best that we've come across recently, which makes the Sony Xperia Z1 Compact well worthy of being stacked against the big boys in the cameraphone department.
So yeah, it is time for another smartphone camera comparison, and the Sony Xperia Z1 Compact is having the honor of being the star of the show. We've chosen to compare its camera against those of five other capable and well-known smartphones, namely the
Xperia Z1
, the
LG G2
, the
iPhone 5s
, the
Samsung Galaxy S4
, and the
HTC One
. We've also used a Panasonic Lumix GH2 in the shoot-out in order to demonstrate how a proper camera would have captured each of the test scenes we've selected. Now for those who are into digits and raw data, here's a rundown of the specs of these phones' cameras.
Before we dwell any further, we feel obliged to shed some light on the shooting process by which the images from the Sony Xperia Z1 and Z1 Compact have been produced. We chose to leave these two phones in their default Superior Auto camera mode since we believe that's what a typical user would be feeling most comfortable with. Sure, Manual mode lets one crank up the resolution gauge all the way up to 20.7 megapixels, but in reality, most people rarely need such gigantic photos. Instead, the great majority of smartphone users should be perfectly happy with Superior Auto's high-quality 8-megapixel photos of "easy-to-share" size. Keep in mind that the camera software produces these by scaling down images captured using the entire width of the sensor – that's why there's a lot more detail in them than one might expect. Plus, Superior Auto offers lossless-like digital zoom and takes care of scene adjustments automatically. No modes other than their respective default ones have been applied on the rest of the phones, unless noted otherwise. With this lengthy disclaimer out of the way, let's dive into it!
Color reproduction
Grading the color reproduction of these phones' cameras is a challenge, to say the least. Color accuracy in their photos tends to vary slightly from one scene to another so if a camera performs well under certain conditions, it might not get its job done as well in others. If you're holding on to a Sony Xperia Z1 or a Sony Xperia Z1 Compact, however, chances are that the results won't leave you disappointed. Their cameras stick very closely to the neutral color tone, just like a proper camera should.
The iPhone 5s tends to take photos that are slightly warmer than they are in real life, but it rarely goes beyond what we'd call acceptable. Actually, its photos are very pleasing to the eye because of that – the scene is more lively and likable even though it is a tad detached from the way it looks in real life. The Samsung Galaxy S4 and the LG G2 take photos that look nice overall, but some scenes end up colder than they should be. Also, their cameras tend to produce images that are a bit lifeless – brighter and even a tad overexposed at times. As for the HTC One, it has its own opinion as to how colors should look like. Some scenes are very neutral, while others are colder, greenish, or yellowish. On top of that, we don't like how it makes white objects brighter than they are, thus destroying all detail in them. Exposure is sometimes off, although that could be rectified with a tap on the object being photographed.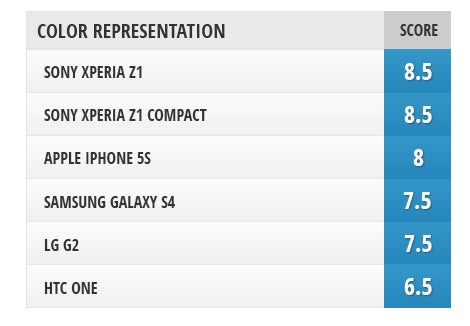 Recommended Stories