Samsung Galaxy Note 9 vs Apple iPhone X
46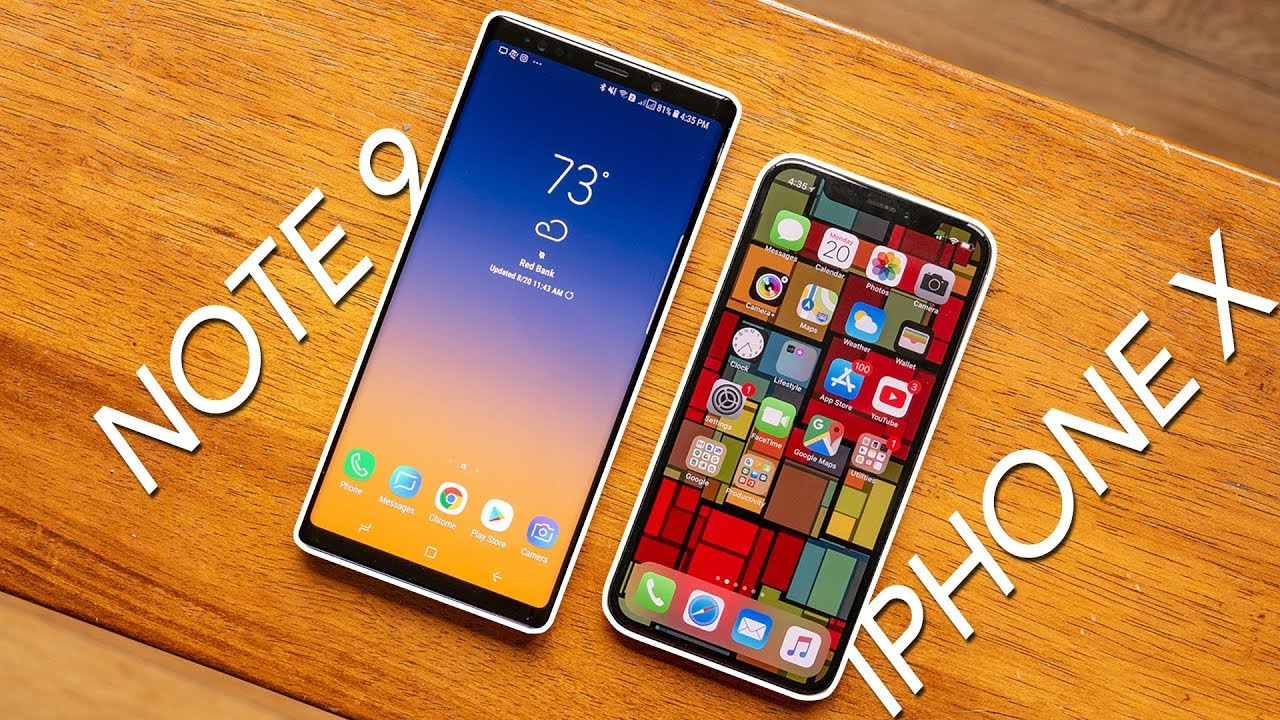 It's the battle of the $1,000 smartphones! That figure is no doubt substantial, especially considering how flagships were typically priced around the $650 ballpark several years ago. Now, that's how much you have to pay to own one of these ultra-premium devices.
Apple's iPhone X
reached that unprecedented mark when it was introduced last year, while being heralded by the company as a forward-thinking device. And now, we have the
Galaxy Note 9
included in this exclusive club, boasting more features and goodies than previous devices in the line. Who should earn your hard-earned money? Let's dig right on it and find out the clear winner between iPhone X vs Note 9!
Design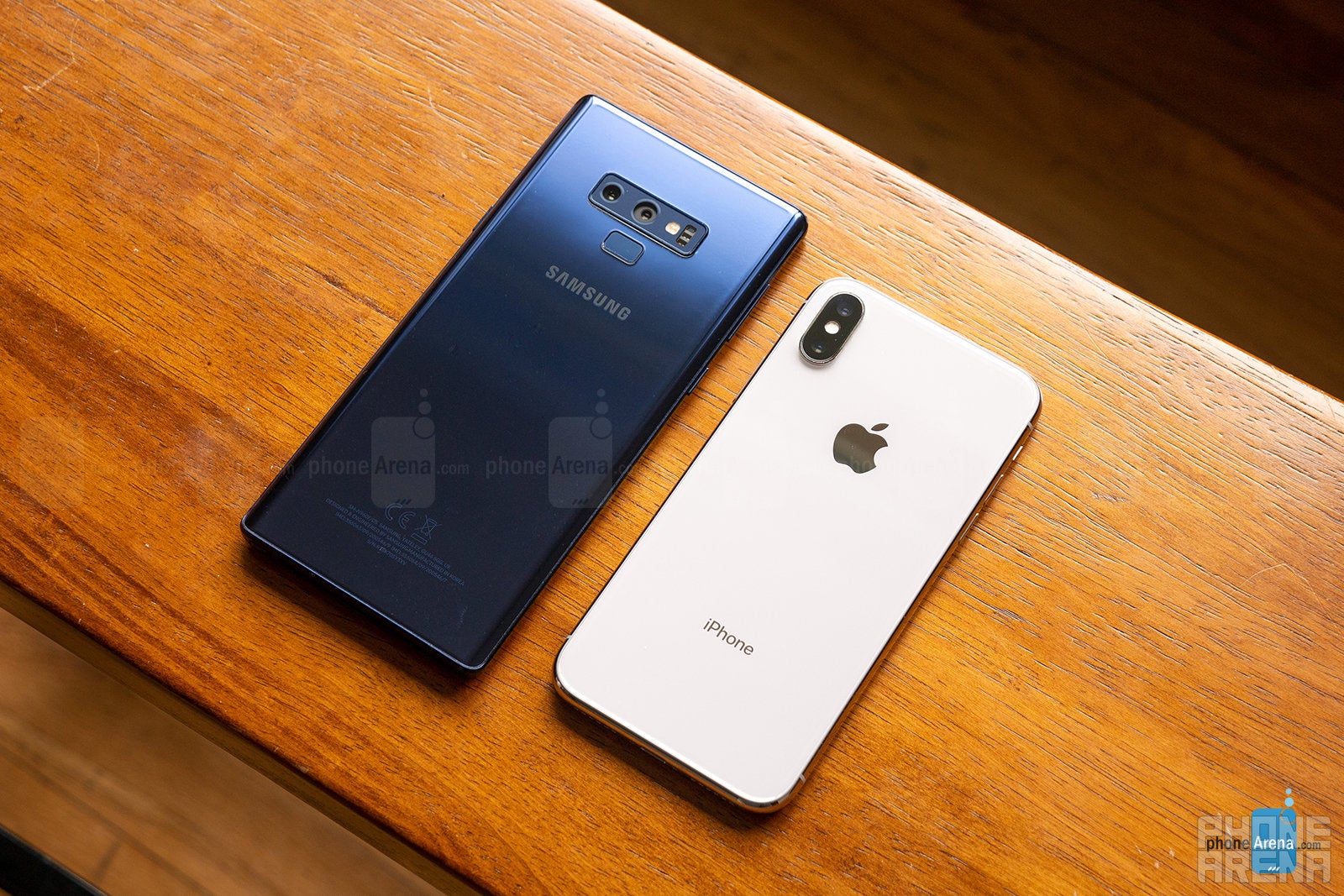 Right off the bat, we'll certainly agree that the iPhone X is easier to handle. Apple's pride and joy still requires two-handed operation sometimes, but it is still more manageable than the Note 9, which is significantly taller, wider, and heavier. Nevertheless, they both boast the glass-meets-metal design that has become the standard amongst flagships. However, the stainless-steel frame of the iPhone X makes the construction a bit sturdier-feeling in the hand than the Note 9 vs iPhone X.

To Samsung's credit, though, they've engineered a masterpiece. For a phone of its caliber, the Note 9 deserves attention for including a 3.5mm headphone jack, a slot for the S Pen, dual speakers, a heart rate sensor, an iris scanner, and a fingerprint sensor. All of that is housed in a premium design that has an IP68 water-resistant construction – versus the IP67 rating of the iPhone X. And then there's the matter regarding the iPhone X's notch, which does take a little away from the uniformity of the phone. So, while the iPhone X feels like the more solidly constructed phone, the Note 9 certainly shows us it's that a phone can still look good while retaining a full set of features in the process.


It's also worth pointing out the advantages that come along with the Note 9's S Pen, which now features Bluetooth LE for even more functionality. From jotting down quick notes to sketching a drawing, the S Pen is a valuable tool that the iPhone X can't emulate. Adding to that, the S Pen is now an extension of the Note 9 because it can be used as a remote shutter for the camera, a clicker of sorts when navigating through a slideshow presentation, and it can even be used for media playback functions.

On the surface, we can say that the displays on both phones are exquisite – exhibiting top-notch qualities that capture our attention. In the specs department, it's a solid win for the Note 9 and its larger 6.4-inch Quad-HD+ 1440 x 2960 Super AMOLED display. There are more pixels crammed into it than the iPhone X's 5.8-inch 1125 x 2436 Super Retina OLED panel. But in reality, most people would be hard-pressed to notice the Note 9's details superiority from a normal viewing distance.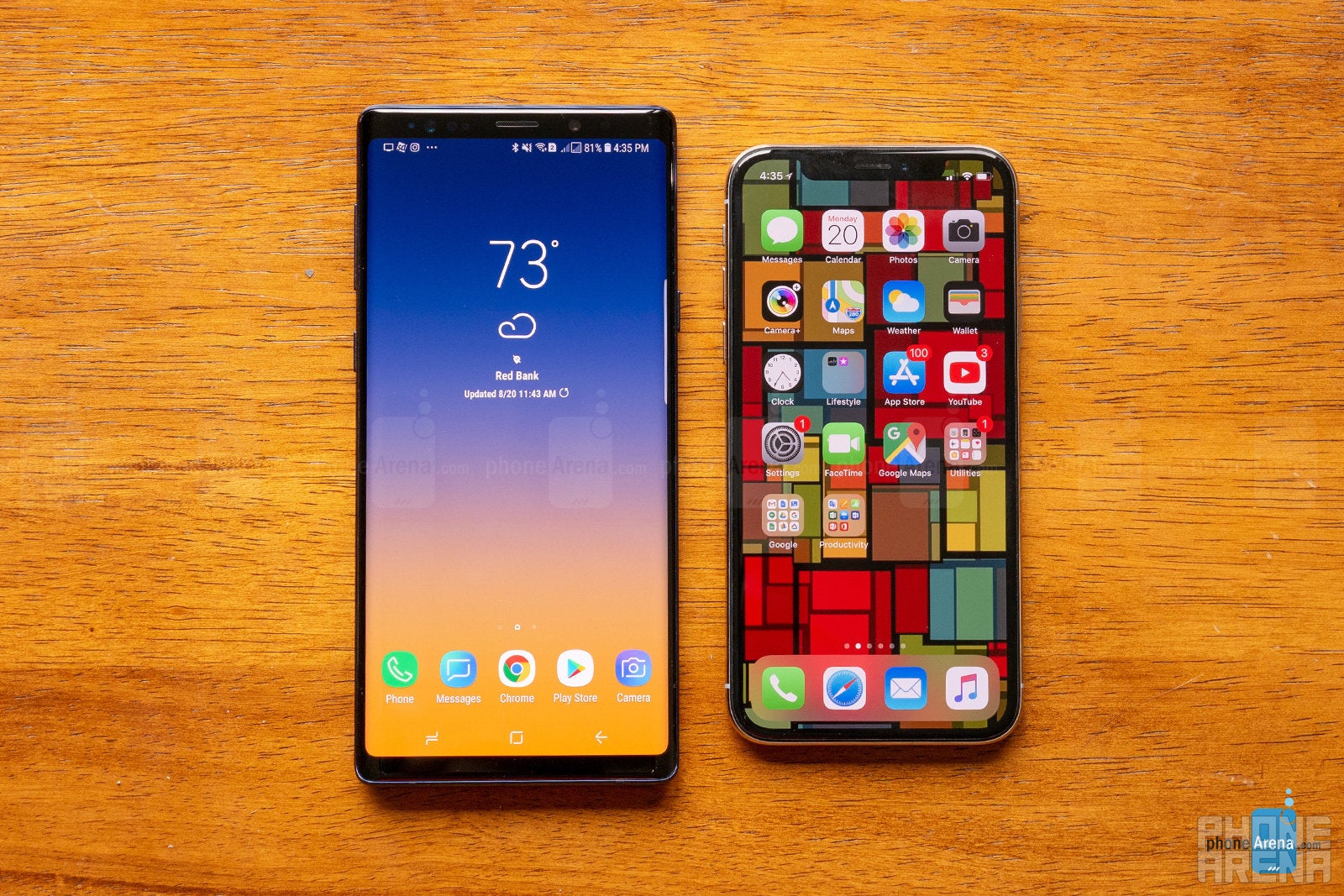 Moving beyond the details, the two displays actually boast several favorable qualities. In particular, they have wide viewing angles, excellent color temperatures, and accurate color reproductions in the sRGB color gamut chart. The only notable thing to mention, though, is that the iPhone X achieves a peak brightness output of 640 nits – versus 575 nits with the Note 9. Regardless of that, there are no issues whatsoever when trying to view either displays outdoors in direct sunlight.

And about that notch on the iPhone X, some might see it as a distraction, while others may not be bothered by it at all. But we have to admit that it breaks up the display's uniformity and can even be annoying when watching full-screen videos because of the cutout.

Display measurements and quality
Interface
If you value simplicity more than anything else when it comes to the experience, then you'll favor iOS with the iPhone X vs Note 9. One can argue that the latest Samsung Experience running on top of Android 8.1 Oreo with the Note 9 is visually simplified as well with its interface, but there's still a layer of complexity over the experience. And that's basically the biggest differentiator between them, as the Note 9 clearly carries an arsenal of features that cater to power and productivity users.

On a superficial level, both experiences will more than get the job done. From sending emails, browsing the web, checking up on some notifications, and accessing their flashlight functions, there's not one phone that does it better or easier. With the Note 9, however, it goes beyond all of that because of the added utility of the S Pen, accessing a desktop-like experience using its new HDMI connection, quick shortcuts courtesy of edge panels, and much more. There are even minor things that exemplify the Note 9's vast experience, like one-handed mode for easier interaction, as well as the ability to re-size apps to smaller windows.


Apple does indeed introduce something new to the mix: Face ID, which is far more comprehensive than the Note 9's equivalent iris scanner and facial recognition system. And while we find Apple's Animoji and Samsung's AR Emoji features novel, Apple's implementation is more responsive in tracking every movement of our face with its technology.

Performance

and Memory

When a phone is priced at $1000, it's only expected to be accompanied by the latest and greatest firepower. We get exactly that we these two powerhouse devices, as the iPhone X leverages the A11 Bionic chip – while the Note 9 comes in two varieties, the Snapdragon 845 SoC for US-bound models and the Exynos 9810 for international versions. When it comes to your typical operations, they're both largely responsive, but there's just more of that snappiness with the iPhone X.

Going beyond basic tasks, gaming is handled reasonably well with the two – often producing consistent frame rates with even the most intensive games. If we're to nitpick, though, we'd give the slight edge to the iPhone X in this department. Benchmark tests indicate that the two are no doubt formidable, but in our real-world experience, the iPhone X continues to exhibit the overall faster performance.

When it comes to storage, it's the Note 9 that's sure to win over most people not only for the fact that its starting capacity is at a generous 128GB tally, but for the fact that there's room for expansion courtesy of the microSD card slot it's carrying along. In comparison, the iPhone X starts at 64GB, which in this age of 4K video recording, just isn't ample enough to accommodate everything we need.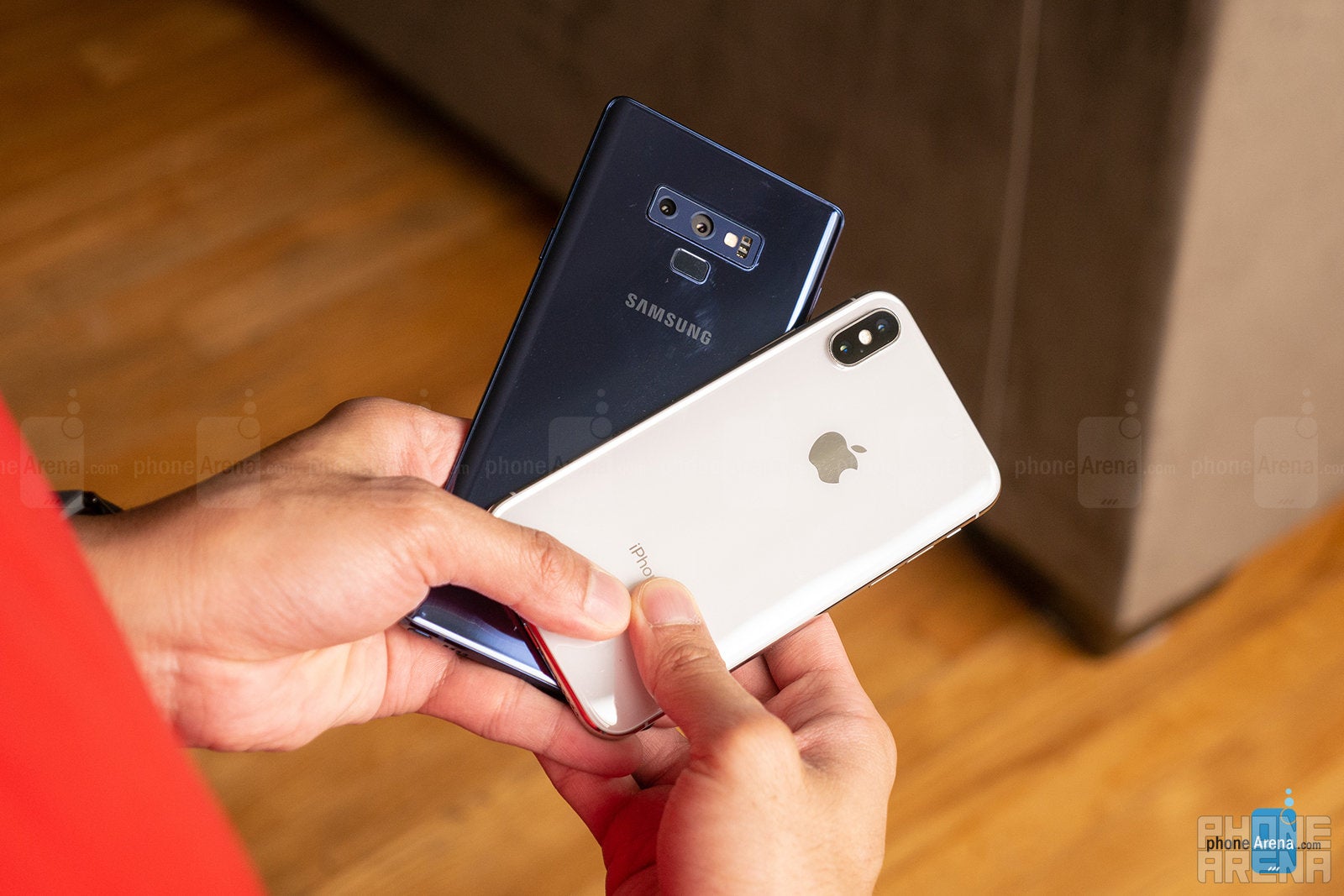 Pound for pound, the cameras on these two devices stack up well. As far as specs go, we're looking at two dual-camera arrangements where a 12MP main camera and a 12MP telephoto cam with 2X optical zoom are teamed up. Both phones have optical image stabilization on both rear cameras. But the Galaxy Note 9's main camera uses a bigger image sensor for clearer images. It also boasts a variable aperture that is set at f/2.4 in broad daylight for sharper photos, but opens wide to f/1.5 in low-light situations. Pretty serious hardware, no doubt.

When it comes to the shooting experience, though, the more likeable one will mainly hinge on your personal preference. For just shooting on the go without worrying too much about the composition and settings, the iPhone X is the phone to go with. Conversely, if you're the kind of shooter than wants versatility, options, and fine controls, the Note 9 delivers on that aspect – more so when it also is accompanied by a native pro mode for manual controls.


Image Quality

This is where things get a bit juicy. After capturing a bunch photos simultaneously for this comparison, we can confirm that the two phones deliver nearly the same top-notch level of performance when the lighting conditions are ideal. It's seriously tough to discern the difference, but one thing we can mention is that the iPhone X tends to apply more contrast and color saturation – and that's it! Details are rich and plentiful with both smartphones, so there's room for resizing photos later on if that's needed.

In low-light situations, we're giving the slight edge to the Note 9, mainly because it tends to retain a little bit more of the fine details in the shot – whereas the iPhone X's performance is a hairline softer. They're not bad, quite frankly, especially when we compare the overall shots. When we meticulously comb over them, we can tell that the Note 9 has an advantage. It's not by much, but its low-light shots tend to be cleaner looking overall. There's a little bit of noise introduced with the iPhone X.

Their front-facing cameras fare well against one another, but if we're to choose, we prefer the quality from the Note 9. That's because it's more natural-looking, while the iPhone X applies some serious saturation and tends to overexpose the highlights.



Video Quality

The Note 9 also gets our vote when it comes to video recording. Its lead in this department over the iPhone X is miniscule, but nonetheless a victory for it. Generally speaking, the 4K 30 FPS footage from both phones looks amazing when there's plenty of lighting in the scene. However, the Note 9's performance draws out a little bit more details – while also performing better when it comes to stabilization. For the iPhone X, it still manages to do nicely in this department, but it tends to exhibit artifacting elements when there's an extreme jump from light to dark scenes.

Low-light performance goes to the Note 9 as well, generally because the exposure is higher and draws out details by a smidgen, which are otherwise indistinct with the iPhone X. Seriously, though, it's tough to discern this unless you really look into the videos a lot closer. Both are strong performers here, but the Note 9 ultimately has an edge.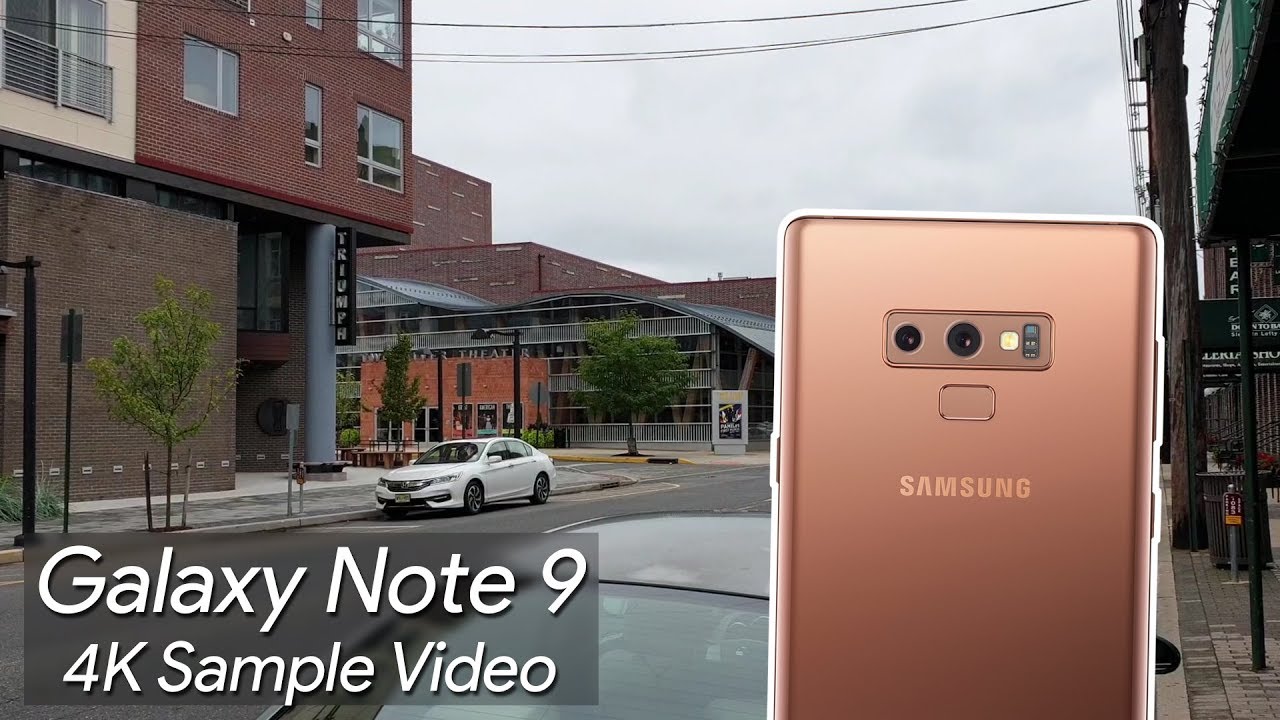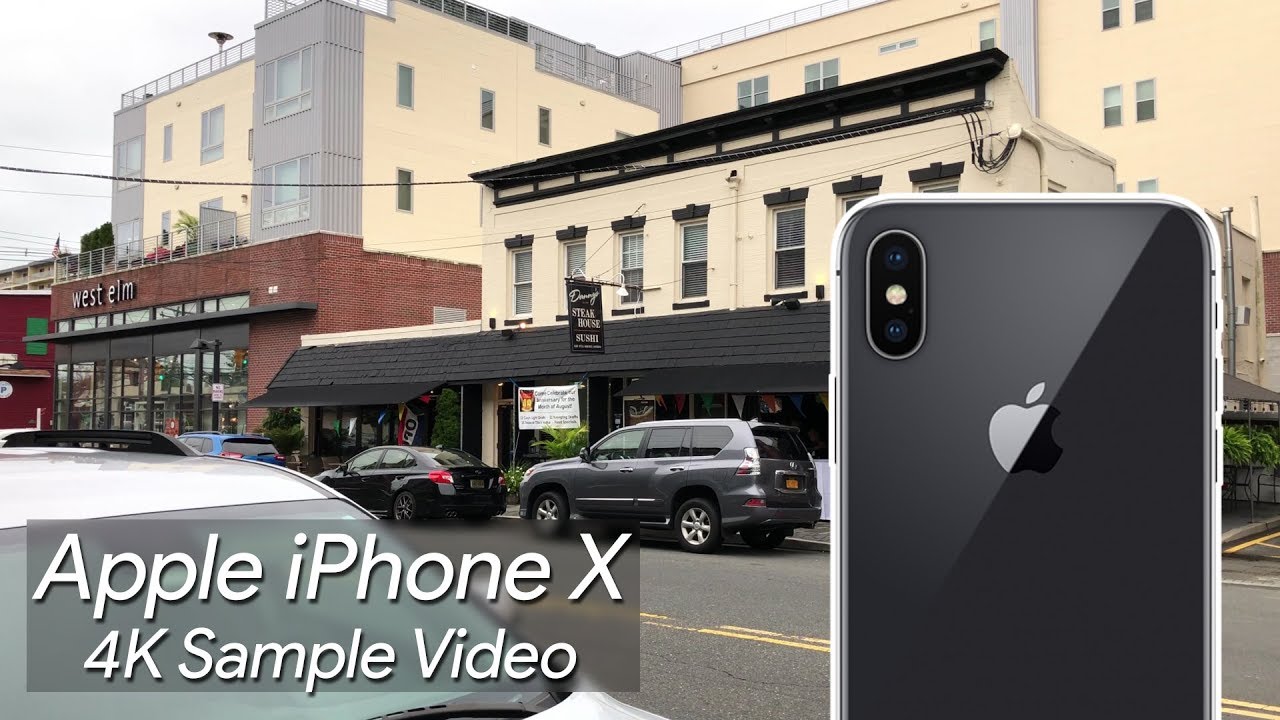 And finally, the Note 9 also has the advantage when it comes to slow motion video – thanks in part to its super slo-mo mode that captures video in 720p at 960 FPS. You'll get some ridiculously slow-motion footage with this mode, which dishes up a whole new perspective for capturing video.
Multimedia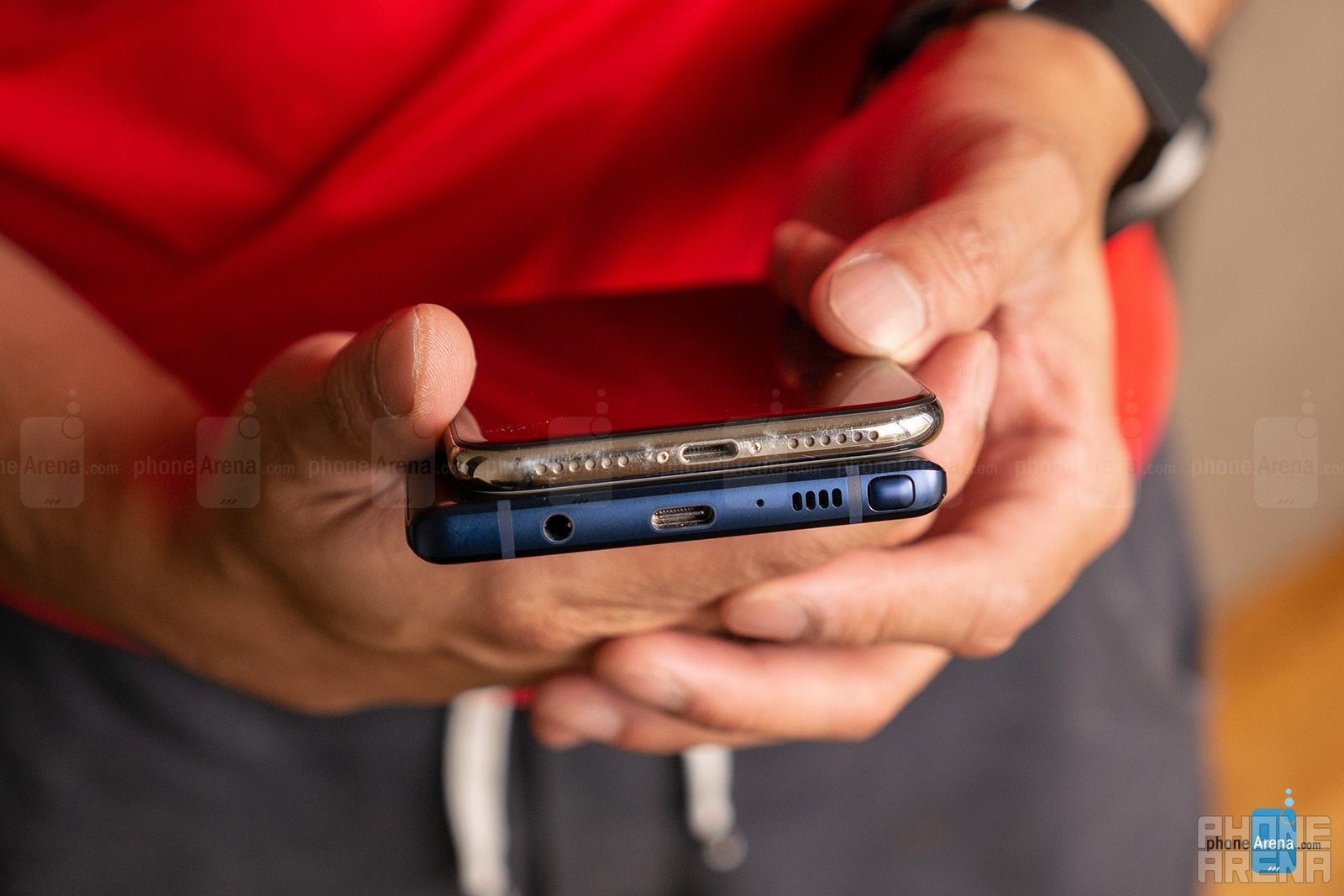 In the audio department, we're presented with dual-speaker arrangements on both phones, as they leverage the earpiece in addition to bottom-edge-positioned speaker to deliver that stereo experience. We're satisfied by their performances, since they exhibit clean and clear tones – while never sounding strained or shrill at the loudest volume settings. Speaking of volume, the iPhone X's configuration manages to churn out a little more power at 76.3 dB, but the Note 9 isn't too far behind at 74.6dB.

Showing off its superior utility once again, the Note 9 benefits from having a standard 3.5mm headphone jack. This comes in handy for many reasons, whereas with the iPhone X, you'll resort to either using the Lightning-to-headphone adapter, the stock Lightning earbuds, or just a wireless Bluetooth pair of headphones. In an era when the headphone jack is being omitted, it's so refreshing and satisfying that the Note 9 continues to pack one in.

For the average user, the displays on both phones are more than sufficient for the occasional viewing of viral video clips. But for those who really want to be wowed, it's going to be the Note 9 with the better overall experience. That's to be expected, as it has the bigger screen with higher resolution – and one that is not interrupted by a notch. Then again, both phones support HDR video playback in YouTube and Netflix.

Call

Quality

Phone calls are handled decently with both smartphones, seeing that their earpieces are strong and audible, which makes them usable in noisy conditions. There's not particularly one that we favor more than the other, but it's worth pointing out the extra volume mode that's available with the Note 9 when it's really loud around you.
Battery

life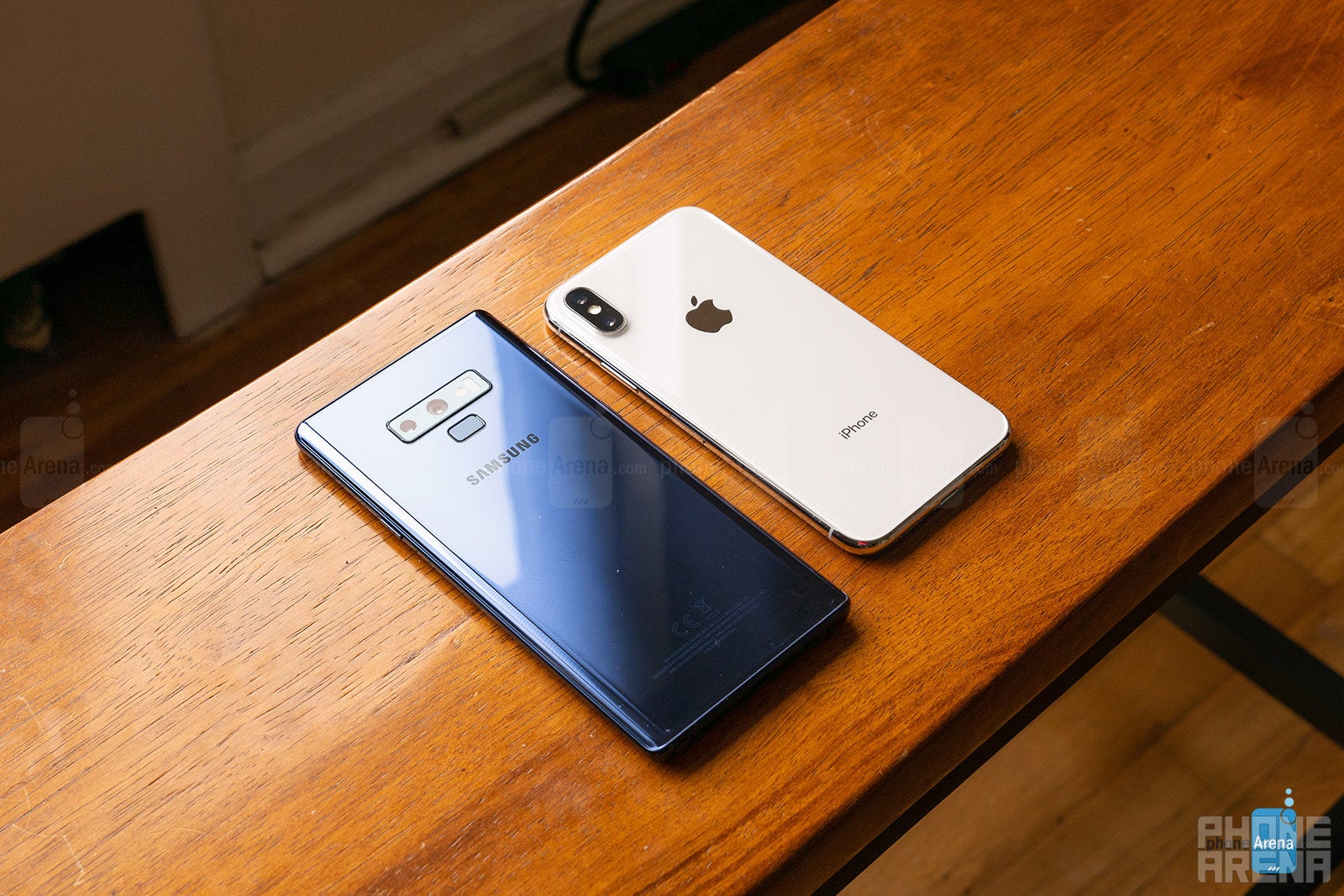 Interestingly, the battery performances are very close with these two phones. In our battery benchmark test, the Note 9's upgraded 4000 mAh battery manages to achieve a mark of 8 hours and 56 minutes – while the iPhone X isn't too far behind at 8 hours and 41 minutes. Furthermore, they're relatively similar too with their longevity with our real-world usage. In fact, they're able to easily last us a full one-day of normal usage with enough gas in the tank leftover.

Conversely, there's a dramatic difference when it comes to recharging them. The Note 9 blazes through at only 109 minutes required in getting it back to full capacity, while the iPhone X sluggishly takes longer at 189 minutes. When you're in a pinch, the Note 9 fast charging can really help out. And lastly, the two offer the convenience of wireless charging as well!

There's a reason why the
iPhone X
dominates the best-selling list, despite fetching for $1,000 for the base model. It's an incredible smartphone with an excellent all-around performance to match it. When it comes to iPhone X vs Note 9, the winner is not that clear.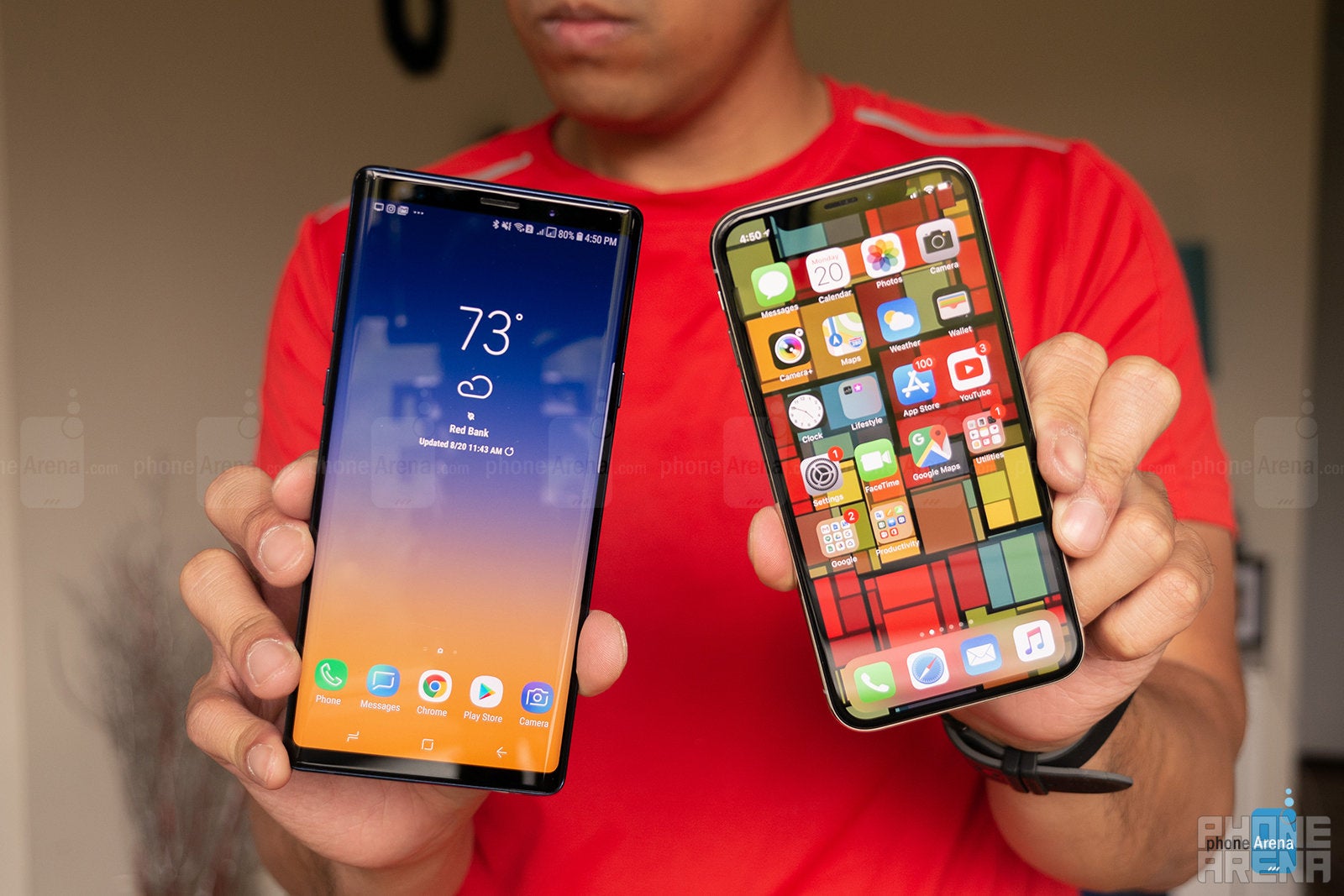 Samsung, though, manages to deliver an even more convincing package to the table. In many of the categories above, we tend to see the
Note 9
standing out on top over the iPhone X. From its camera performance and faster charging to its larger screen and S Pen functionality, there's more reason to invest in Sammy's new pride and joy. There's also the headphone jack, the ability to access a desktop-like experience, and the double amount of starting storage capacity. Essentially, you're paying the same amount, but receiving far more in return.
Then again, the beauty about the iPhone X is its simplicity and focus on the core essentials, not to mention that it's simply far easier to slide in a pocket. Sure, the Note 9 may overwhelm the iPhone X in terms of features and what it can do, but Apple's choice is to provide consumers with a simple phone that just works. And it does exactly that.
Pros
Larger, higher-resolution display
More base storage
Takes better photos
Comes with S Pen and DeX for next-level productivity
Pros
Easier to handle due to its smaller size
Faster with gaming and day-to-day operations
Recommended Stories