Apple iPhone X vs Google Pixel 2 XL
33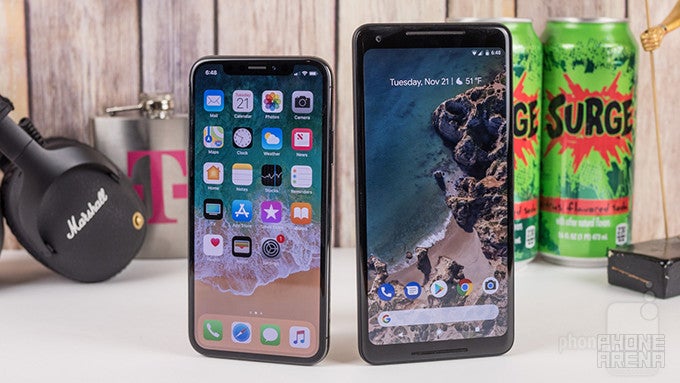 Google's been seriously stepping up its smartphone game ever since the launch of the
Pixel
last year, and for its second generation of handsets, we're no longer just choosing between a big and a little model, but also between a Pixel with a conventional versus a new ultra-wide display.
But the
Pixel 2 XL
with its big face-filling screen isn't the only new smartphone of its kind to just hit the block, and Apple's grabbing headlines with a super-widescreen phone of its own, the new
iPhone X
.
How do these two late-2017 flagships stack up against each other? Let's take a look.
Design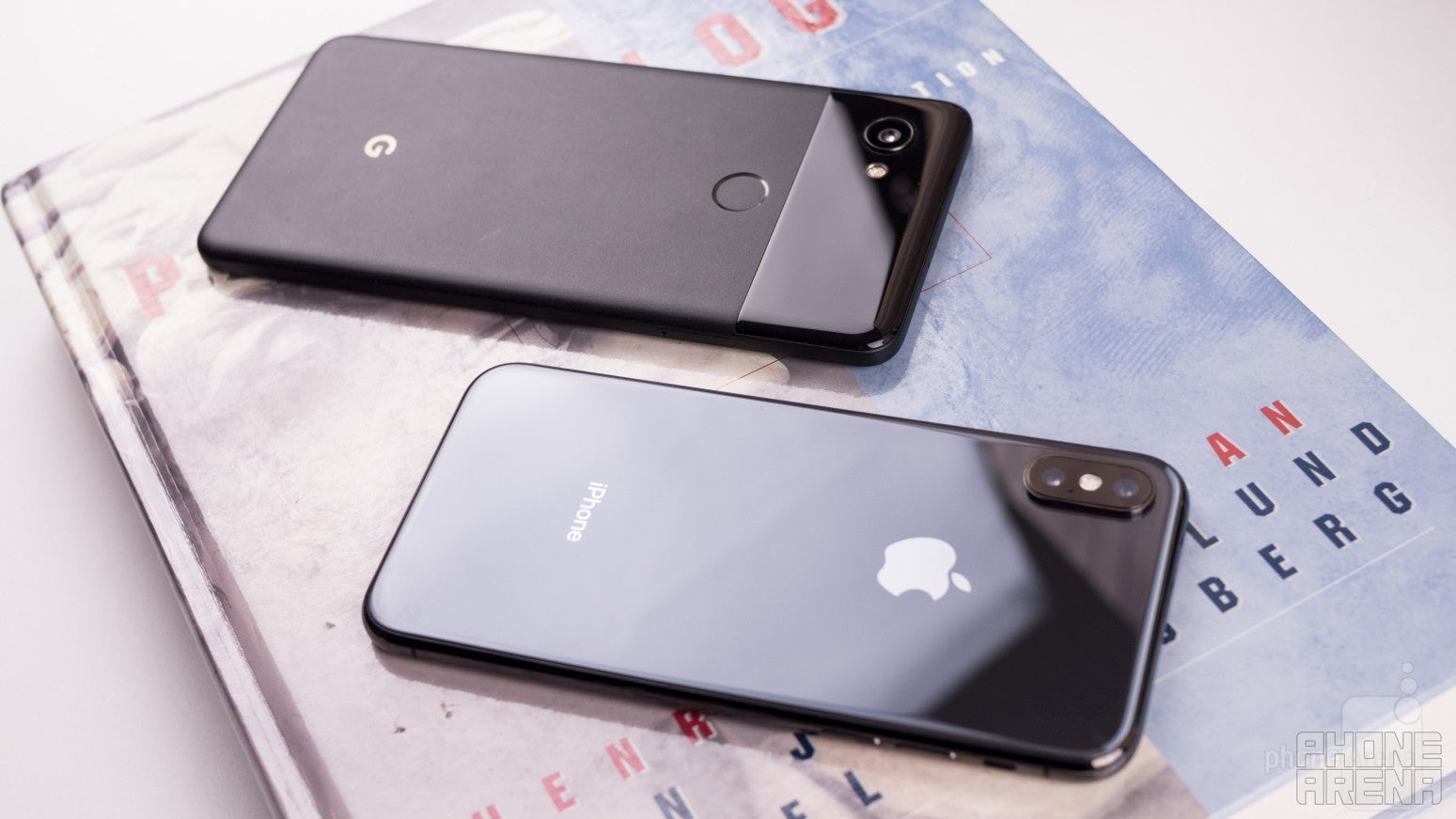 The iPhone X feels like an iPhone should: sleek and sophisticated. The move to a glass back this year may make the handset a bit smudge-prone, but the choice of material at least feels very nice in the hand. But the design of this handset is really focused on that expansive screen, consuming as much of the phone's front panel as possible. While that does result in the controversial "notch" up top, we're most impressed by how cleanly centered the display is, something few other ultra-widescreen phones can claim.
The Pixel 2 XL, meanwhile, gets a lot of its visual cues from the original Pixel lineup, especially the two-tone back. Here, though, we're treated to an interesting new use of metal with a unique, almost ceramic-like texture. Around front, Google's bezels aren't nearly as uniform as Apple's but that does leave room for front-facing stereo speakers flanking the screen's top and bottom. The iPhone X features stereo speakers of its own, of course; one positioned in the earpiece, and the other mounted on the phone's bottom edge. It's a bit of a peculiar positioning, but the effect is largely the same.
Display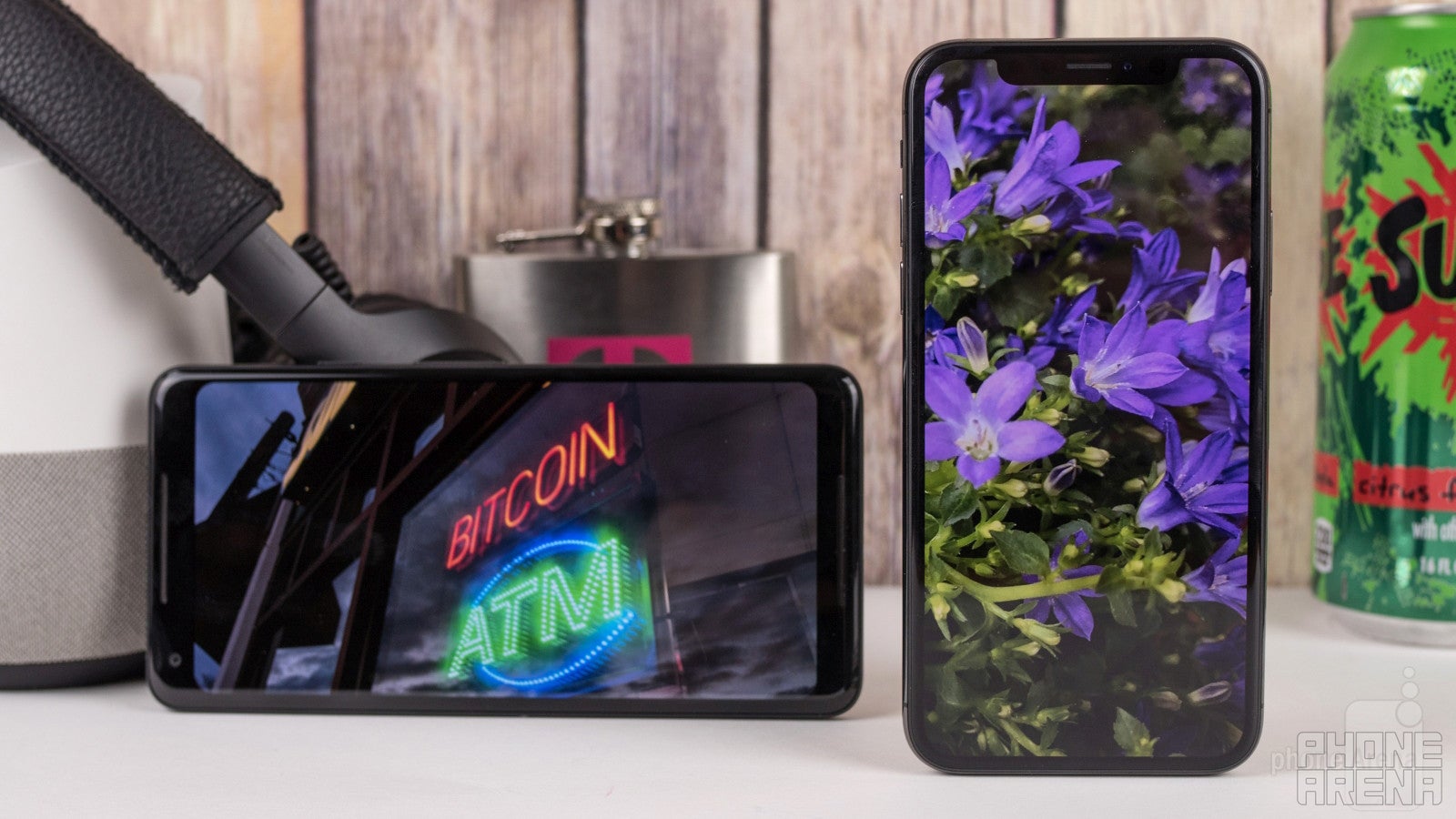 While these are both screens that stretch beyond the standard 16:9 widescreen ratio, and both are built on OLED technology, that's where the similarities end, and in everything from screen shape, to size, to resolution, we're looking at two different panels.
Apple's iPhone X display is bright and beautiful, offering accurate color reproduction and excellent readability in sunlight. The Pixel 2 XL's screen isn't anywhere near as bright, though it's far from the dimmest phone we've run into lately. And while its output is sharp and crisp, it's received a fair amount of criticism for colors looking a bit drab. This feels more intentional than an accidental misstep, and might serve as a good alternative to users sick of oversaturated, artificial-looking output. Overall, both screens here tend to go for the same thing, and that is authentic color representation.
Display measurements and quality
Interface and functionality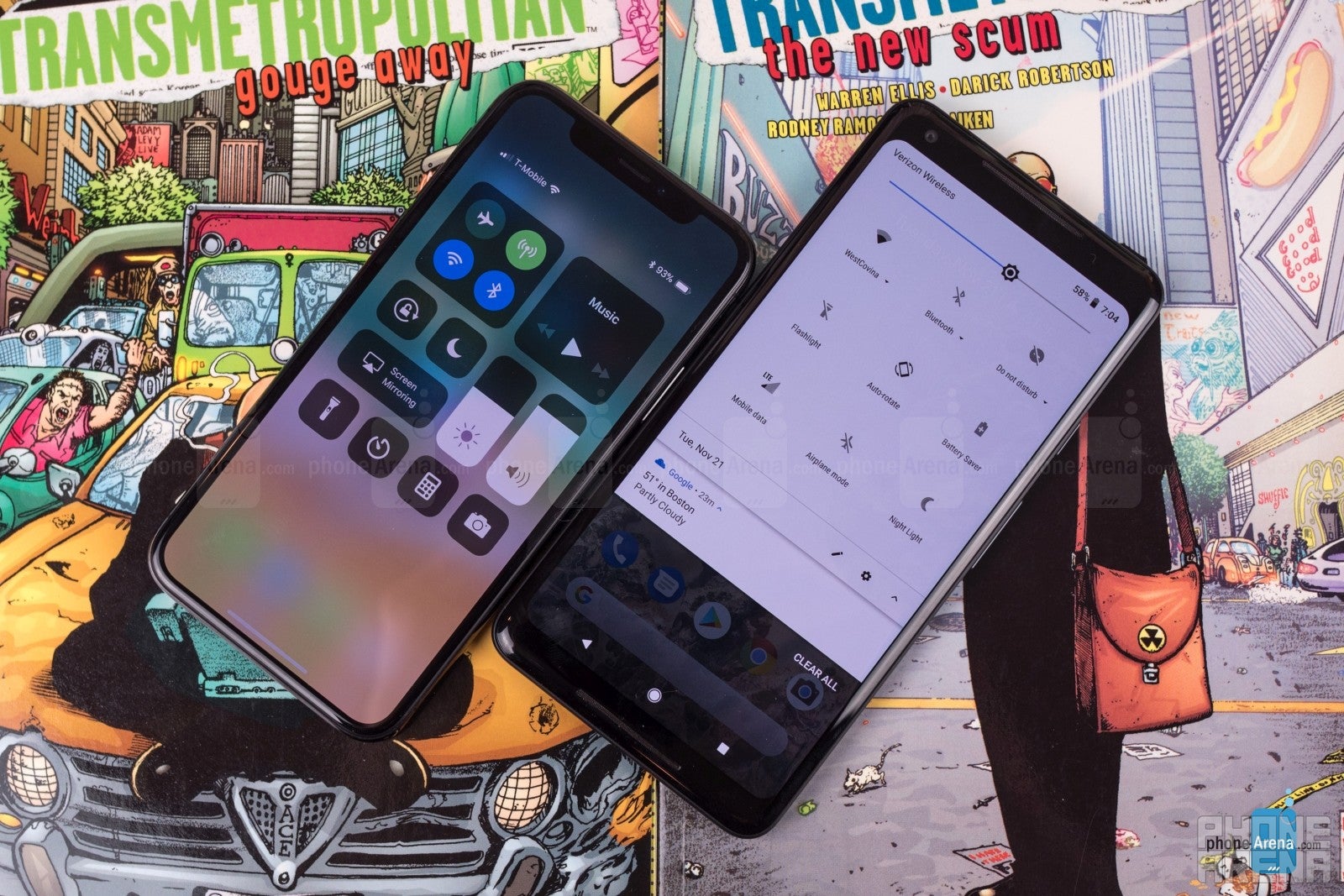 With iOS, users know to expect nearly the very same experience across different models, and while that's mostly still the case with the iPhone X, this year Apple mixes things up a little with new gesture controls to compensate for the absent home button. After a very short learning curve, those changes tend to work quite well.
Android on the Pixel 2 XL will feel a bit more familiar right out of the gate, and though users get to enjoy the latest and greatest Oreo features, there's nothing here that's wildly game-changing. That said, the polish is really starting to show, and Google continues to offer users tons of options while still keeping things simple enough for novices.
As for security, the iPhone X picks up Face ID, which really works surprisingly well – so much that you may soon be forgetting about fingerprints altogether. And while the Pixel 2 XL offers no such face-scanner of its own, its rear fingerprint sensor is fast, responsive, and easy to reach – everything we like to see.
Processor and memory
Both these phones are equipped with some of the highest-end processors available on their respective platforms: a Snapdragon 835 for the Pixel 2 XL, and Apple's own A11 Bionic chip in the iPhone X. They're also on similar, if slightly unequal footing in terms of memory, with the Pixel 2 XL scoring 4GB to Apple's 3GB. But even with the benefit of extra RAM for Google, we still see the iPhone push past the Pixel 2 XL in benchmark after benchmark. If you need every last drop of processing power, maybe Apple's the way to go, but each of these handsets is operating on such a high level that we seriously doubt either will leave you hurting for performance.
You have your choice of storage capacity when buying these phones. Both start at 64GB, and while the Pixel 2 XL adds a 128GB option, Apple one-ups that with 256GB available. No matter which you decide on, though, that's all she wrote, as neither of these two offer microSD card expansion.
Internet and connectivity
The choice of browser can be an intimately personal one, and while the iPhone X and Pixel 2 XL start you out with their Apple's and Google's own Safari and Chrome, respectively, you're far from beholden to that software, and can switch things up at your leisure.
Both phones are available across networks, big and small. The iPhone X is slightly more cosmopolitan in that regard, and while the Pixel 2 XL can be picked up unlocked, Verizon is Google's carrier partner of choice.
Camera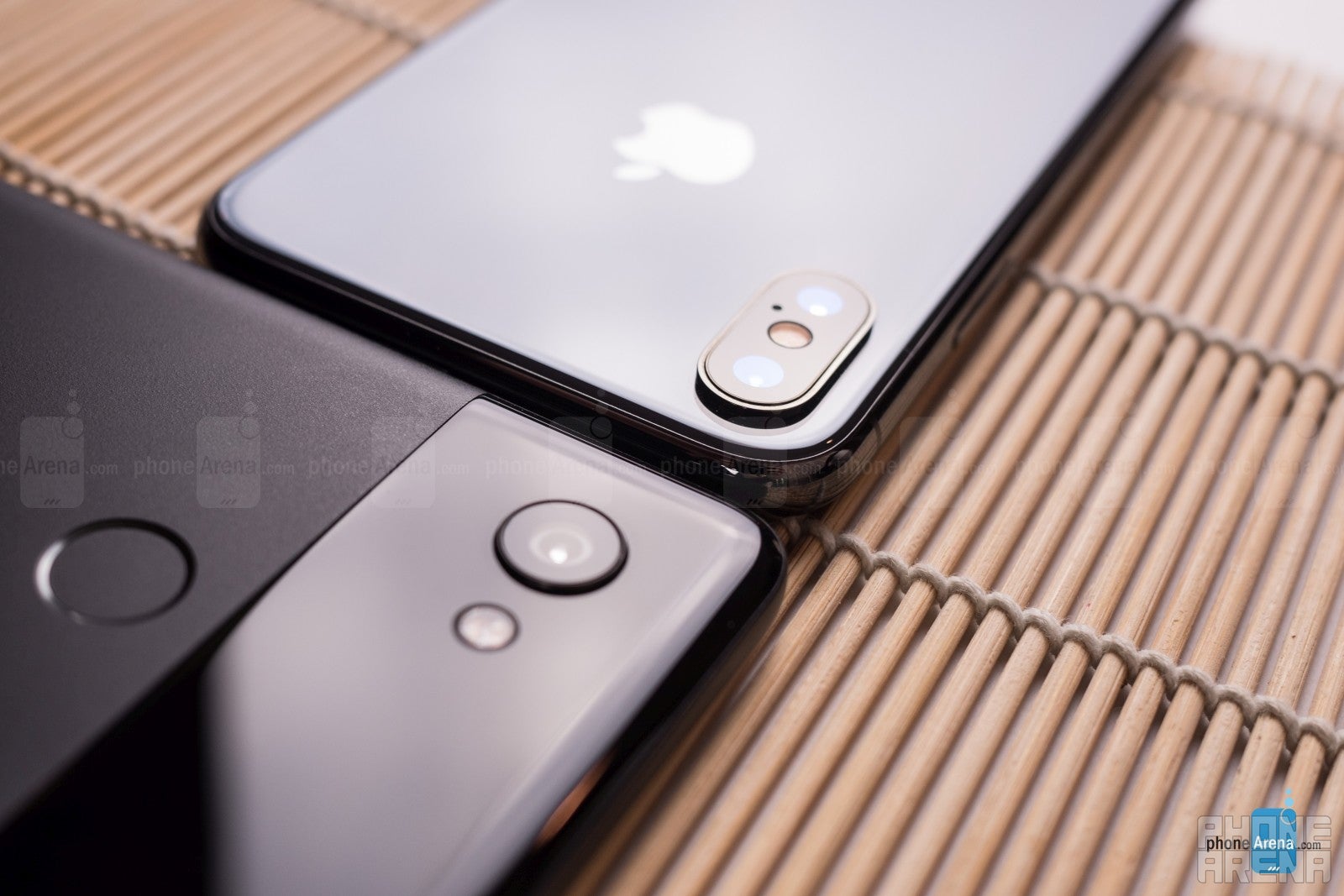 With the megapixel wars long over, it seems like a lot of smartphone manufacturers have been zeroing in on the 12MP range as a decent resolution/sensitivity compromise, and both the Pixel 2 XL and iPhone X fall right into this category. But while the Pixel offers but a single main camera, the iPhone doubles down with a telephoto/wide-angle pair. With shared features like optical stabilization and a nice big f/1.8 aperture, can we expect these cameras to perform at the same level, or will the added versatility of that second lens give the iPhone an advantage? Let's take a look.
Image quality
As you've no doubt heard from their individual reviews, both these handsets can take some beautiful-looking pics. When left to their own devices, operating in point-and-shoot mode with auto-HDR engaged, each captured quite similar images, but with a few consistent differences. The iPhone's shots tended to look warmer than those from the Pixel, with slightly more pleasing color reproduction. But at the same time, the Pixel takes better advantage of its HDR capabilities, pulling beautifully contrasting clouds out of a sky that the iPhone sees only as an over-exposed stretch of gray.
Even without dual cameras on the Pixel, both phones produce blurred-background shots. If you're just looking for a simple bokeh, either option will serve you well: the effect is decent, but both tend to fail in similar ways, mistaking parts of the background for the subject (and vice versa). But Apple's portrait mode also lets you play with some fun lighting effects (Portrait Lighting), adding extra value to the feature.
Video quality
Although either phone can record in 4K just fine, only the iPhone offers a high-frame-rate 60fps option when shooting in Ultra HD. Quality's solid on both, although we found colors to look a little more natural on the Pixel. The Pixel 2 XL also has an advantage when it comes to refocusing in the middle of filming, while the iPhone X sometimes struggles to acquire new subjects. Audio's a bit louder on the Pixel, and can sometimes sound a little muffled on the iPhone, but Pixel audio can also have a distractingly harsh treble-heavy edge.
Somewhat disappointingly for two devices with wider-than-16:9 screens, neither phone's camera software supports recording videos at any extra-wide resolutions.
Multimedia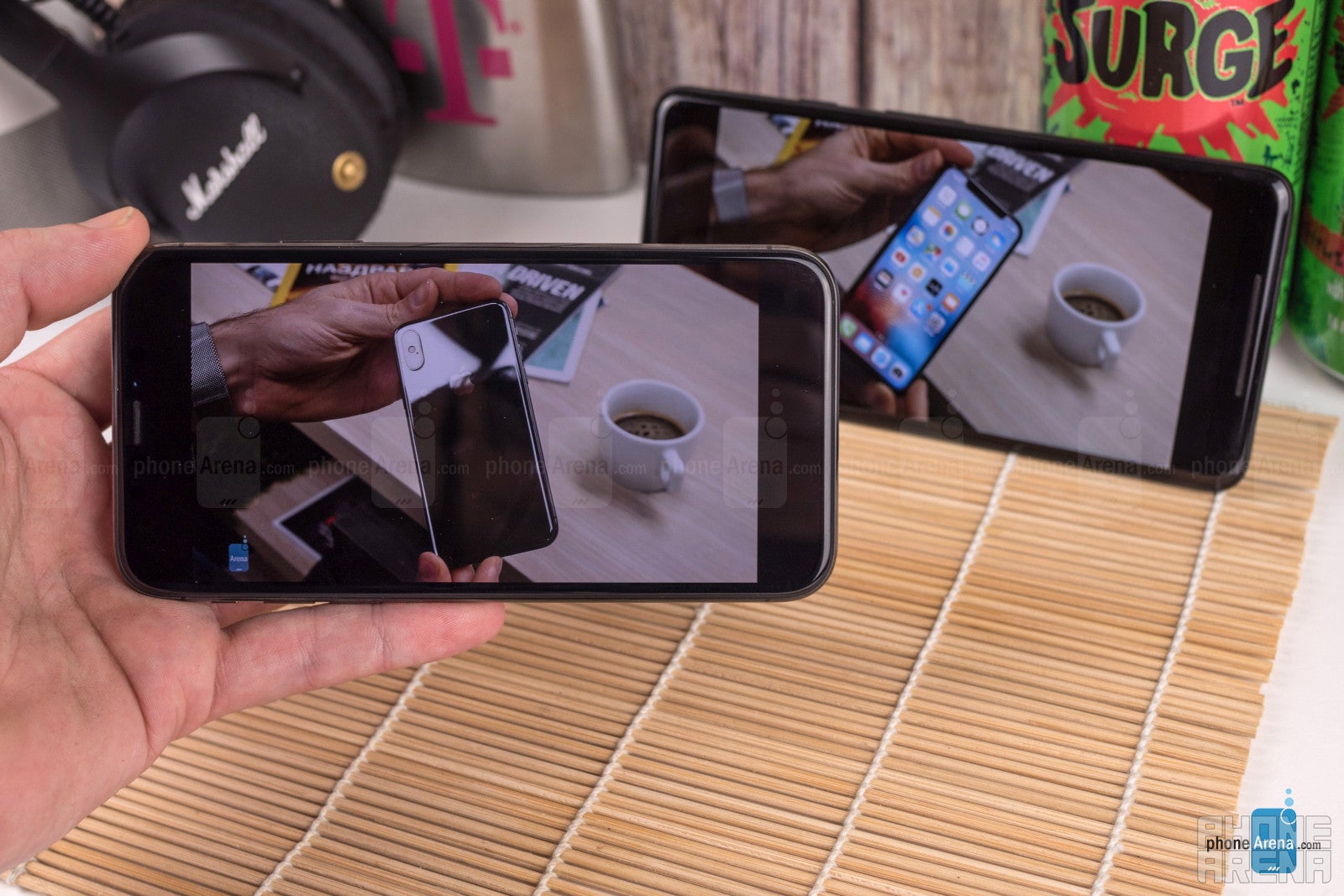 You'd think that the Pixel 2 XL would be at an advantage when it comes to sound, having two front-facing speakers, while the iPhone X continues with the sometimes-awkward tradition of using the earpiece along with a bottom-edge speaker to generate stereo sound – a combination that can at times sound unbalanced. But as it turns out, Apple manages to produce some much more natural-sounding audio with the iPhone X, while sound from the Pixel 2 XL is a tad hollow, and overly strong on reverb.
Sadly, neither phone provides an actual headphone jack; they're both among that small (but growing) group of handsets that prefer to do all audio output over a digital interface. While both do come with analog adapters (something we can't say for all phones in this club), only Apple ships its handset with a compatible set of earbuds.
Call quality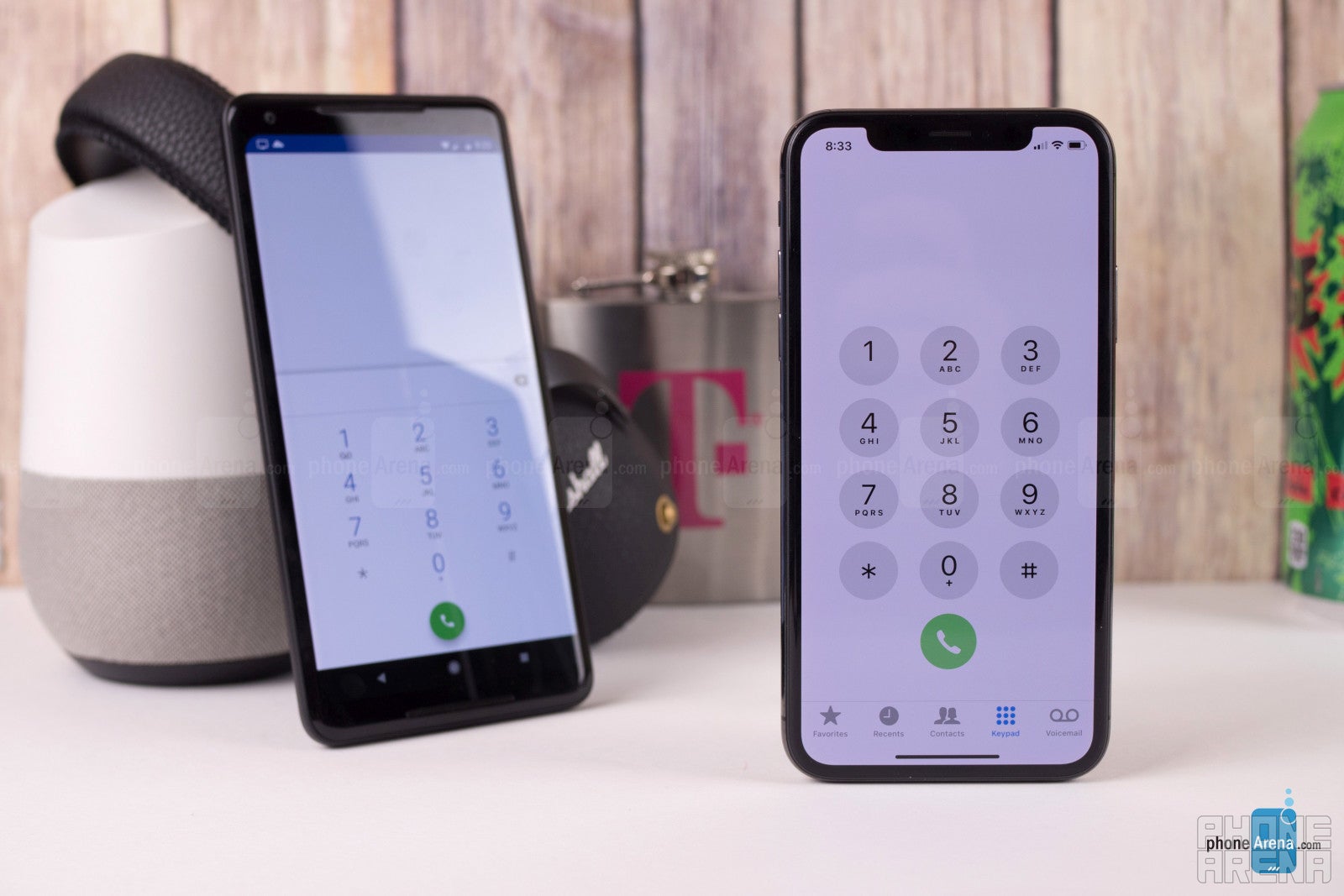 We hit some surprising call glitches on both recent iPhone and Pixel models, but thankfully the X and 2 XL each manage to dodge that bullet. Call audio sounds nice on both handsets, but a little bit crisper on the Pixel. However, the Pixel 2 XL is just a little too large for comfortable use as an actual phone (at least over any worthwhile length of time), and we preferred the feel of the iPhone X for use as a handset.
Battery life
There's a huge disparity in battery capacity between these two phones, with the Pixel 2 XL packing a beefy 3,520mAh battery, while the iPhone X's is just over 2,700mAh. But as we've seen time and time again, capacity is just one small fraction of the endurance equation, and with different screens at play, to say nothing of the consumption requirements of these two processors and the software they're running, we're not about to see those batteries run down at the same rate.
In our tests, the two phones ended up running neck-and-neck, and though the Pixel 2 XL with its larger battery did ultimately win (with just under nine hours of screen-on time), the iPhone X only came in about 15 minutes under.
The iPhone X does have the advantage of supporting wireless charging, which the Pixel lacks, but it's also slower to recharge with its bundled wired charger, and the Pixel is able to refuel itself about 40 minutes faster. And if you're thinking minutes-per-milliamp-hour, that difference is even more pronounced.
Conclusion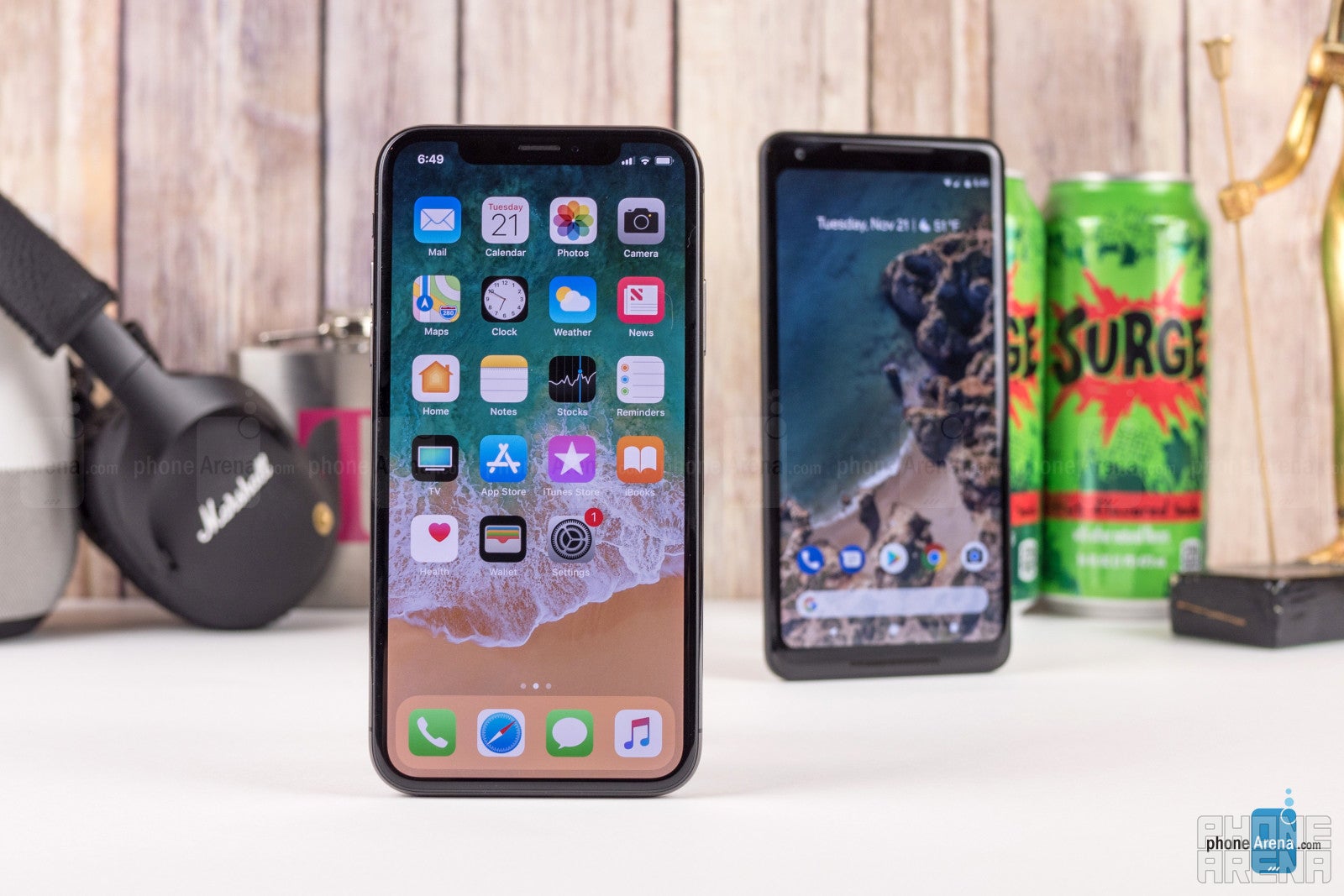 When we're comparing any phone to the
iPhone X
, probably the most expensive mainstream phone we've ever covered, pricing absolutely has to come into consideration. If there's a big gulf between options, and the phones are otherwise similarly matched, it can be easy to just default to the cheaper selection, but here the
Pixel 2 XL
is no bargain-basement model either, and its own $850 starting price isn't that much south of the iPhone's $1,000. And while that still represents a decent Apple premium, when you're already spending this much on a phone, what's a hundred or so bucks between friends?
Of the two phones, the iPhone X is probably the more impressive: it has a more eye-catching design, has a small lead on performance, better speakers, and offers a camera experience that we imagine many users will prefer. But the Pixel 2 XL is no slouch by a long shot, and is still one of the very, very best Android phones you can buy. In the end, the choice between these two really might come down to platform: whether you're an iOS die-hard or an Android fan, these models represent some of the finest smartphone experiences you can find on either operating system.
Pros
More compact, efficient design
Performance edge
Zoom/portrait camera features
Comes with headphones
Better-sounding speakers
Pros
Effortless HQ camera
More affordable price point
Longer battery life/faster recharge times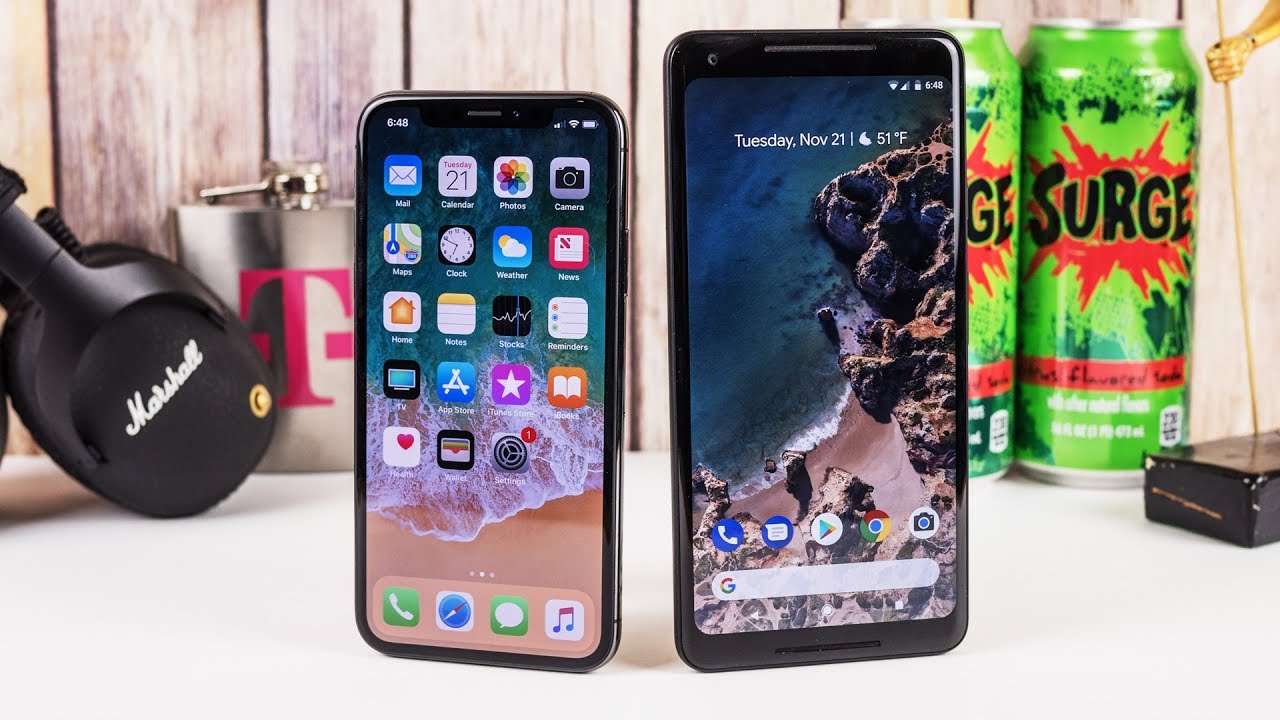 Recommended Stories