Google Pixel vs Apple iPhone 7
76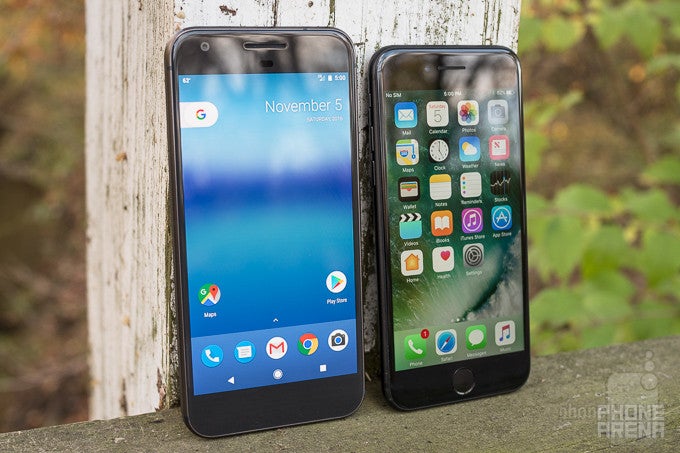 Introduction
What's the quintessential Android smartphone now? With Apple and iOS, it's easy, and while there will be a holdout or two shouting about the virtues of the
iPhone SE
until no one's left to listen, it's not at all controversial to award the iOS version of that honor to the
iPhone 7
. But with Android? There was a time we'd point to the uber-popular Samsung flagships as probably the most obvious example of how to successfully make an Android phone, but with the huge PR hit the Galaxy brand has taken as a result of the
Note 7
meltdown, we're accepting new nominations.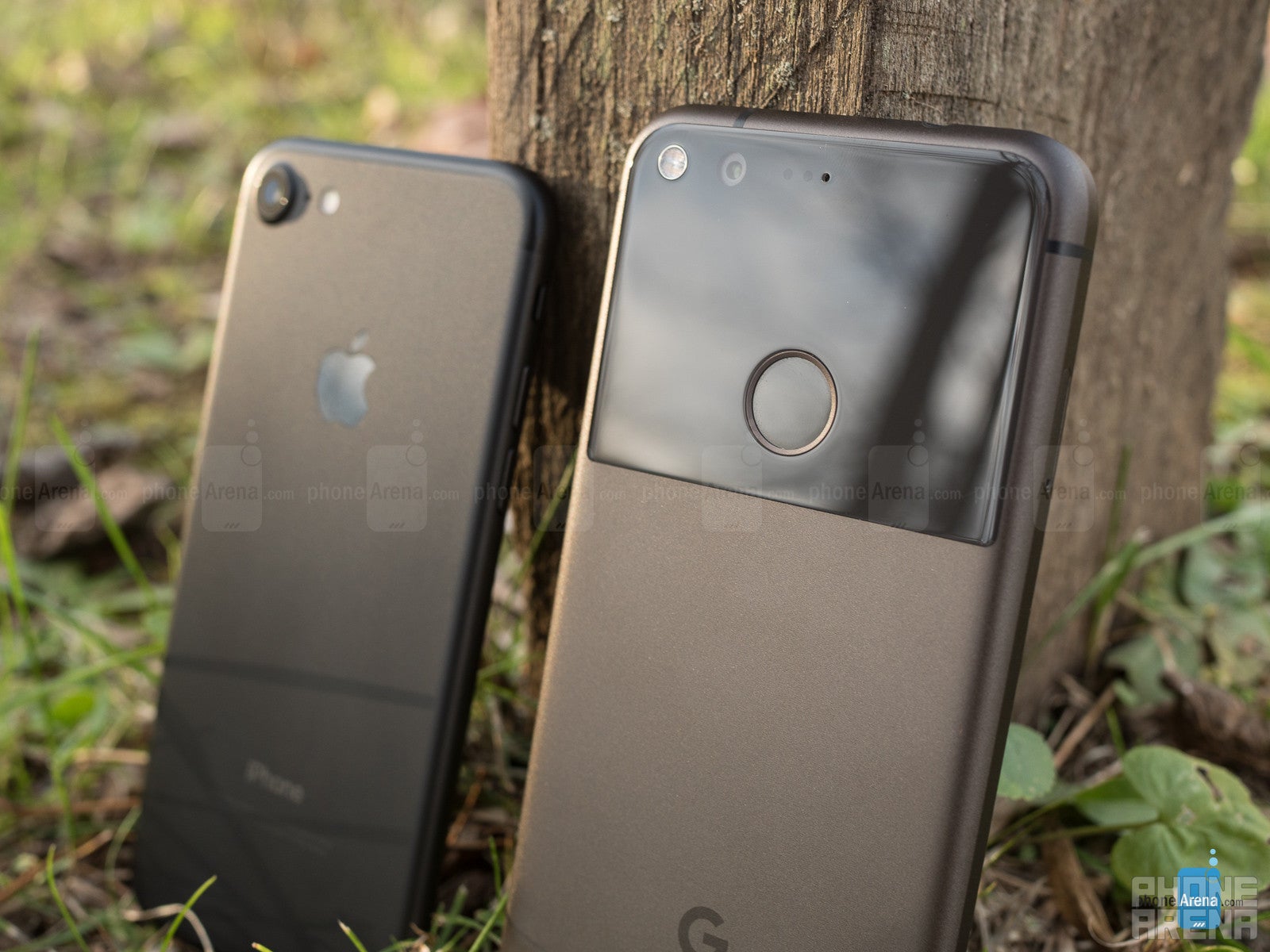 As fate would have it, Samsung's struggles coincide with the launch of Google's own phones, its first models to bear the Pixel name. And while Nexus devices of years past may have been received more as tech demos, or hardware for fanboy enthusiasts (though that image has been lightening in recent years), Google's really going out of its way with the Pixel phones to make a big commercial push, getting smartphone shoppers excited about unique hardware that taps into the Android software and service ecosystem at a core level.
Times may change as we roll into the new year and get to meet the next generation of Android heavyweights, but for now, the
Pixel
is arguably the best example of what Google's smartphone platform has to offer.
Now that we've identified the Androidiest Android and the iPhoneiest iPhone, what better to do than to see how these two phones at the top of their game stack up against each other? They're very different handsets, sure, but what does each have to offer – where are their strengths and weaknesses? You're about to find out, as we compare the
Google Pixel
against the
Apple iPhone 7
.
Design
Google may not have caught up with Apple's design refinement just yet, but it's close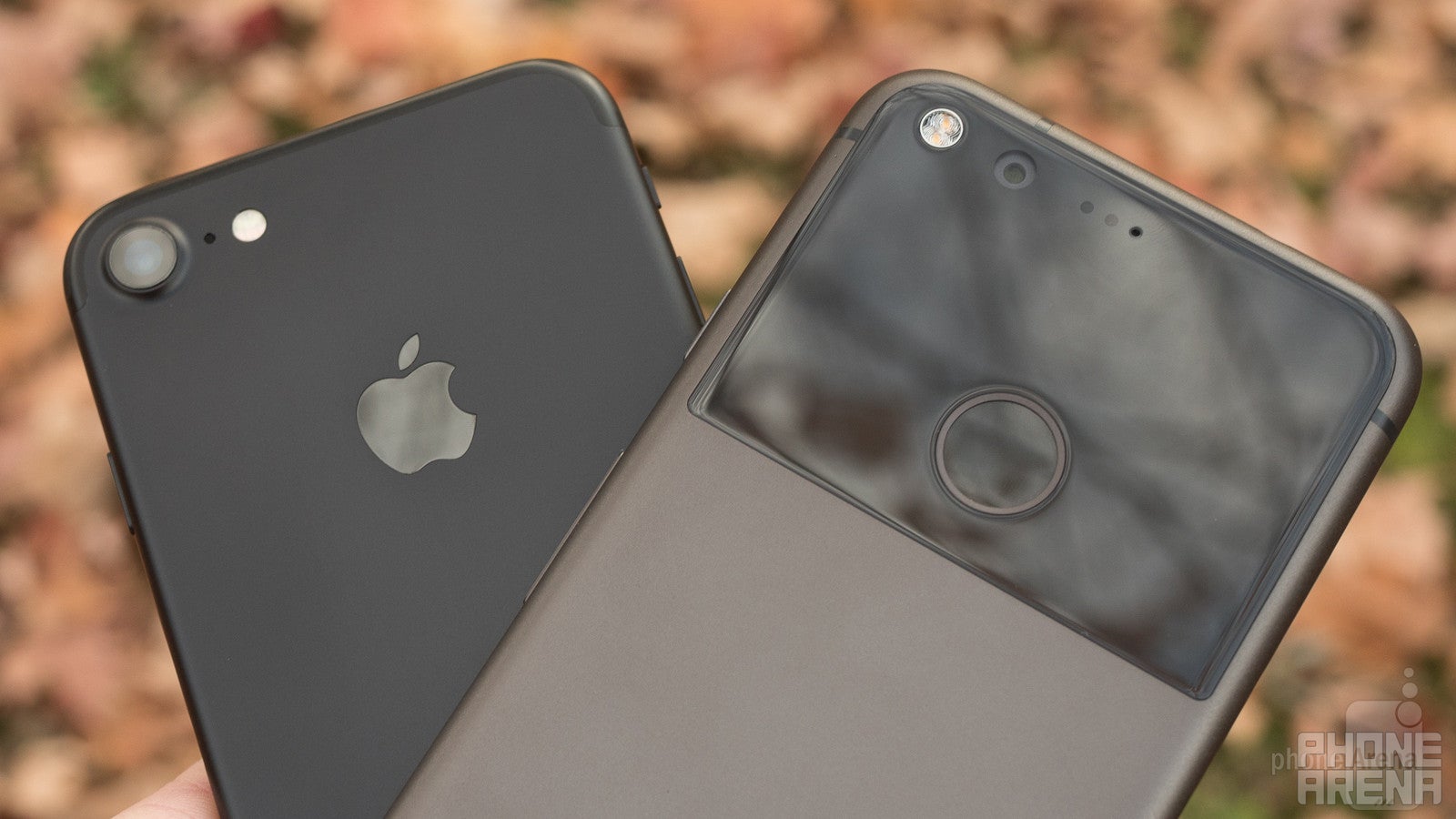 Both Apple and Google know that smartphones aren't one-size-fits-all, and they're smart enough to give their users multiple size options. But while Google's been all too willing to embrace larger handsets (look no further than the fall of 2014 and the solitary launch of the six-inch Nexus 6), Apple's still coaxing some of its base away from their four-inch (or even smaller) iPhones. As a result, the iPhone 7 arrives as a more compact 4.7-inch model to the Google Pixel's 5.0-inch screen.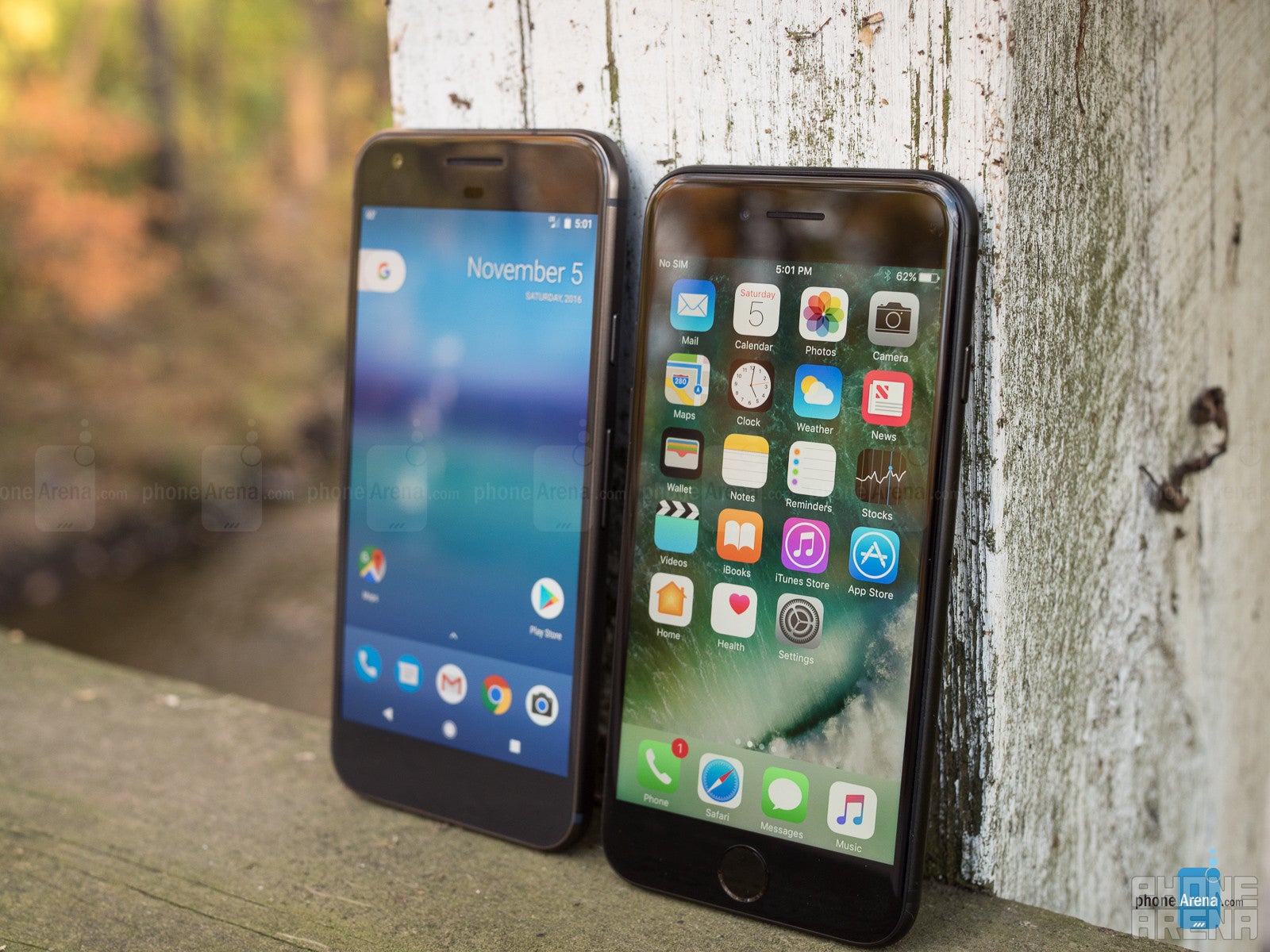 But it goes beyond just screen size. Apple's refinement of its hardware design has brought us one of the tightest, most feature-packed handsets for its size in the iPhone 7 – and even if you're not an iOS fan, it's hard to deny that this is some exceptionally well done hardware. At once it feels remarkably solid and satisfyingly thin. The buttons are clicky and responsive, and even the new solid-state home button with its Taptic Engine trickery works great. If there's one dark spot on the iPhone 7's design it's the still-quite-controversial decision to nix the handset's analog headphone jack – but ask us again in a year, and we may be over it by then.
The Google Pixel is also a very well built handset, and one whose design brings with it its own controversies: the half-glass back is an unusual choice (though one we quickly found ourselves coming around to), and in a world where every handset manufacturer seems to be wholeheartedly embracing waterproofing (including long-time hold-out Apple), Google elected to do without for the Pixel. It's a larger phone than the iPhone, understandably, a situation only compounded by Google's edge design. And with a combination of curves, flat surfaces, and angled bevels, the Pixel may offer a comfortable grip, but it's also a model that never feels quite as sleek and effortless as the iPhone.
Display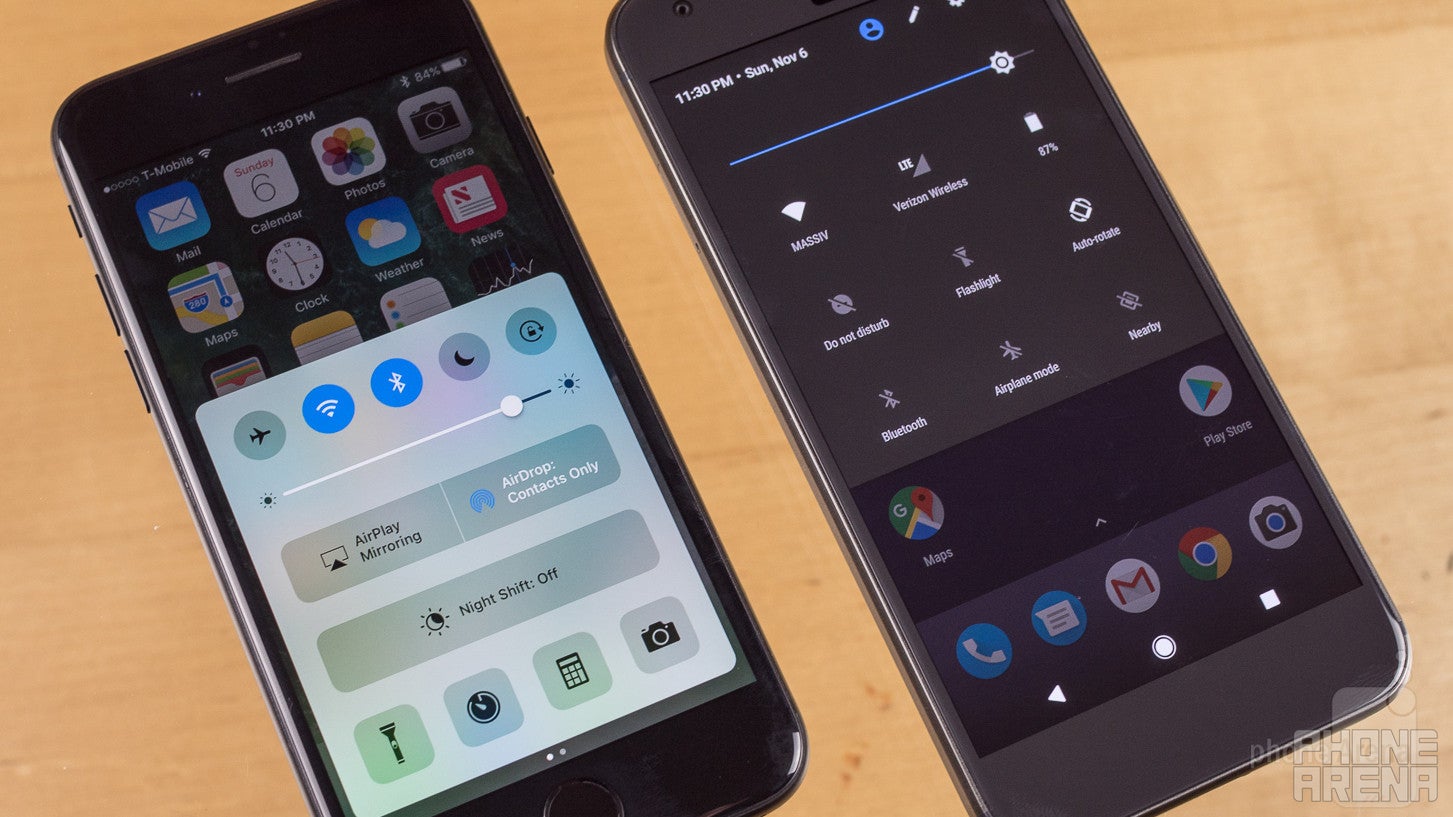 Apple could be going the way of AMOLED panels soon, but with this generation of iPhone, it returned to familiar LCD screens. The 4.7-inch screen sticks with its familiar (for Apple, and only Apple) 750 x 1334 resolution, for a pixel density of 326 ppi.
Google's 5.0-inch AMOLED screen on the Pixel may not be much larger than Apple's, but its 1080 x 1920 resolution is significantly higher, offering a density that hits 441 ppi. Honestly, though, both screens look super-sharp, and you're never going to be spotting individual pixels under general usage conditions.
When testing the Pixel's screen, we had some issues with color accuracy, but with the ability to correct that over-saturation in software, it's not a huge deal. The much more important consideration between these two displays is how they fare in outdoor visibility, and the limited brightness levels the Pixel is capable of hitting end up putting it at a big disadvantage compared to the extra-bright iPhone 7 – one of the brightest screens we've tested all year.
Display measurements and quality
Recommended Stories