Lifeproof Frē Power battery case for iPhone 6 review
4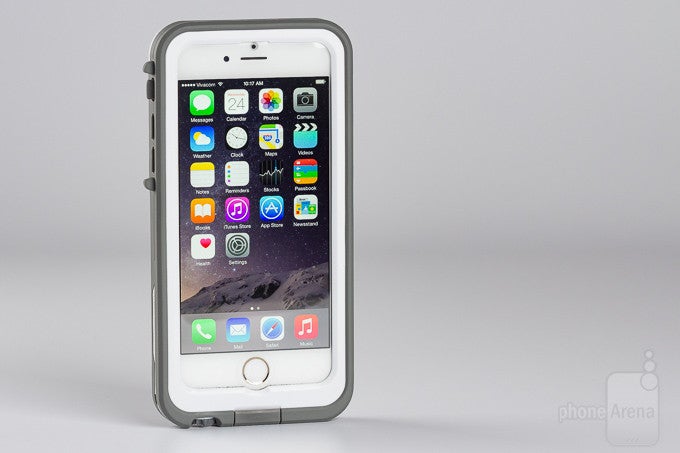 Lifeproof is a case manufacturer that specializes in rugged protection for mobile devices. Its top-of-the-line offering is the Frē Power, which combines the armor-like build of Lifeproof's cases with a built-in 2,600 mAh battery, able to recharge an
iPhone 6
on the go. The case is solid and sturdy, covered almost entirely in rubber, and a bit hard to crack open when one gets to examine it for the first time. Of course, this all stems from the fact that it's ingress protected and meant to hold out in the most extreme of conditions.
Design-wise, the Frē Power is as appealing as a brick. This case takes the no-nonsense approach to doing its job of protecting your expensive smartphone. Even though Lifeproof tried to add some cool accents and stripes here and there, the Frē Power still doesn't end up looking like anything special. Looks aside, however, it has thick walls and a construction that doesn't creak nor crack when pressure is applied. Its front has a generous lip around the display area, and the case has a built-in screen protector on its face. Needless to say, we feel that our iPhone 6 is quite safe once we pack it inside the tough armor. Still, we find the buttons to be too hard to press, even for that type of protection.
The case is dust- and water-protected (IP68 rating), so absolutely every part of the phone is covered up. In order to be able to achieve audio reproduction and voice capture, Lifeproof has built in small acoustic channels, which reroute the speaker and microphone grilles from the bottom of the phone to two small, ingress protected openings on the back. As a result, sound and voice quality drop, but not in a huge manner. The headphone jack is hidden beneath a hard-to-remove, screw-like flap and can only be accessed via the included extension adapter.
The glass protector is a bit of a nuisance – it doesn't really adhere to the phone's display, but stays at a very slight distance. If you are used to your iPhone 6 responding to your faintest of touches, this placement will annoy you, as the Frē Power's front panel needs the user to push just slightly deeper into the protector in order for the display to register a touch.
On the battery side, the case has a 2,600 mAh juicer, which should easily help an iPhone 6 last twice the time it normally would. Once the case is turned "on" and phone charging has started, the user needn't worry about turning it off as Lifeproof has included a smart circuit, which will do this for them when the phone hits 100%. Opposite to many other battery cases out there, the Frē Power uses a micro USB connector – this is a plus, because it means that when one is on a long trip, they can leave their expensive Lightning cable home and use the included microUSB cable, or any generic, expendable one.
For the price of $129.99, the Frē Power may be a bit pricy for a battery case, but its tank-like properties could justify the rather hefty tag. It's not a case that you'd want to lug around on an everyday basis, so it's not the best investment for the average Joe. Hikers, surfers, climbers, and other sporty types will appreciate its extreme ruggedness and its spare battery. The not-so-extreme folk, on the other hand, can find a battery case that still offers some protection, but has a bit more refined looks, softer buttons and flaps, and a slimmer price tag.