iPad Pro 2021 vs iPad Air 4: How much of a difference?
3
We may earn a commission if you make a purchase from the links on this page.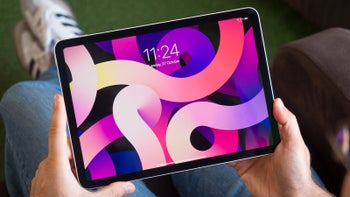 With the new
2021 iPad Pro now released
, it's once again time to consider whether it's worth splurging on a new iPad Pro over the already excellent and similar in design
iPad Air 4 (2020)
.
Does the new iPad Pro 2021 offer enough to warrant an upgrade from last year's iPad Air, or should you stick with the Air for now? Let's compare the two
Apple
tablets and find out!
You may also find interesting:
Apple iPad Pro (2021) review
iPad Pro 2021 vs iPad Air 4 price, colors, sizes and storage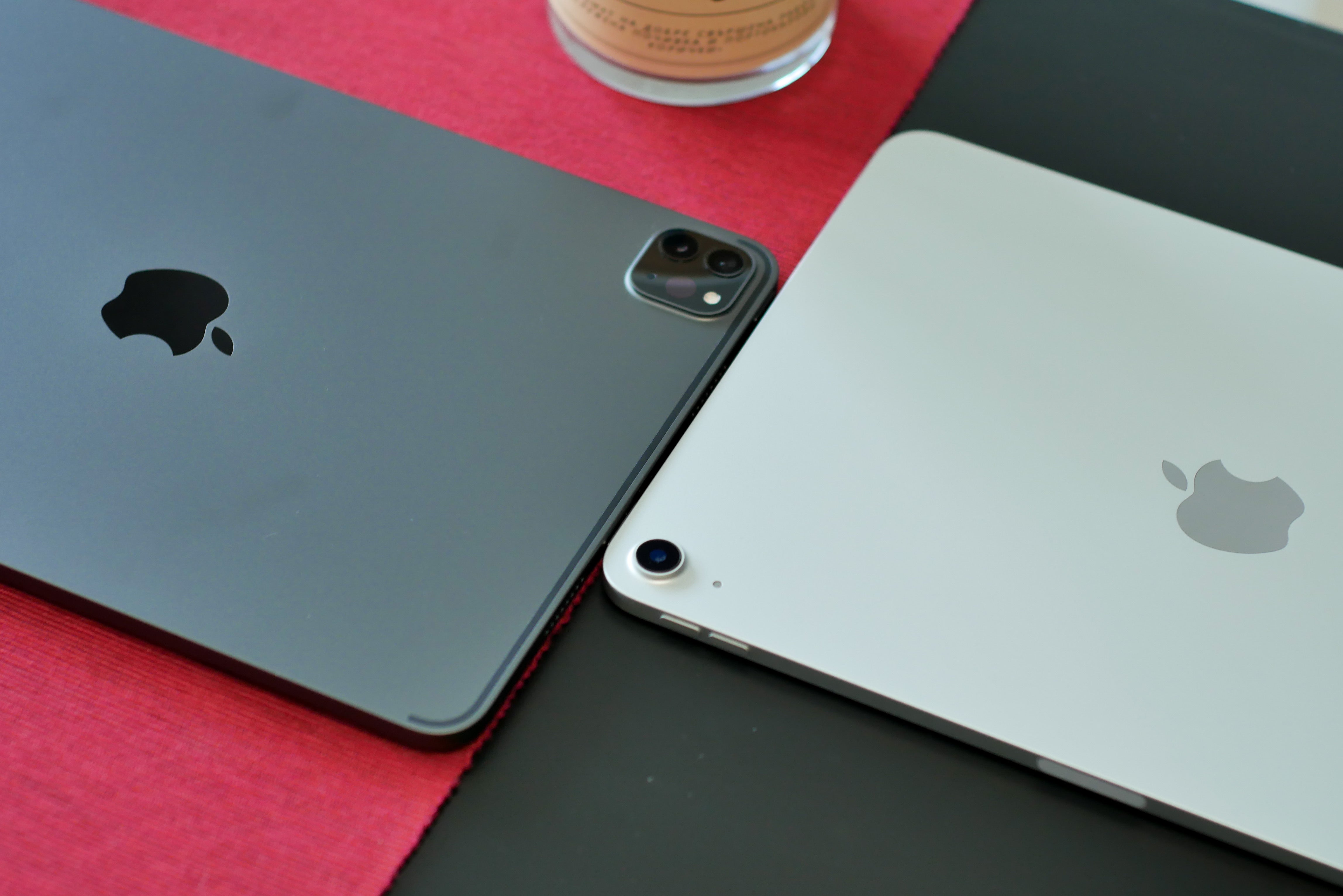 The new iPad Pro 2021 starts at $799 for the 11-inch Wi-Fi-only model and $999 for the base Wi-Fi and Cellular model. The 12.9-inch M1 iPad Pro starts at $1,099 for the Wi-Fi model and $1,299 for the Wi-Fi + Cellular one. Also, notably the new 2021 M1 iPad Pro comes in a new white color, in addition to black. And unlike any prior iPad, the new iPad Pro's Cellular models support 5G connectivity.
The 2020 iPad Air 4 launched at a base price of $599 for its one and only 10.9-inch variant with 64GB of base storage, while its 256GB storage variant is $749. It's available in rose gold, space gray, silver, green and sky blue. It remains the iPad with the most color variants to buy right now. And it too has Cellular LTE models, but no 5G.
iPad Pro 2021 vs iPad Air 4 design and display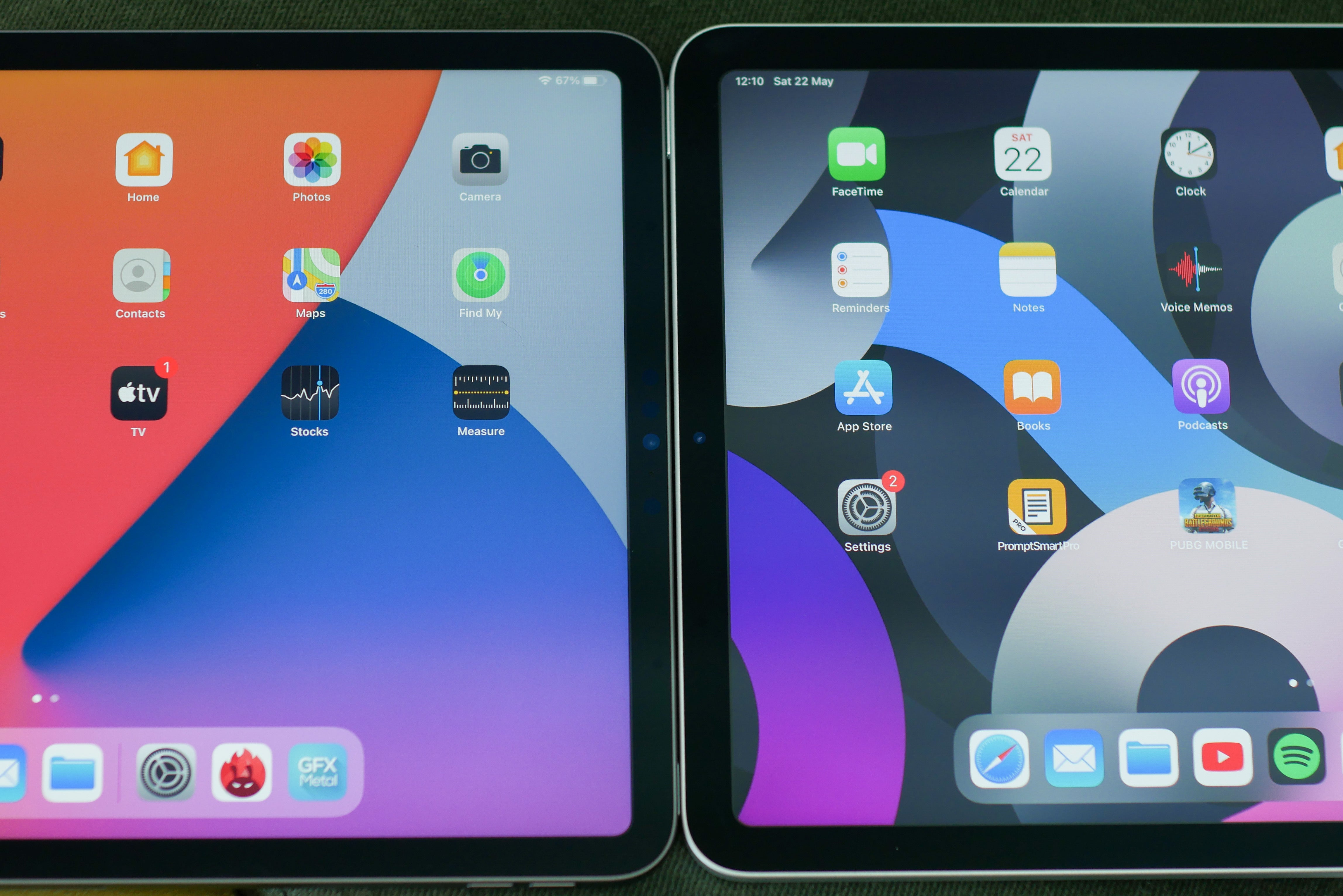 The iPad Air 4 (right) has slightly thicker bezels around the display
From a design standpoint, the 2021 iPad Pro and iPad Air 4 are about the same when viewed from the front. Both feature a premium, thin metal and glass build, but the Pro has slightly smaller bezels and, of course – its 12.9 variant has a new mini-LED XDR display. On the back the differences between the two tablets are more visible, with the iPad Pro featuring a large camera module that includes a flash, LiDAR sensor and an ultra-wide camera, alongside the main one. The iPad Air has a single rear camera instead, and nothing more.
The new mini-LED Liquid Retina XDR display of the 2021 12.9-inch iPad Pro was arguably its biggest, most anticipated upgrade. Thanks to that mini-LED technology, the 2021 12.9-inch iPad Pro's screen features significantly better contrast over any previous iPad, akin to OLED. Both the 12.9-inch and 11-inch iPad Pro models also have a super-smooth 120Hz screen refresh rate, making them feel faster and smoother. The resolution of the 11-inch iPad Pro is 2388 x 1668, which is a very tiny bit higher than the Air 4, as is to be expected for the former's slightly larger display.
The iPad Air 4 packs an IPS LCD Liquid Retina display with 60Hz refresh rate and a resolution of 2360 x 1640 pixels. Its screen is nowhere near bad, still featuring great contrast, colors and good sharpness. Particularly when watching movies in the dark, as this display isn't mini-LED XDR, the blacks aren't as pitch black as they are on the 12.9-inch iPad Pro.
Display measurements and quality
iPad Pro 2021 vs iPad Air 4 performance
The 2021 iPad Pro is notably powered by Apple's M1 chip, which is also found in newer MacBooks and iMacs. This means that the 2021 iPad Pro offers better performance than any previous iPads before it (particularly multi-core). Along its base 8GB of RAM option, the M1 iPad Pro also has a model with a whopping 16GB of RAM.
The iPad Air 4 is powered by the Apple A14 Bionic chip and 4GB of RAM. It's already well powerful enough for the likes of video editing, desktop web browsing, complex drawing in apps like Procreate and so on. Unless the upcoming
iPadOS 15
is a major upgrade that brings something new only to M1 iPads, the iPad Air 4 handles iPadOS just great for now and isn't missing out on any software features over the new Pro models.
A noteworthy downside of the iPad Air 4's less-than-generous 4 gigabytes of RAM is that occasionally during web browsing, certain tabs may refresh when you leave them and later get back to them due to the tablet running out of memory. It's not a major issue most users will even notice, but I personally remember having a few Reddit tabs open with written posts in them (but not yet published), only to lose all I had written due to the tabs refreshing once I got back to them, making me re-write everything. Basically, the more RAM of the iPad Pro means a lesser chance of this happening. And with the top-tier 12.9-inch iPad Pro having a whole 16GB of RAM, something like this is unlikely to even happen.
iPad Pro 2021 vs iPad Air 4 speakers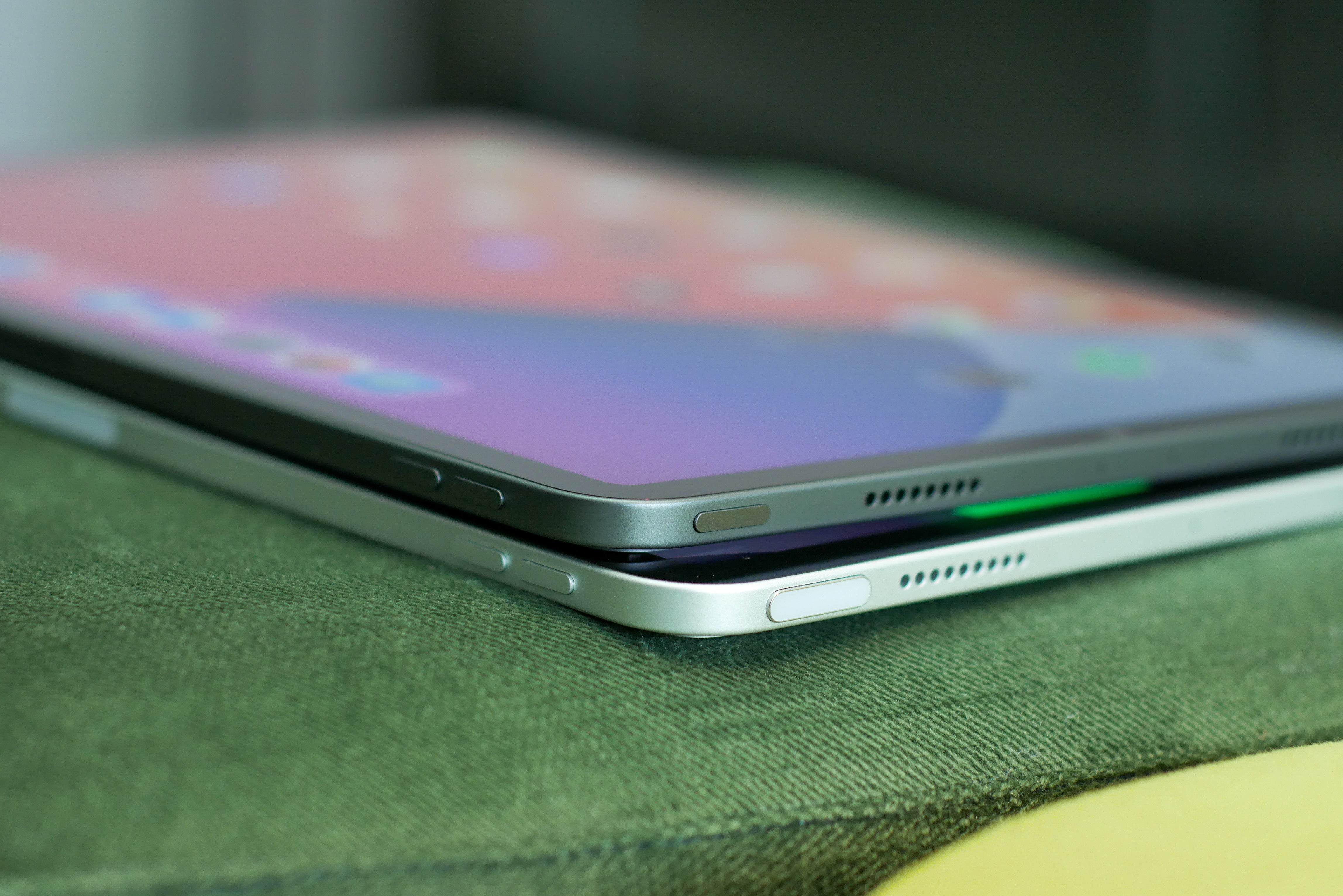 Although both iPads have quad speaker grills, only the iPad Pro actually has four speakers, while the Air 4 only has two
Like its predecessors, the new iPad Pro 2021 has quad speakers, two more than the iPad Air 4. But in our experience the new 11-inch iPad Pro doesn't necessarily sound much better than the Air 4, just louder because it has two extra speakers.
However, the 12.9-inch 2021 iPad Pro sounds significantly louder and bassier than the Air 4, so if you value speaker quality, upgrading from the iPad Air 4 to the
12.9-inch 2021 iPad Pro
is worth it.
In any case, both the 2021 iPad Pro and iPad Air 4 provide excellent sound quality and stereo separation as both have speakers on each side, unlike the budget iPad. The iPad Air 4 still has notably better speakers than most, if not all Android tablets in its price range.
iPad Pro 2021 vs iPad Air 4 camera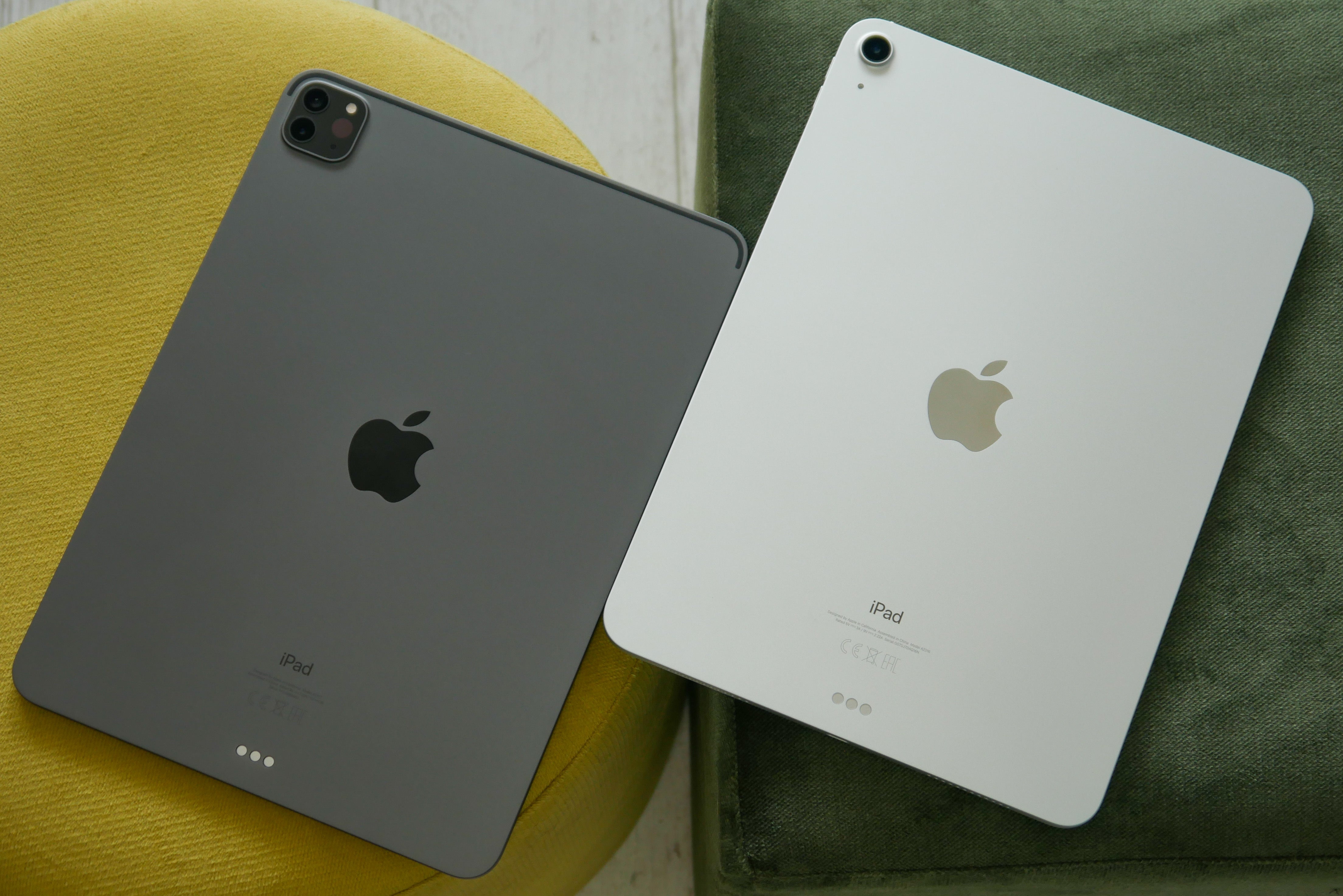 The iPad Air 4 only has a single rear camera, no LiDAR or a flash either
The new iPad Pro notably has a 12MP ultra-wide camera, a flash and a LiDAR sensor along with its main camera. In addition, the 2021 iPad Pro's improved 12MP front camera comes with a new Center Stage feature. It can automatically focus on a subject and keep them in the center of the frame as they move around during video calls and recordings. Because all 2021 iPad Pro cameras are wide angle, they can capture more in the frame and support wide-angle shooting modes. As for video, the 2021 iPad Pro can record videos at up to 4K resolution at 60 FPS (frames per second). If interested, we have photo and video samples in our 2021 iPad Pro review.
The iPad Air 4 only has a single 12-megapixel main camera. It can still record video at up to 3840 x 2160 (4K UHD), 60 FPS. The iPad Air 4's front 7 MP camera can shoot video at up to 1920 x 1080 (Full HD). If interested, we have video and photo samples from this tablet in our
iPad Air 4 review
.
iPad Pro 2021 vs iPad Air 4 accessories and USB port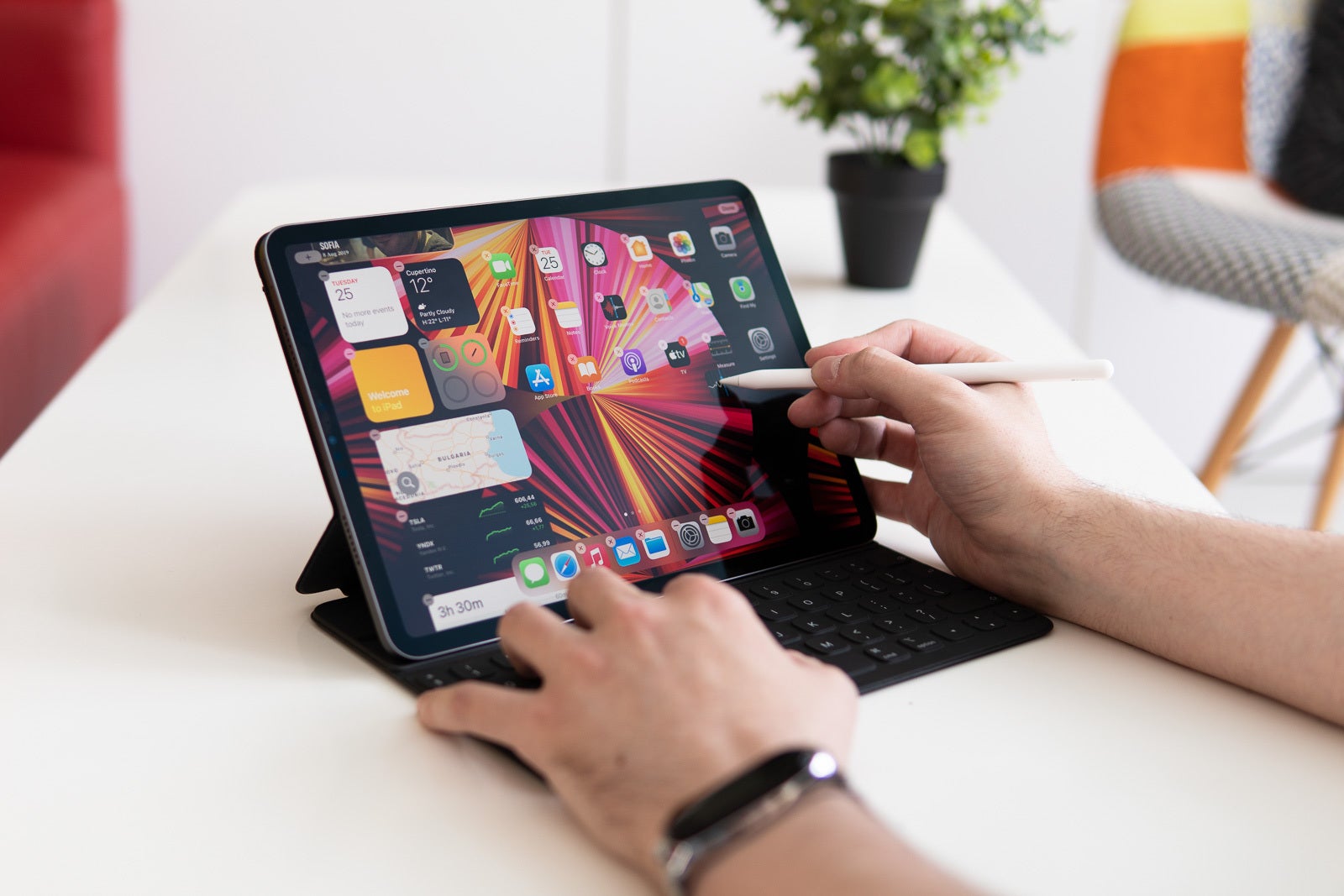 Both the 11-inch iPad Pro (shown here) and the iPad Air 4 support the same Apple Smart Keyboard Folio
Both the new 2021 iPad Pro and the iPad Air 4 support most of the same
iPad cases
and accessories, as the two tablets are about the same in design and size. The Apple Smart Keyboard Folio, Apple Pencil 2 and the likes can be used with both tablets. However, it's worth noting that Apple has released a new Magic Keyboard specifically for the new iPad Pro, so when shopping for
iPad Pro 2021 keyboard cases
, it's best to get the newest ones available.
The iPad Pro 2021 and iPad Air 4 both also have a USB Type-C port for charging and accessories, but the iPad Pro's port also supports Thunderbolt, meaning the M1 iPad Pro has up to 6K external display support, among other advancements.
iPad Pro 2021 vs iPad Air 4 battery
Apple claims that both tablets will last up to 10 hours of continuous usage, and in our testing, this holds true. In fact, on occasion, they can last more. Students and professionals who use their 2021 iPad Pro or iPad Air 4 for school or work can easily use their tablet for the entire day until needing to charge it.
Both the 2021 iPad Pro and iPad Air 4 come with a meter-long USB Type-C charging cable and a 20W power adapter.