YouTube Music Premium to launch on May 22nd along with other changes
13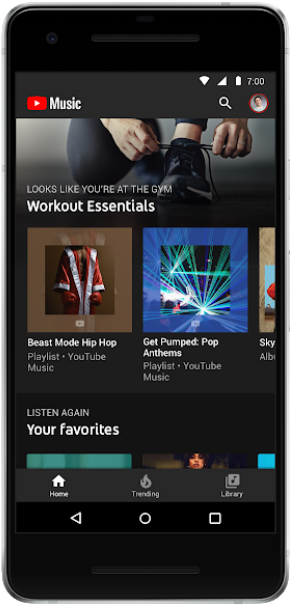 YouTube Music will now have a free and paid version
Time to follow the bouncing ball. Starting on May 22nd, a new YouTube Music will debut. The ad-supported version will offer official songs, albums, playlists, artist-based radio and YouTube's library of videos. YouTube Music Premium is the ad-free version of the music streamer that allows you to listen to tunes in the background, and download tunes. This service will cost $9.99 a month and will be available via an app or through your desktop browser. YouTube Music Premium is replacing the Google Play Music app and subscribers to the latter will be able to hear their purchased music, uploads and playlists that were part of their Google Play Music subscription.
Both the ad-supported and premium versions of YouTube Music will now offer location-based song recommendations. For example, if you're at the airport you will receive suggestions to stream appropriate airport lounge type fare. Additionally, you can search for a specific song using vague terms. As an example, Google says that you can look for "that hipster song with the whistling." Searching by using a line of the lyrics will also come up with the correct title.
In addition, on May 22nd, YouTube Red becomes YouTube Premium. This is an ad-free service that also plays in the background and allows downloads of millions of videos. It also offers original 'programming' such as
Cobra Kai
(the continuing story of The Karate Kid),
Step Up: High Water
and
Youth & Consequences
. The price for this service is $11.99 per month, and it includes YouTube Premium Music. Those paying $10 monthly for YouTube Red will continue to pay the same price.
"Whether you want to listen, watch or discover, it's all here. YouTube Music is a new music streaming service made for music: official songs, albums, thousands of playlists and artist radio plus YouTube's tremendous catalog of remixes, live performances, covers and music videos that you can't find anywhere else - all simply organized and personalized. For the first time, all the ways music moves you can be found in one place."-YouTube
Next Tuesday, the apps will be debuting in the U.S., Australia, New Zealand, Mexico and South Korea. In the next few weeks, the rollout will expand to Austria, Canada, Denmark, Finland, France, Germany, Ireland, Italy, Norway, Russia, Spain, Sweden, Switzerland and the United Kingdom.
YouTube Music, YouTube Music Premium and YouTube Premium debut on May 22nd