Xiaomi's Apple Watch clone is official with tweaked Wear OS and a killer price
22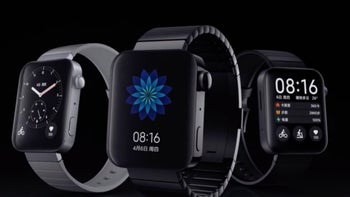 The "Apple of China" has come a long way in the global smartphone market, sitting right behind the Cupertino-based tech giant that inspired so many of its early handset designs in the latest vendor ranks after focusing a lot more on innovation and originality in the past couple of years. But Xiaomi hasn't entirely given up on its old ways, unveiling today one of the most blatant Apple Watch clones we can remember.
As suspected, the aptly named Xiaomi Mi Watch comes powered by Google's Wear OS platform, although given the device is made primarily for the company's China homeland, you shouldn't be surprised to see a MIUI skin applied on top of the operating system formerly known as Android Wear. By the way, it remains unclear if Western availability is in the cards, and if it is, whether or not Xiaomi plans to release a Mi Watch variant with a closer-to-stock Wear OS experience.
While we'd normally advise you to not get your hopes up regarding an official US launch of a Xiaomi product, it's important to point out the company is a key financial backer of Huami, the little-known maker of those increasingly popular and
incredibly affordable Amazfit smartwatches
you can find at Best Buy and Amazon. Thus, you could say Xiaomi is not a complete smartwatch market rookie, even though the Mi Watch is the first such device released under the Chinese tech giant's main brand.
As you can imagine, the key selling point of the Xiaomi Mi Watch is a $185 or so price tag in China that's enough to cover many of the same specs and features offered by a $500
Apple Watch Series 5
in the US. We're talking everything from built-in GPS support and continuous heart rate monitoring to standalone LTE connectivity, while the 1.78-inch AMOLED display is itself no pushover, with a resolution of 410 x 410 pixels and always-on functionality.
Under the hood, the Mi Watch shares a mediocre Snapdragon Wear 3100 processor with most Wear OS devices released of late, although it's not like Xiaomi had any decent alternatives. After all, the company may have "borrowed" the rectangular shape, digital crown, and button layout from the
industry-dominating Apple Watch lineup
, but Cupertino's excellent chips were obviously out of reach.
On the bright side, at least Xiaomi put the apparent heft of the Mi Watch to good use, squeezing a massive 570mAh battery into a robust aluminum chassis. In contrast, the large
Galaxy Watch Active 2
version, for instance, merely packs a 340mAh cell. Of course, that's paired with a smaller 1.4-inch screen, but what Xiaomi is offering for less than $200 (in China) remains pretty impressive... as long as you're not too bothered by the glaring Apple Watch similarities.