T-Mobile destroys Verizon's 5G network claims by sliding in its coverage DMs
25
T-Mobile
boasts the
widest "5G availability,"
Verizon
brags with the fastest "nationwide" 5G, all the while
AT&T
kept
reaping median download speed awards
throughout the year, what gives? If you are confused about the
state of US carriers' 5G networks
, you are not alone.
They have employed a
dizzying array of 5G bands
for their base stations, and commenced the rollout from completely opposite approaches that prioritize different features. This is precisely what led the exasperated
OnePlus
to the following quip when detailing its budget
Nord
phone features:

Add glitzy ads, claims and counter-claims, and rebuttals, and one would think that we are never going to get some order in the 5G chaos. Enter T-Mobile which, in the form of
Verizon rebuttal
(what else), puts the 5G network claims in perspective. Needless to say, these claims will soon be followed by Verizon's counter-points, but still, here's the scoop.
T-Mobile vs Verizon 5G network speeds
Verizon, however, used the
iPhone 12 launch
to announce
"nationwide" 5G service
, seemingly removing the main argument against its 5G network - its minuscule coverage. According to T-Mobile, however:
Verizon turned to Dynamic Spectrum Sharing (DSS) to add some kind of meaningful coverage to its 5G footprint. It allows both 4G and 5G to share the same spectrum and splits the capacity so each technology gets part of it, which can make things slower for everyone. Without adding new spectrum, Verizon's nationwide 5G is going to perform very similar to LTE. If you don't believe me, just ask Verizon's CTO who said their nationwide 5G speeds are "most of the time, on par" with 4G. DSS has its place in 5G, but it should be used in limited scenarios - not to provide an entire nationwide footprint.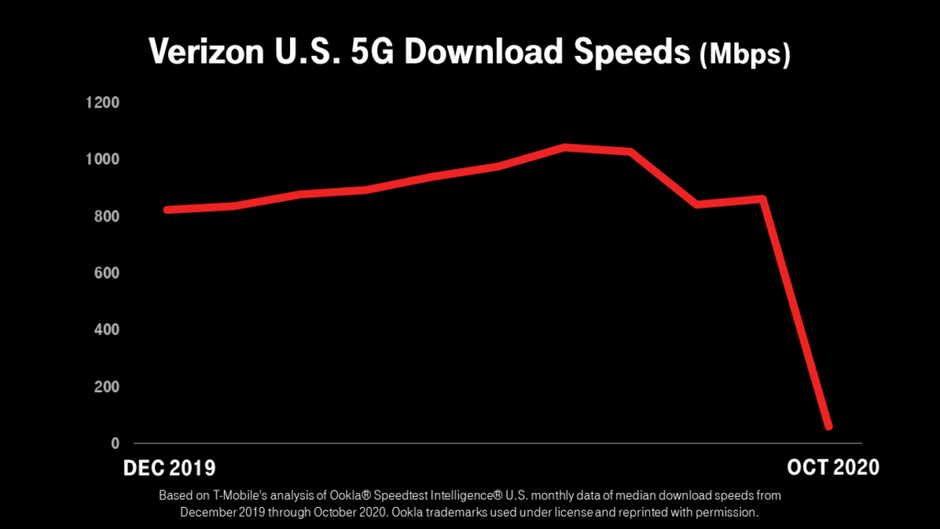 Granted, Verizon's move made it boast 5G footprint over 200 million people, a way larger pool than before, yet T-Mobile now claims 270 million people covered by its 5G layer cake, with average speeds that can expand faster, not to mention its advantage in upload speeds:
Customers are getting faster speeds all the time across the biggest 5G network in the America, now reaching 270 million people. Our 5G network is 3.5x bigger than Verizon's. And now we're adding a super-fast, high-capacity layer of mid-band 5G, already live in 410 cities and towns across the country, and we'll reach 100 million people with mid-band by year-end. Where mid-band 5G is deployed, average download speeds are already around 300 Mbps with peaks up to 1 Gbps on capable 5G phones.
Needless to say, Verizon's combined 4G LTE/5G network is fast enough, and, more importantly, has the largest overall footprint, but it seems that T-Mobile may have futureproofed its 5G strategy a bit better. We'll see how the 5G network developments will pan out next year, though, when both Verizon and AT&T are expected to grab and deploy lower bands; needless to say,
T-Mobile won't sit still either
.