T-Mobile could go into business with Ryan Reynolds for Mint Mobile acquisition
6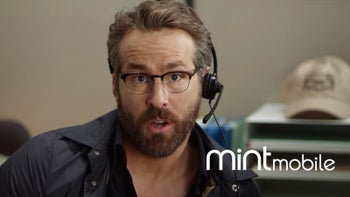 Known for his unique style of humor and decidedly unorthodox publicity stunts, Ryan Reynolds would have probably been a perfect fit for a T-Mobile brand ambassador role back when the "Un-carrier" was spearheaded by the similarly unconventional and charismatic John Legere.
But instead of merely doing commercials to promote a wireless service provider, Reynolds actually bought (part of) one a few years ago, immediately becoming the face of and possibly the main creative mind behind the increasingly viral advertising efforts of Mint Mobile.
A tiny mobile virtual network operator only founded in 2016, Mint immensely improved its exposure and likely user numbers since 2019, which undoubtedly brought the company on the radar of, you guessed it,
T-Mobile
.
Now Magenta is reportedly looking to add a new shade to its prepaid palette through a possible acquisition that no one is confirming... or denying just yet.
Bloomberg's fresh speculation
on the matter goes into no detail whatsoever on the financial or logistical nature of the deal being considered by the two parties, which strongly suggests these discussions might be in an early phase.
Of course, Mint Mobile is not exactly
Sprint
... or even
MetroPCS
, so if T-Mo
really
wants to make this acquisition happen, one can reasonably expect everything to wrap up relatively quickly. Among others, it remains to be seen if Mint Mobile will be allowed to retain its brand and identity
when
the deal is finalized or if its (unknown) number of customers might be migrated to Metro by T-Mobile.
A third and, if you ask us, stronger possibility could see a separate Metro-similar Mint by T-Mobile operator be born, which doesn't sound all that different from how things stand right now. After all, Mint Mobile already uses T-Mo's network to provide ultra-affordable (and blazing fast) service to people disappointed with the "big wireless companies."
By far the most important thing to see is whether or not Mint's crazy low prices would survive this prospective acquisition, which no one can possibly claim to accurately predict in these situations. The MVNO (mobile virtual network operator) is currently running a number of
bonkers (but far from unusual) deals
, offering "unlimited" service (with 5G data caps) for as little as $90 for six months (!!!) and a 15GB a month plan for a total of $75 for half a year. Now those are prices that T-Mobile itself cannot compete with.