Spotify launches а new feature to help keep your Taste Profile clean
1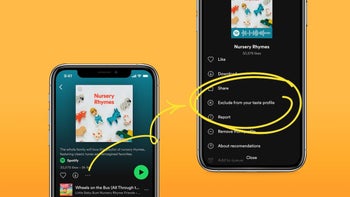 Spotify's algorithms have brought to my attention many amazing bands over the years, but there are cases when you wouldn't want impurities introduced into your carefully nurtured taste profile. There are guys in the company who apparently think the same way, because there's a new feature that will help you keep your pristine profile unsullied.
Exclude From Your Taste Profile is a new feature that's currently rolling out, and it will allow you to negate the impact of certain playlists on your future recommendations. Assume you're at a party and want to play something out of your usual repertoire for fun. You can select a playlist and choose to exclude it from your taste profile (it's pretty self-explanatory, really).
There are numerous applications for this; for example, you can still use child-oriented playlists to put your child to bed or make them smile with the 101st rendition of Baby Shark without being bombarded with Sesame Street music recommendations afterwards.
Spotify announced the new feature via a
blog post
on the official For The Record page (what a great name). There's also a little How-to, if you need specific instructions on how to use this new feature.
Select the playlist of your choice.

Tap the three dots near the top of the playlist.

Select "Exclude from your Taste Profile."