Samsung's smartphones might be slumping, but its OLED displays are bigger than ever
20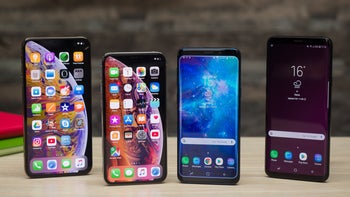 All these phones use Samsung-made OLED screens
Samsung's market-leading smartphones are not selling as well as they used to, dropping
more than 13 percentage points year-on-year in Q3
as flagship designs have become a bit repetitive and
Galaxy mid-rangers are simply not good enough
for their price points.
Memory chips, TVs, and OLED panels are the primary cash cows right now, with a new IHS Markit report (
relayed by The Investor
) highlighting Samsung's impressive domination over the latter market.

The Samsung Display arm of Samsung Electronics apparently made a mind-blowing 93.3 percent of the world's smartphone OLED screens sold between July and September 2018. That helped generate 58.4 percent of total smartphone display revenues, as LCDs continue to shrink in popularity.

After accounting for 56.2 percent of overall earnings just a year ago, liquid-crystal displays plunged to a 38.9 percent market share in Q3 2018. Very few high-end devices use LCD panels nowadays, and more and more LCD-specialized display manufacturers are shifting their focus to higher-quality OLEDs.
But it's going to take a long time for
the likes of LG
,
Sharp
, and
BOE
to catch up with Samsung, which has a near-monopolistic position even in the supply chain of arch-rival Apple.

If you're wondering just how profitable OLED panels can be, we should probably mention they accounted for 61.1 percent, or a whopping $6.6 billion, of the $10.8 billion sales generated by the entire smartphone display industry during this year's third calendar quarter. Incredibly enough, Samsung's share of shipments stood at only 22.8 percent, hinting at some pretty massive profit margins.
Recommended Stories