Samsung keeps losing market share to Chinese brands as global smartphone sales decline further
50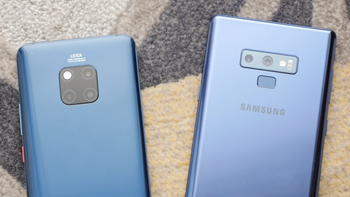 The smartphone market is more competitive than ever, but the number of phones sold each year continues to drop, making the fight for larger piece of the pie even more vicious. This is the picture painted by latest
Counterpoint mobile market monitor report
,
noticed by SamMobile
.
The report shows changes in the smartphone market between the third quarter of 2017 compared to the same three-month period this year. While a few countries, such as India, saw an increase in smartphone sales, that wasn't enough to put even one region in the green. Globally, the year-on-year decrease is now at 5%, Latin America performing the worst with a 7% decline.
While the global outlook might be bleak, when it comes to individual phone manufacturers, there are major shifts in both directions. Samsung is still holding tight to the first spot with a 19% share of the market, but it lost 13% of what it had in Q3 of 2018. Some of the lost share went to Huawei and Xiaomi. The Chinese brands now hold 14% and 9% of the global smartphone market respectively with Apple sitting between them at 12%. In Q3 of 2017 Huawei stood at 10% and Xiaomi at 7%, both marking significant improvement since then, meanwhile Apple sits comfortably at 12% in both reports.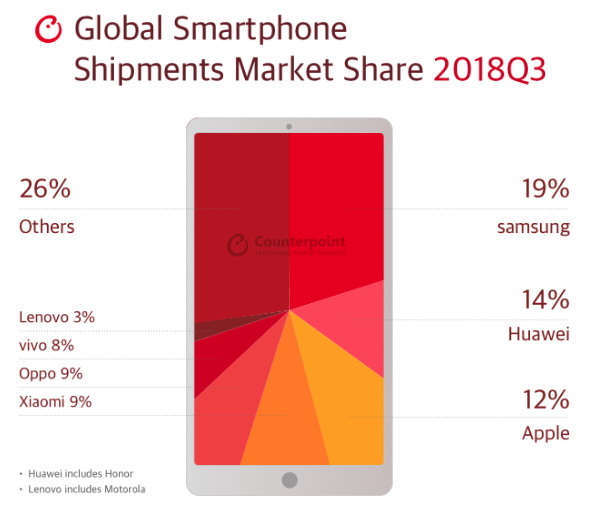 If we're only looking at growth over the last year, then HMD, the Chinese manufacturer that sells smartphones under the Nokia brand, takes the first place with a 73% YoY growth. Still, that's not enough to put it next to the big boys in terms of overall share, maybe next year!
Focusing on North America, we see that the top three brands remain the same, but with slightly different shares. Apple continues its rule with 39% market share, up from 34% in Q3 2017. Samsung adds a couple percent as well, reaching 26%, while LG manages to keep its 17% despite
lackluster results
. The biggest loser in this category is ZTE. The company held the fourth spot in 2017 with 11%, but after facing some
serious troubles with the US Government
, it's now missing from the charts, its spot taken by Lenovo (including Motorola branded phones) with 8%.
Is Huawei destined to dethrone Samsung? And will Apple be overtaken by another Chinese phone maker? Those are just some of the questions that will be answered in 2019, which is shaping up to be a very interesting year for the smartphone world.