The best deals on the unlocked Galaxy Note 10 and Note 10+ come from... Microsoft on eBay
6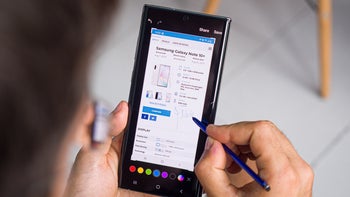 You may not know this, but Microsoft sells a bunch of interesting third-party phones through its own online and offline stores, including Asus and Razer's gaming-centric handsets and both the
Galaxy S10
and Note 10 families. The reason that doesn't come up very often in the news is that the Redmond-based tech giant rarely offers better discounts than the actual manufacturers of these products or retailers like Best Buy.
But that's where the Microsoft eBay Outlet Store comes in today, which you've probably never heard of before either. If you're in the market for an unlocked
Galaxy Note 10
or Note 10+, you'll definitely want to visit this little-known e-store, where you can currently take a cool $150 off the list price of
the smaller model
and an even heftier $180 off the
plus-sized, plus-featured variant
.
Of course, that doesn't exactly make Samsung's latest S Pen-wielding powerhouses crazy affordable, at $799.99 and $919.99 respectively, but if you don't want any strings attached, those are easily the lowest prices available right now at a reputable retailer. Alternatively, you can still save 200 bucks and score a nice freebie worth an additional $50 or so at
Best Buy
, but only if you're comfortable activating the new flagship of your choice on AT&T or Sprint upfront with a monthly installment plan.
Typically priced at $950 and $1,100 respectively, the Note 10 and Note 10 Plus come in a black color option only from Microsoft at the aforementioned discounts, with 256 gigs of internal storage space, super-powerful Snapdragon 855 processors, large batteries, beautiful Infinity-O displays, excellent cameras, silky smooth software, and either 8 or 12GB RAM. Bottom line, these are objectively two of the world's best phones today, and if you hurry, you can get them at some pretty reasonable prices... all things considered.

Check out the Galaxy Note 10 and Galaxy Note 10+ deals here