Samsung enrages hardcore fans by cancelling Galaxy Fold pre-orders at the last minute
13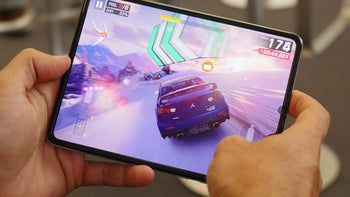 Following years and years of slow and delicate development work, as well as
several months of confusion
during
the "stabilization" stage
of Samsung's
Galaxy Fold
commercial preparation, all the trouble in the foldable paradise
seemed to have gone away at long last
. Unfortunately, the honeymoon phase is already over for
some of the company's most hardcore fans
, who can no longer be certain they'll get their hands on one of a very small batch of improved units expected to be
released in the US on or around September 27
.
That's because Samsung has decided to abruptly cancel all pre-orders carried out through its official US e-store mere hours after
showcasing a "fixed" variant
of the groundbreaking device at the IFA trade fair in Berlin and confirming a
September 6 re-release date for South Korea
. As you can imagine,
a number
of
people
are both
disgruntled
and
confused
, as uncertainty continues to float around exactly how many reinforced Galaxy Fold copies Samsung intends to put up for sale stateside and through what retail channels.
How is last-minute cancellation the "right thing to do?"
In emails sent to customers who
really
wanted to be early Galaxy Fold adopters, Samsung obviously apologizes for having to make this "regrettable" decision while claiming it was simply the "right thing to do." That sounds... debatable, mostly thinking back to the company's position several months ago. Samsung gave people
a few different options in May
, setting a deadline for those willing to explicitly ask to keep their orders.
So Samsung canceled my pre-order for the Samsung Galaxy Fold...at least they gave me a $250 credit for anything on their store. That is admittantly quite generous.

I guess I should rejoin the pre-order queue. pic.twitter.com/Nv7OAIMxnN

— M. Brandon Lee | THIS IS TECH TODAY (@thisistechtoday) September 5, 2019
Everyone else could naturally request their money back or, in lack of any reaction, pre-orders were set to be automatically cancelled on May 31. It's worth highlighting that Samsung had no idea at that point when the Galaxy Fold would finally be ready for primetime, but now that we're just weeks away from a US rollout, the company is taking the choice out of the customers' hands and deciding it's best to start from scratch.
Apparently, Samsung is "rethinking the entire customer experience", from "purchase to unboxing to post-purchase service"... whatever that might mean. For what it's worth, everyone affected by this controversial move will receive a cool $250 credit redeemable on "anything at Samsung.com." The problem is we're hearing rumors Samsung plans to re-release the Galaxy Fold in its brick and mortar stores only, which would make the e-credit unusable on a second purchase of the foldable phone.
The writing was on the wall
While we never really expected Samsung to release the first generation of such a complex and unusual product in the same numbers as, say, the
Galaxy Note 10
or S10 lineups, all the manufacturing challenges of the last few months made it that much harder to meet early demand. Hence, it's not altogether surprising to see these pre-orders cancelled, especially when taking into consideration the mention of a "new Galaxy Fold Premier Service, which offers owners direct access to Samsung experts."
Given that some of the issues
reported on early Galaxy Fold units
were caused by user error, you can probably understand if Samsung wants to take every precaution to avoid a repeat of those embarrassing situations and put the phones directly in the hands of customers, with "experts" giving pointers on how not to damage these incredibly costly gadgets.
Of course, you still have to wonder why the company waited this long to essentially
follow Best Buy's suit
. The retailer did the "right thing" all the way back in May and
T-Mobile scrapped its plans
to sell the Galaxy Fold itself more than a month ago, which further hinted at an even more limited release than initially anticipated. All that makes it pretty surprising to hear Samsung is still targeting September availability in countries like France, Germany, Singapore, and the UK in addition to South Korea and the US.