Leaked video reveals that Motorola is working on a true wireless charging system similar to Xiaomi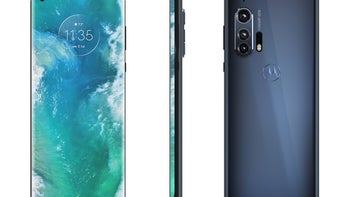 Last week we told you that
Xiaomi had unveiled its 5W Mi Air Charge Technology
in a blog post. This true wireless system uses a base station with 144 antennas that shoot out mmWave signals to 14 antenna embedded inside the user's phone. Multiple devices inside a room where Xiaomi's technology is located will all charge wirelessly. A rectifier circuit helps the 14 antenna inside the handset convert the mmWave signals into the energy used to charge up the battery on the device.
Xiaomi
isn't the only phone manufacturer that is working on a true wireless charging system. While the Chinese manufacturer posted an official blog post and included a video that it itself had produced, an unofficial video seen on Weibo revealed that Motorola is also working on something similar. Based on the clip which shows the system working on the Motorola Edge+, it seems that a phone can be 100cm (3.28 feet) away from the base station with the Motorola system and still be in range to start charging. Unlike the charging waves produced by the Xiaomi Mi Air Charge which cannot be blocked by anything in its way, the Motorola system can be blocked.
Motorola
is making a strong comeback and last year it released its first flagship model in years, the
Motorola Edge +
. Featuring a 6.7-inch AMOLED display with an FHD+ resolution, a 90Hz refresh rate and a waterfall display. Powered by the Snapdragon 865, the device carries 12GB of memory and 256GB of non-expandable storage. With support for mmWave 5G speed at 4Gbps, the Edge+ can handle super zippy 5G signals. It also features a 108MP main camera that uses 4:1 pixel binning to produce bright and sharp 27MP images. The camera array also includes an 8MP telephoto camera with 3x optical zoom, a 16MP ultra-wide camera, and a ToF depth sensor. In front is a 25MP front-facing selfie snapper. Keeping the lights on is a 5000mAh battery and there is a 3.5mm earphone jack. The handset is priced at $999.
The video showing Motorola's true wireless system was
shared on YouTube by Hans Tech
and leaves us wondering about what Motorola's follow up to the Edge+ might include. Back in December, there was talk that Motorola was close to unveiling a new flagship phone powered by the 5nm Snapdragon 888 chipset. We remember quite well the original
Motorola DROID
, the phone that truly was the first competition for the iPhone and helped kick off Androidmania. It might be too soon to expect such a new Motorola flagship device to include true wireless charging although we can't rule it out completely.