The excellent LG V35 ThinQ is on sale at an unbeatable $260 in brand-new condition
4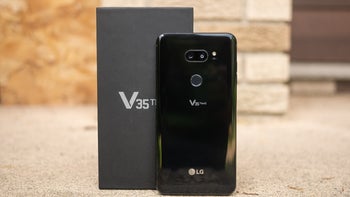 LG pretty much condemned the
V35 ThinQ
to a quick and painless death right off the bat, releasing the Snapdragon 845 powerhouse just a few months ahead of
an improved phone
pairing the same processor with a larger display and a grand total of five cameras, up from only three.
On the bright side, while the
V40 ThinQ
maintains an arguably excessive price point to this day, fetching $900 and up at major retailers like Best Buy, the
LG V35 ThinQ
can be had for as little as $259.99 from a top-rated eBay seller. Of course, it's not fair to compare an eBay deal with an official Best Buy listing, but Amazing Wireless has a 99.9 percent positive feedback average based on more than 21,000 customer ratings from the last 12 months, and the V35 units on sale right now are brand-new, unused, unopened, and undamaged.
Basically, the only thing you're giving up here is a standard manufacturer's warranty, which can be important but it's definitely not worth $640. You should also note that the substantially discounted
V35 ThinQ
comes in a GSM global unlocked variant, which means it can be used on carriers like AT&T and T-Mobile but not Sprint or Verizon.
Available in black and gray color options, the summer 2018-released flagship packs 6GB RAM and 64GB internal storage space in addition to the aforementioned state-of-the-art SoC, while also sporting a versatile dual 16MP rear camera system, a beautiful 6-inch OLED display with a resolution of 2880 x 1440 pixels and razor-thin bezels, a reliable rear-mounted fingerprint sensor, and a premium metal-and-glass construction.
Granted, the battery could be larger and the memory count is no longer ideal for an ultra-high-end phone, but at a crazy low price of 260 bucks, the LG V35 ThinQ certainly doesn't have to be a flawless flagship by late 2019 standards. Besides, if you're addicted to speed, you should know this bad boy somehow manages to beat the likes of the
Galaxy S10+
,
Galaxy Note 9
, and Google
Pixel 3 XL
in terms of
US 4G LTE download capabilities
.
Check out the deal here