Highly accurate tipster says LG unit will assemble key part for Apple Watch in 2024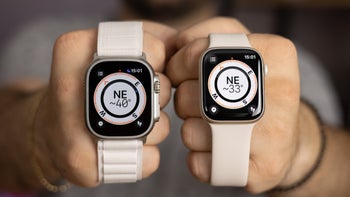 Young tweeted that starting with the Apple Watch Series 11 in 2025, the non-Ultra timepieces will feature micro-LED screens as well. All 2022 Apple Watch models (Series 8 and Ultra) sport an LTPO OLED display. Micro-LED displays do not use a backlight as many LED's that are as small as 0.002 inches wide are grouped together to create and individual pixel. Such screens deliver darker blacks, brighter and more accurate colors, and better contrast without the fear of screen burn-in (which is a problem for OLED and LCD displays).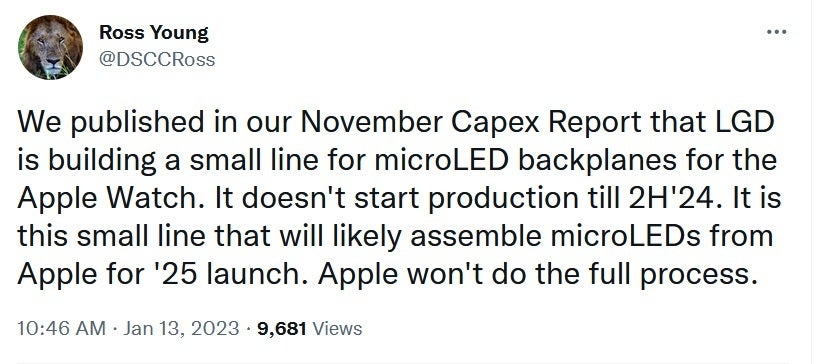 Reliable tipster Ross Young says that LG is building a small production line for the micro-LEDs to be used on the Apple Watch
While
Apple
purchased micro-LED manufacturer LuxVue in 2014, it doesn't plan on handling the entire assembly process itself. A new tweet from Young says that LG Display is building a small line to assemble micro-LED backplanes for the Apple Watch. The line won't be ready to churn out micro-LEDs until the second half of 2024 and Young writes, "It is this small line that will likely assemble micro-LEDs from Apple for '25 launch. Apple won't do the full process."
According to a Bloomberg report, Apple will debut the micro-LED display with the second-generation Apple Watch Ultra in 2024. Apple wants to reduce its reliance on suppliers like Samsung and LG for screens and panels although Young's tweet reveals that the company will still have to deal with both firms to some degree.
We still expect Apple to release the Apple Watch Series 9 this year and the Apple Watch Series 10 in 2024. Apple's smartwatch was first released in April 2015.