The LG Stylo 6 is 'coming soon' to T-Mobile (and Sprint) at a slightly excessive price
2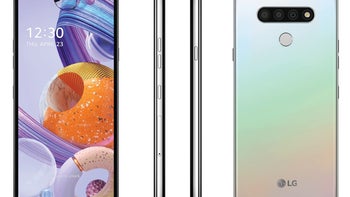 UPDATE
: T-Mobile has
properly unveiled the LG Stylo 6
, confirming its $252 FRP (full retail price) that you will naturally be able to split in 24 monthly installments of $10.50 with $0 down starting this Friday, May 29.
That's also when the mid-range device is scheduled to begin selling at Sprint, where you'll be charged a measly 5 bucks a month after paying $25 upfront... as long as you don't mind signing up for a Flex Lease plan... and
becoming a T-Mobile customer soon
. Last but not necessarily least, the
Stylo 6
is headed for Metro by T-Mobile on June 10, where we expect the phone to cost significantly less than 250 bucks.
Curiously enough, Metro's price point and "offers" are not official yet, which suggests bargain hunters might be in for quite the treat in just a couple of weeks or so. After all, this is the same prepaid operator that has Apple's crazy powerful
second-gen iPhone SE
on sale for
$99 with an eligible number port-in
and no other strings attached. Our original story follows below.
##
The sequel to one of LG's most popular smartphones of 2019 was commercially
released with minimal fanfare on its first US carrier last week
, and although T-Mobile hasn't formally followed Boost's suit just yet, the Stylo 6 is already
listed on the "Un-carrier's" official website
.
While the pen-wielding mid-ranger is not actually up for grabs at the time of this writing for T-Mo customers, the product listing reveals the price point of the 6.8-inch handset. Assuming this is not just a placeholder, which seems like a fairly reasonable assumption, the
LG Stylo 6
will cost $252 when it becomes available "soon."
At first glance, that's a small price to pay for one of the very few mobile devices on the market today with a built-in stylus and mid-end specifications. But unlike its forerunners, the LG Stylo 6 is facing some stiff direct competition from the
Moto G Stylus
. This is actually not available through the nation's third-largest wireless service provider, but it can be purchased
unlocked from retailers like Best Buy at $300
or even $250 with upfront carrier activation.
Similar in many ways, including battery capacity, the LG Stylo 6 and
Moto G Stylus
are radically different when it comes to screen size, camera technology, and even processing power. The new guy sports a significantly larger display than the slightly older 6.4-inch
Moto G Stylus
while embracing the notch instead of a hole punch design favored by many of today's popular Android flagships.
The 13 + 5 + 5MP triple lens system on the back of the LG Stylo 6 also looks inferior to the 48 + 16 + 2MP rear-facing camera setup featured by the Moto G Stylus. The $252 LG Stylo 6 packs a lower 3GB RAM count and humbler 64GB storage space than the $300 Moto G Stylus, and although we're yet to perform our own tests, the MediaTek Helio P35 processor is likely to be slower than the Qualcomm Snapdragon 665 SoC.