LG Stylo 6 Review
7
We may earn a commission if you make a purchase from the links on this page.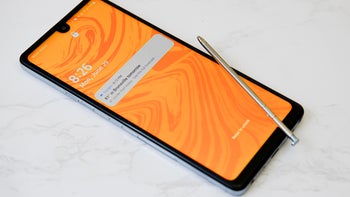 The latest entry in LG's budget Stylo line continues the company's streak of unassuming but serviceable entry-level smartphones. As one of the only handsets to include a stylus outside of the Samsung Galaxy Note series, the Stylo 6 brings a particular niche to the budget realm in a reasonably attractive package.
Low-powered specs keep the performance just okay and the camera is also average, but the large display, strong battery life, and overall well-rounded feature set help it stand out. While it's far from a revolutionary device even within its class, it's good enough to consider for those seeking a basic smartphone at a lower price point.
Design
The Stylo 6 is strikingly large for a budget device, with the display stretching to a massive 6.8 inches. The phone's glass body and metallic frame lend it a nice heft, and it feels solid and well-built. Coupled with the nondescript but polished design language, the Stylo 6 actually feels like a flagship in the hand.
Along the sides, the phone has a lone power key on the right and a volume rocker, Google Assistant key, and SIM tray along the left, the latter of which also includes a microSD slot for expandable memory. You'll also find a single speaker, USB-C port, headphone jack, and the built-in stylus across the bottom.
The smooth back is left blank except for the triple-lens camera module and capacitive fingerprint reader, which is reasonably fast and accurate, though misreadings aren't absolutely rare . All-in-all, the phone has a lot of the design features that are standard for this price range, which is another way of saying it has most of the features we took for granted before they went out of style.
Display
The Stylo 6's IPS display is expansive and adequately sharp at Full HD, 1080p resolution and 395 pixels-per-inch. The colors look slightly cold by default, but contrast and saturation levels aren't bad, making the overall experience satisfactory under most conditions.
Unfortunately, the display is quite average in some other respects. The brightness gets barely high enough for daylight visibility, and viewing angles aren't top-notch either. Still, the display looks good enough, and the good balance between its large size and slim 20.5:9 aspect ratio make it comfortable to hold and view overall.
Stylus
The phone's standout feature is its namesake stylus, and it's done fairly well. The stylus itself is slim with a microfiber tip, and it's comfortable to hold and use for casual swiping as well as for sketching or writing. Palm rejection keeps the experience mostly accident-free, which makes the stylus far more pleasant to use.
Overall, the software integration is also well done. A memo pad is accessible anytime for quick notes, which save to the default QuickMemo+ app, and, like previous iterations, taking out the stylus prompts a floating menu button, which holds simple but useful tools like a screenshot editor or GIF-maker. You can also customize this menu to launch any app at your fingertips (or stylus-tip).
Camera
The Stylo 6 has a triple camera, including a main 13MP shooter, wide-angle lens, and depth sensor. The rear camera setup is sadly mediocre, though it isn't shockingly bad for the price range. The phone manages to capture acceptable amounts of detail under good lighting, with pleasing colors and good levels of contrast and saturation.
When lighting becomes less than ideal, though, detail suffers as the entire photo starts to soften. The handling of dynamic range is just okay as well, and highlights tend to get blown out rather easily. It's certainly a dramatic drop from flagship standards, though casual shooters may find it still serviceable.
There's also a wide-angle lens, and though it's nice to have, the quality is disappointing. Details are often lost, and despite the fact that it's actually not as wide as many similar setups, distortion is worse than it could be. LG usually does pretty well with wide-angle lenses, but this isn't one of its better efforts.
As for selfies, the front-facing camera is also a 13MP sensor, and it's pretty good, incidentally. Photos have perfectly acceptable sharpness, and skin tones are captured accurately, too.
Software & Performance
The Stylo 6 ships with Android 10, which shouldn't be as pleasant a surprise as it is, and the software is standard LG fare, with cheerful rounded icons and an overall friendly aesthetic. LG's UX skin doesn't really add major functionality, but it gets the job done without much bloat (though I did get a number of carrier apps pre-installed).
LG really doesn't have the best track record as far as software updates go, but the Stylo 5's nigh-miraculous update to Android 10 gives the Stylo 6 some hope for the future.
On the inside, a MediaTek Helio P35 chipset and 3GB of RAM keep the phone running. These really aren't ideal specs, and performance can be a mixed bag. There are times when the phone runs smoothly without any issues, but there are moments where every tap or swipe feels just one millisecond too slow.
I didn't find the performance to be exceptionally choppy, but the issue is more about the overall speed and everyday performance, which doesn't feel as snappy as a higher-end device might. If you have flagship expectations, you'll find it unbearably slow, but for those who don't necessarily need lightning-fast everything, the performance is acceptable.
Sound & Media
Тhe Stylo 6's audio playback isn't quite studio quality, but it's surprisingly punchy and balanced, with a decent amount of bass and clarity across mids and highs. The lower end does tend to get a bit muffled, but overall the audio quality is competent.
For calls, I heard no complaints for outgoing audio. Incoming audio wasn't crystal clear, but still safely within the non-problematic boundaries.
Battery Life
Powered by a 4,000mAh battery cell, the Stylo 6 is more than equipped to carry you through two full days, or potentially longer for lighter usage. Despite the large display, the phone manages to safely provide 12 or more hours of normal screen on time, while streaming Netflix or social media browsing takes up around 9% an hour. Battery life is certainly one of the highlights of the Stylo 6 package.
On the charging side, the phone can fully top up in around 90 minutes through wired charging, and wireless charging is unfortunately not supported.
LG Stylo 6 Alternatives
A number of great phones in the same ballpark do exist, each with its own set of pros and cons. The Nokia 5.3 is a great lower-midranger around the same price, with a better camera and processor, though with a display that's both smaller and less sharp. Samsung's A20e is even cheaper than the Stylo 6, but the display, storage, and battery are all less impressive.
The Moto G Power is possibly the biggest threat, as it offers a more powerful chipset and even more battery life. But it's a bit more expensive and smaller too, and no stylus, of course. Depending on what you prioritize, it may be the better buy. The Stylo 6 is a lot easier to recommend when considered with carrier discounts, but at full price it's almost certainly not the most bang for your buck.
Recommended Stories