iPad 3 specs and release date: rumor round-up
46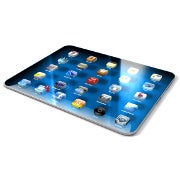 Well, folks, it's once again the beginning of the year, which means we're once again close to witnessing the launch of another iPad. However, as always, Cupertino has done its best to keep any details away from prying eyes, so we're pretty much left to deal with a number of rumors and some other speculation. But, our excitement for the third offering in Apple's tablet line is too big, not allowing us to stay still and wait patiently until the company finally lifts the veil off the new iPad. That's why we wanted to gather all the few, but very interesting tid bits around the iPad 3 and see if this would allow us to get a better idea of what the final product may end up being.
iPad 3 vs iPad 2S vs iPad HD
Right from the start, we should acknowledge the fact that there are two main theories surrounding the upcoming Apple tablet: the first one claims that what we'll see will be introduced as a full-fledged, redesigned successor (iPad 3), while the second one sticks to the belief that we'll actually be treated to a slightly upgraded, refreshed model (iPad 2S).
Of course, the exact product name shouldn't bother us, as long as there are enough new features and improvement. Initially, it was rumored that the
iPad 3 will come with a quad-core A6 processor
- a logical move forward from the dual-core A5. However, some unofficial sources have claimed that it's also possible for us to see an iPad 2S with an
enhanced dual-core A5
(A5 is the
iPad 2
's processor), instead of a quad-core A6.
UPDATE:
According to a recent rumor,
Apple's third generation tablet will be known as the iPad HD
, which is a name that would clearly highlight the device's upgraded display. That same
iPad HD moniker also appeared on an accessory listing
not long ago. Of course, the name could be nothing but a placeholder, so nothing is certain just yet.
iPad 3 specs
processor
dubbed A6, however, it will still be dual-core, but will have an overall better performance and a
significantly more powerful graphics unit
. As you can see, everything surround the next iPad's processor right now can fall into the category of wild speculation, and the many different takes on the matter don't really help us determine which one's the most likely. One idea is shared by all theories, though - the iPad 3 will have a faster processor! Whether it will have two or four cores, however, remains to be seen.
The
screen
is another vital point that's been subject to a lot of debate in the community. Obviously, the iPad 2's 1024x768
pixel
, 132 ppi display isn't among the prettiest ones, due to its relatively low pixel density, so having a higher resolution in the new model seems anything but unexpected. All in all, the debate here centers around the question if the iPad 3 will have a higher-res display, or not. If yes,
everyone is looking at 2048x1536 px
, as this would double the pixel density of the screen, the same way that Apple once doubled the pixel density of the iPhone, when introducing the iPhone 4. If the screen size remains the same - 9.7", and it probably will, that would translate into a ppi (pixels per inch) of 264, allowing for much finer text and details, but a bigger strain on the hardware as well.
Then comes the subject of
LTE
. Thankfully, everyone seems to agree here that
the iPad 3 should sport LTE connectivity
(though it's 99% sure that there will also be a Wi-Fi-only variant), compatible with Verizon's and AT&T's 4G networks. For now,
Qualcomm is seen as the most probable producer
of the chip, though surprises can still be expected. Naturally, the radio is also believed to support other connectivity options such as HSPA+ and EV-DO Rev. A and B, where 4G LTE is unavailable.
Apple iPad will be thicker
than its predecessor by about 1mm. And while that different won't be really noticeable to the naked eye, it sure intrigues us to know why such a measure could have been taken. The answer is that — again, according to those fellas that are said to be familiar with the matter, but no one actually knows who they are — this change was needed in order to be able to fit
a larger battery
, which, some say, will be able to provide a battery life that's almost twice as long. Wow! This actually sounds pretty cool, and we do hope it will turn out true. One millimeter of thickness for almost 2x the battery life - oh, we are so a-OK with that!
Of course, many people out there (with and without any internal knowledge) believe that the iPad 3 will have an
upgraded camera
, and we're willing to agree, though we don't expect any wonders in this respect.
UPDATE:
Some claim that the next-gen iPad will drop the physical home button in favor of a capacitive one, and they even have evidence to back up that theory.
If you take a close look at the official invitation to Apple's March 7 event (pictured on the right), a physical button is, obviously, missing on the device's bezel.
Of course, whether these claims hold water or not will become known in a very short while.
iPad 3 release date and pricing
Now, for the question that's probably in everyone's head right now. When is Apple going to finally put an end to all of this wild speculation and unveil the real thing? Once again, it's hard to find a single, solid theory that's able to make everything else seem like far-fetched guesses, but there is a couple of dates that are being suggested for us to mark in our calendars. Having in mind that the first two iPads were introduced in January and the very beginning of March , respectively, it makes sense for Apple to hold an event very, very soon.
The more optimistic forecast is that
Apple will show us the device on February 29
, and will then launch it sometime around March 9. The other prognosis prefers the
first week of March
as the time of unveiling, and then sees mid-March as the timing for the eventual release. There's one conclusion we can draw from all this - the iPad 3 should come out of hiding by mid-March at the latest.
UPDATE:
Apple will be hosting an event on March 7
, and it is pretty certain that the next-gen iPad will be under the spotlight. And given that
new iPad accessories
are reportedly already in stock at some big box retailers' outlets, we can expect the device to be made available for purchase soon after its announcement. As far as pricing is concerned, rumor has it that
the next iPad will cost just as much as the iPad 2 does
.
And that's pretty much all we have, folks. Now tell us - are you excited about the upcoming iPad 3? What other stuff do you think will make its way into the device? What would YOU like to see in it? We're looking forward to hearing what you think!