Photo of Apple iPad 3 casing leaks; no quad-core and thicker body for larger battery
56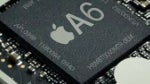 The
Apple iPad 3
is the subject of some interesting speculation. According to
The Verge
, the A6 processor under the hood of the tablet
will not be quad-core
, but will offer speedier dual-core performance with a "
significantly more powerful
" graphics core. Even if the A6 is dual-core, it should still have a faster clock speed than what was seen on the A5. With reports of quad-core support on the iPad 3 possibly getting shot down by this report, there is still the hope that the tablet will have LTE connectivity. Talk that the next
Apple iPad will have a dual-core processo
r dovetails with information we recently passed along that the next Apple tablet will not be the iPad 3 but will instead be the Apple iPad 2S.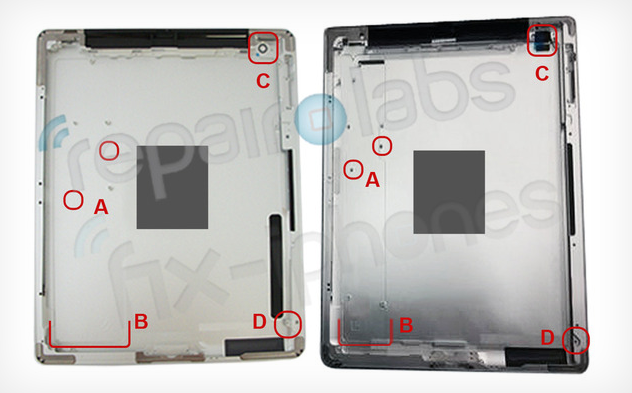 The casing for the Apple iPad 2 (L) and the alleged casing for the Apple iPad 3 (R)
A leaked picture of what is allegedly the casing of the Apple iPad 3 appeared on the
Repair Labs Blog
next to the casing for the current model. While both look similar, the iPad 3 casing is
a bit thicker
to accommodate what is expected to believe a larger battery, re-designed logic board, new cameras and an updated display on the upcoming model. Speaking of the display,
The Verge
says it will be a Retina display with resolution of 2048 x 1536 and the iPad 3's body will be
one millimeter thicker
than the body of the iPad 2.
The letters on the picture of the two casings show differences between the one for the Apple iPad 2 (L) and the one for the Apple iPad 3 (R). "A" shows the difference mounts between the two for the logic board. The re-designed logic board requires less room on the newer tablet and that allows for a larger battery on the iPad 3, which is noted with letter "B". "C" stands for camera and the new model is expected to have a new shooter. The different mount for the screen at "D" dovetails with talk of a new (hopefully higher resolution) display for the next Apple iPad.
So when might we see the launch of the Apple iPad 3? Considering that this year is a leap year, there will be a 29th of February. This year, the extra day falls on a Wednesday which is the day that the first two iPads were introduced on. Last year, the Apple iPad 2 was introduced on March 2nd and launched on March 11th.
The Verge
daydreams about having the latest Apple tablet announced on February 29th and launched on the
weekend of March 9th, 2012
.
source:
TheVerge
,
RepairLabsBlog
via
electronista