Trial production of Apple's A6 chip starts at TSMC, devices coming in Q2 2012
16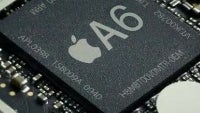 Taiwanese semiconductor foundry TSMC
has started trial production of A6 chips
, the next-generation silicon for Apple mobile devices, industry sources revealed for Taiwan Economic News. The first products featuring the A6 are expected in the second quarter of 2012 the earliest. This trial run seems however to be forced by a respin of the design, possibly because of the planned use of 3D stacking for producing the chip. Earlier, repots started by Reuters claimed that first trial runs started last month.
To make it, TSMC is using both
28-nanometer
and 3D stacking technology, which should result in better battery efficiency. The ARM-based, possibly quad-core, A6 was expected to land in the iPad 3 and possibly the 2012 edition of the iPhone.
TSMC is the world's largest foundry, but while it has previously worked with Nvidia and Qualcomm, it has only recently started collaboration with Apple. Cupertino previously contracted Samsung as its only supplier for both the A4 and A5 chips, but a couple of months ago a rumor suggested that
Apple ditched the Korean company
in favor of TSMC. At the time, the ongoing legal battle between Apple and Samsung started growing, which might have pushed the California-based company to diversify its suppliers. Prior to that, TSMC was fully booked and that could be the main reason why Apple didn't switch production earlier.